Strong passion for profession
Teacher Jennifer Brockman receives Harmon's Teacher of the Year award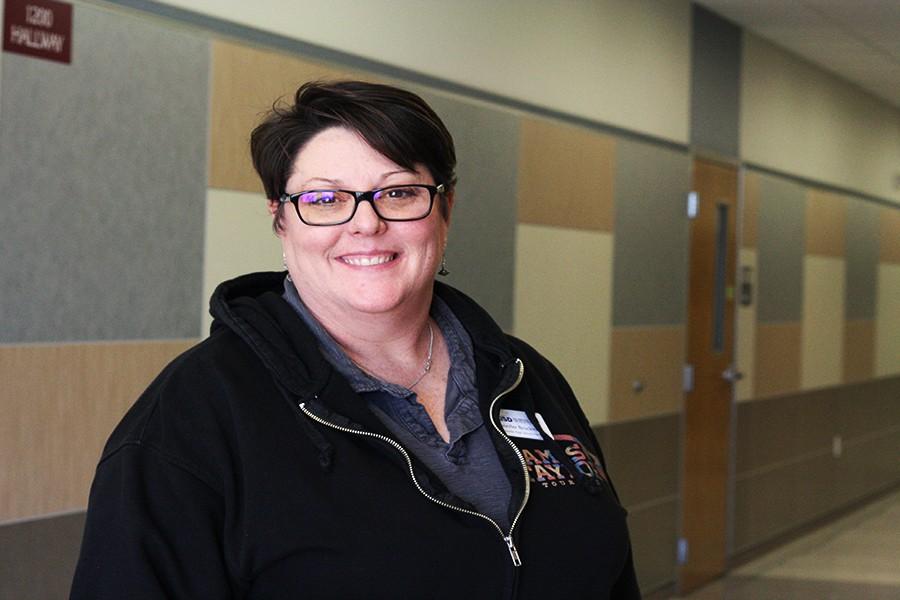 Current sports marketing and entertainment and social skills teacher Jennifer Brockman has been announced as Harmon's Teacher of the Year.
"I couldn't believe [that I won] because we have great teachers here," Brockman said. "It was really unbelievable."
Brockman has been teaching about 15 years, and has been working at Harmon ever since the opening in 2011.
Principal Tony Fontana sees the qualities that make Brockman a good teacher day in and day out.
"Ms. Brockman is a great educator who is passionate, dedicated and willing to take on any task to support our students," Fontana said. "She has a great sense of humor and tons of school pride."
Brockman was surprised that she won because she thought there were many teachers who deserved to win.
"If I were to guess one reason why I was the best teacher of the year probably because of the relationships that I build with kids and how I try to treat them with respect," Brockman said.
Not only does she build strong relationships with her students, but she does it to an extent where Fontana notices as well.
"Ms. Brockman is creative with her instructional delivery [and] she designs work that relates to her students' lives," Fontana said. "She builds strong relationships with her students, she has fun and holds her students to high standards."
Having a determined attitude and knowing that she makes a difference in her students' lives is what inspires Brockman to do what she does every day.
"What motivates me is coming to work and seeing the kids every day and working with them; that's really what is all about," Brockman said. "Also, building those relationship and helping kids to believe in themselves."
Throughout her time at the school, Brockman has made accomplishments that have made her become the teacher she is today.
"I have grown so many different ways," Brockman said. "When I came to work at Harmon I just got my special ed certification and it really helped me get a better appreciation for all students…to understand how every kid is so different, and [it gave] a new appreciation to my job."
The administration is appreciative of Brockman.
"She is a hard worker who wants nothing but the best for her students and all the students at Harmon," Fontana said. "She comes to school every day with a smile on her face and a positive attitude. She is a great asset to our staff and for our students."