Surviving the chaos
Psychology teacher Jill Van Klink grows up with 10 siblings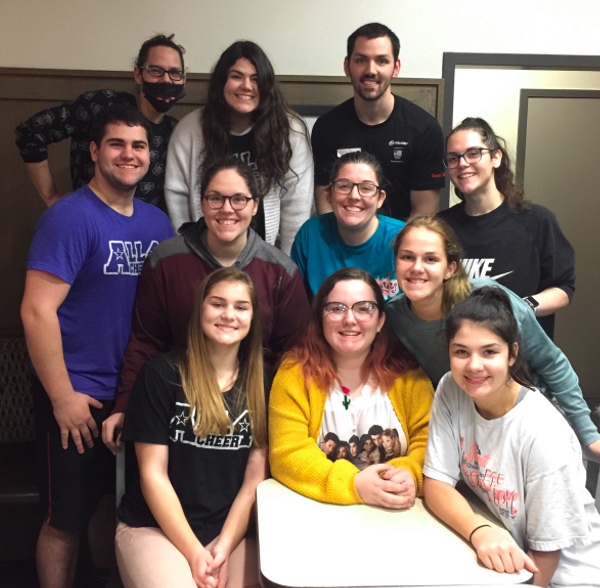 Hang on for a minute...we're trying to find some more stories you might like.
When their parents call to tell them they are on their way home, the oldest child gathers up the other children to clean up. They make sure all the babies are clothed, the socks are in the bucket, the milk is put away and the clean laundry is folded.
With age gaps between two and 19 years, psychology teacher Jill Van Klink grew up the oldest of 11 siblings with eight sisters and two brothers. Despite their age differences being sizeable, a powerful bond was created between the entire family.
"We're so close [and] we always have people to hang out with," Van Klink said. "We have a family Snapchat; we snap each other every day and all the kids are in there. The only reason I have Snapchat is to talk to my siblings."
The second oldest sister, Kylie Applewhite, looks up to Van Klink and how she nurtures her family with her fearless personality.
"What I like most about Jill is her unending willingness to help and support the people around her," Applewhite said. "She was always taking care of us and striving for more and I admired her bold, take-charge nature more than anything."
According to her family, Van Klink is said to be immensely direct and to the point because she needs to know what was going on at all times due to being in charge. The majority of her siblings hold these characteristics too, but others are the complete opposite.
"The joke is that half of my family is organized and [a] planning kind of [family] with planners and a game plan and the other half is like, 'oh, sure, whatever happens, happens,'" Van Klink said. "As you get older, you can see which side you fall in."
The third oldest sister, Tabitha Brown, admires Van Klink and how she takes control of situations to assist others and to have chores finished. For Brown, having an older sister kept life less hectic.
"Growing up with Jill was like having an extra parent in the house," Tabitha Brown said. "As the oldest of 11, she knew she needed to boss us around [and] lead us in order to help out our parents."
Because they had an abundance of people in one house, they had their own unique traditions for organizing socks in the house.
"It's hard to keep things clean," Van Klink said. "I never had all my laundry done at the same time. [It] was really weird as an adult to have all of my laundry done [and] to not buy gallons of milk at a time. My whole life we just bought milk and bread every couple days and that's not normal. We [also] had a sock bucket where every sock [goes into] the bucket and when you need [a pair], you just go dig through the sock bucket and I figured that's not normal either."
As Van Klink is the oldest child, she is a role model for the majority of her siblings. Applewhite is one of her siblings who is the closest to her because she is the nearest in age. Growing up with Van Klink taught her how to be level headed in her daily life.
"I learned mostly everything from Jill growing up, as I was her shadow," Applewhite said. "The most important thing she taught me was to stand up for myself with confidence and to keep reaching for my goals no matter who or what stands against me."
As unplanned moments tend to happen, Van Klink learned to go with the flow. The craziness of her childhood helped her become a higher quality teacher. She can drown out the noise when she needs to focus and she can deal with the chaos from students.
"I think when I have kids of my own, I'll be a better first-time parent," Van Klink said. "I won't be as panicky [because] I helped raise my younger siblings, so I think that's going to help [me in life]."