Dancing with passion
Sisters find common interest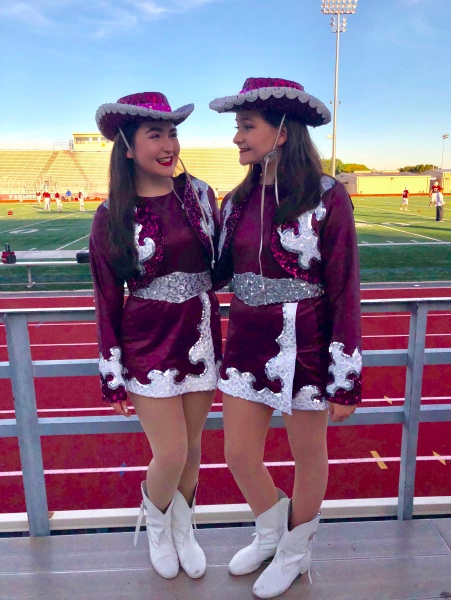 After frequent late night rehearsals, running until 10 p.m., two sisters prepare for their last show together. They apply matching makeup and put up their hair, assisting each other when needed. Once finished, they head to Sloan's car and make their way to the auditorium. They separate into their own groups when they arrive. Before the show begins, the two sisters meet up to hug and wish each other 'good luck.'
From a young age, sisters senior Farmerette social officer Sloan Ibañez and freshman Farmerette Brantley Ibañez began dancing at Top Hat Dance Studio. Sloan went on to join Farmerettes and Brantley followed in her footsteps.
"It's been a very positive impact, just [knowing] I'm on a team [where] we're all so very supportive of each other," Brantley said. "I'm really excited for the next [three] years because I know even more people are [going to] come on who are great dancers and just amazing people in general."
Because Sloan and Brantley are in Farmerettes together, they are able to see how each other interact with their friends. Since it is their last extracurricular activity, the sisters believe this is a wonderful moment in their lives.
"We don't really hang out with each other [because] we have our own friends [but] it's really cool to see her interact with other kids who aren't me," Sloan said. "I think it's just been a really nice thing for us because I'm graduating and she's just a little baby freshman and it's our last sister thing before I go away."
Since meeting the sisters, head drill team director Kimberly Sheeran has come to admire their sisterhood and how their personalities shine brightly when they are together.
"Both of them have become more technically skilled as dancers [and] much more outspoken and open with their goofiness," Kimberly said. "This might be really cheesy but these two young ladies [are] two halves to a whole. They spend all of their time together and [are] very close as sisters. So, when we're talking about them complimenting each other, they just do it in every way."
The sisters' mutual friend, senior Erin Harvey, knows they have crazy personalities but are able to be serious when needed. Erin has seen the two sisters grow throughout her years of knowing them.
"I admire how [Sloan] tries so hard at everything she does, not just dance," Erin said. "Brantley, I admire how she's always in a good mood and makes everyone happy. I think both of them have gotten out of their shell more and [have become kinder to] themselves."
Although they are sisters, Sloan and Brantley have contrasting preferences of dance. Kimberly believes them to have the same bold dance style.
"[They're] both very sassy dancers, they really enjoy the more jazz oriented styles, although, Brantley is very good at contemporary [and] she can make you cry you know," Kimberly said. "But, both of them are very strong dancers when it comes to performance."
Although they are close now, Sloan and Brantley did not always have a tight bond. However, when they both started Farmerettes, that relationship grew.
"We used to hang out a lot when we were younger but when she started going to high school, we had different schools," Brantley said. "She started hanging out with people I didn't really know very well and she would do her own thing and I would do mine. Now, one of the major things in our life we get to do together [is Farmerettes and] I feel like I really know who she is now."