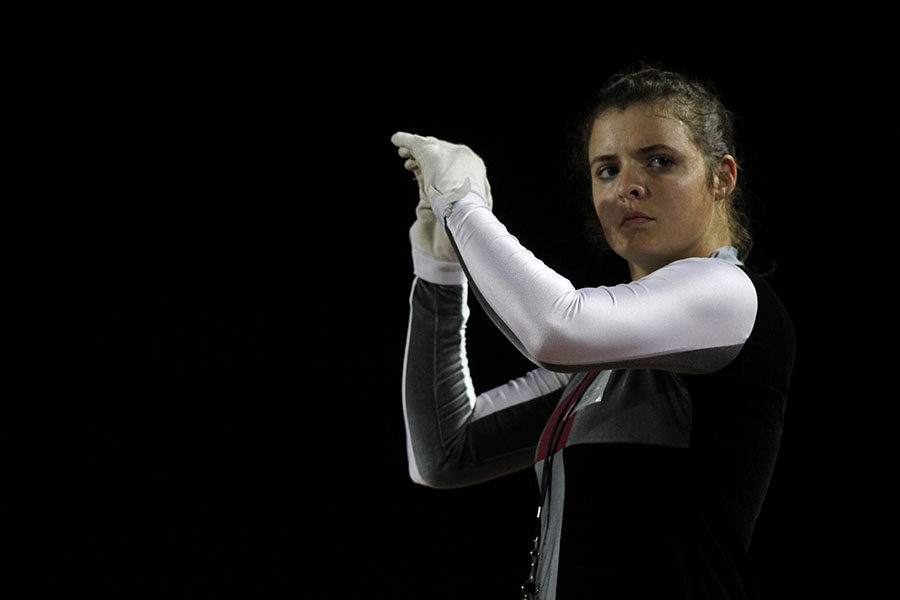 Valerie Benzinger
She can hear her heart thudding in her chest. Her palms are slippery with sweat. Even though she's gone through this process twice already, she's as nervous as she was the first time.
She knows she has done everything she can to prepare for this audition. She has learned how to conduct and is confident in her instrumental abilities. Although the audition process was stressful, in a matter of two weeks she would be overjoyed after seeing her name under the drum major column.
Going into sixth grade, there was no doubt in senior drum major Hannah Stephens' mind that she wanted to join band. Music has always been one of Stephens' main interests, setting aside a minimum of 30 minutes out of her day to practice. Those daily practices would contribute to the skills she would later need to become a drum major.
"My dad was a band director and I grew up around band a lot, so music was a very big part of my life and I'd always wanted to be a part of it," Stephens said.
Multiple years of band pushed Stephens to becoming a drum major during her sophomore year. Although this is rare, Stephens impressed the directors with her marching, leading and playing abilities. Being a drum major from sophomore to senior year has allowed her to create strong relationships with the directors.
"Hannah [is] like a daughter to me, but I think [our relationship has] definitely improved," band director Christopher Agwu said. "As she got into high school and I got to know her, she became drum major. [Being a drum major as a sophomore] doesn't happen often, but she did a really good job and I'm proud of her."
Despite having all the skills necessary, the transition from being a band member to a drum major was not simple. Stephens was still discovering her preferences and realizing who she was.
"It was kind of hard my sophomore year because you're still trying to figure out high school and you're younger than most of the kids," Stephens said. "It was a little hard to become accustomed to that, but I was around a lot of helpful and supportive people that helped me through it."
After two years of experience, Stephens figured out how the band works as a whole and how to help the people around her. She works tirelessly to be understanding of the other band kids.
"She's really compassionate and caring because she's gone through a lot and she's able to understand," Agwu said. "I think because of her caring personality, she accepts everybody and that kind of infiltrates into the rest of the band."
When she graduates, Stephens wants to continue pursuing music, specifically music education. Being in band has left a positive impact on Stephens and she hopes to be able to teach future generations about music.
"I still want music to be a significant part of my life," Stephens said. "I'm hoping to be a band director but I don't know, that might change."
Senior flute captain Brianna Guerra appreciates everything Stephens does for the band. She knows the importance that band has in Stephens' life, and when it becomes stressful, she, along with other leaders and band members show her support.
"You can obviously tell that she puts her own passion for music into her playing," Guerra said. "You can just tell how important it is to her. She seems a lot happier when she's in the band environment."
The directors notice Stephens' dedication to the program. As a drum major, she's the first person at any event and the last person to leave, but it doesn't stop there. Whenever she needs to, Stephens knows how to step up and lead.
"I think she gives more than what she needs to or more than the job title asks her to give," Agwu said. "She works really hard to make sure things are correct and that we are getting what we need to get done."
Stephens values the relationships she built and the lessons she learned throughout her years in band. She has met some of her closest friends through this program who have left lasting impacts on her life.
"My favorite part about being a drum major is getting to be around the drum major team all the time," Stephens said. "You get to know these people really well and you can trust them a lot. I've grown to be really close to the drum major team each year."