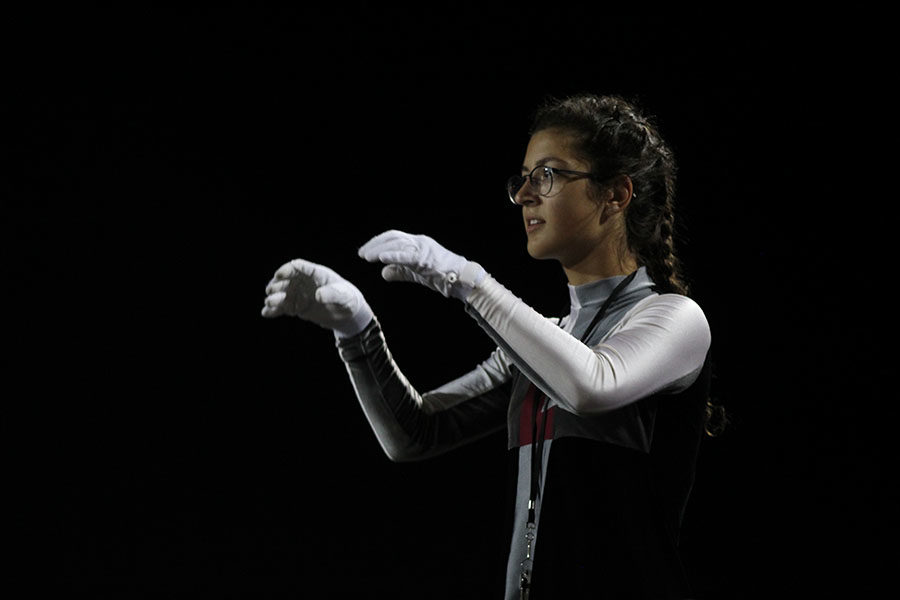 Valerie Benzinger
The podium sways slightly in the wind. She takes a deep breath as she centers her balance, counts to herself and starts conducting. Keeping a steady rhythm, the other drum majors follow the lead of head drum major senior Sylvia Nalbandian. The band follows suit, playing the show music on beat. Her hands rise and fall, directing every movement of the band. She watches the formations come together as the show progresses, feeling proud of what a group of high school students can accomplish together.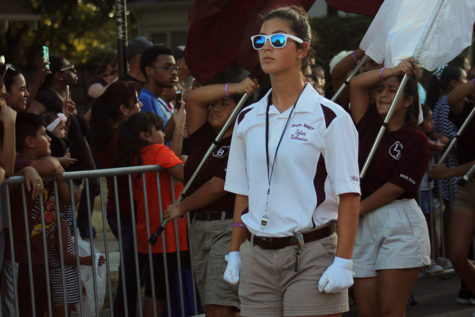 Sylvia first joined band and began playing clarinet as a sixth grader. Upon entering the high school-level program as a freshman, she fell in love with the atmosphere and culture of the band, instantly knowing she made the right choice when selecting her fine art credit in middle school.
"Whenever I got here, I immediately felt like this was where I was supposed to be," Sylvia said. "I just wanted to be a good role model for everyone. When I went into leadership, I got a lot of support in the program. It's that sense of belonging. I want everyone else to feel like they belong. I'm just trying to do the best I can to make this program as good as it can be."
The band directors appreciate Sylvia's willingness to help whenever she is needed. Her dedication to the band and love for the program shows through her position as a leader for the rest of the band.
"Sylvia is always there for anyone who needs help," band director Christopher Agwu said. "She's always there for the band directors that need her help. She works really hard all the time and everyone sees that. It helps motivate everyone else."
Sylvia pushes herself to perform her best in each practice to set a positive example for other band members who look up to her. Her mother, Osanna Nalbandian, is proud of the success her daughter has accomplished as a result of her efforts in band.
"She's very dedicated in what she does and she's very helpful," Osanna said. "A lot of the kids look up to her. She never misses any practices unless she's really sick and unable to make it."
In addition to being head drum major, Sylvia is a dance soloist in winter guard. She uses her 13 years of studio dance experience to tell the story behind the show each winter. After having to quit studio dancing due to scheduling conflicts during her freshman year, she joined winter guard following a conversation with guard director Curtis Green.
"I think [I like winter guard because] I get the opportunity to dance," Sylvia said. "I think my favorite thing is every time people come up to me and say I made them feel something. That's my proudest moment."
Through being a drum major for the past two years, Sylvia learned how to effectively balance several important tasks at once, such as taking attendance, motivating the band and communicating messages from the directors to the band leadership team.
"It's taught me a lot about responsibility," Sylvia said. "Sometimes, the directors give us big priorities, so just knowing that I'm able to handle these big things as a teenager, I know it's gonna help me further in life. It'll help me be a better leader and a better person in general."
During the audition process, the directors saw her ability to unite the band and believed she could use that skill to help strengthen the program. With the band being separated into winds, drumline and colorguard, the directors believe a strong drum major should be able to bring the band together, regardless of individual roles.
"When you have a leader that every single person can go to, it makes the program stronger and more united," Christopher said. "That's one of the things I saw in her that would help the program."
When Sylvia auditioned for drum major during her sophomore year, Christopher saw her potential to perform well as a leader.
"I knew, in her sophomore year, that she could become head drum major one day," Christopher said. "I just needed her to start to see her abilities. I am very proud of her for seeing that, taking the next step and becoming what I believed she could be."
As Sylvia prepared to step into the role of head drum major, her best friend and former head drum major Natali Martinez helped her become comfortable with the new position. Natali supported Sylvia throughout the transition to head drum major as both a friend and mentor.
"Towards the end of the year, I sat down and talked with her," Natali said. "There's a bag and binder that we pass down, so I went over everything with that. I let her ask any questions she had. I knew she would be ready for it."
Sylvia's love for the band program is evident in her passion for music. Through leading the band in her role as head drum major, Sylvia has been able to let her love and passion grow as she conducts from her podium.
"I love playing my instrument, the people, marching season, concert season [and] I just love everything about it," Sylvia said. "It's so much fun. I feel like I'm 100% authentically myself when I'm with these people."