Winning by programming
Computer science students gain experience, potential scholarships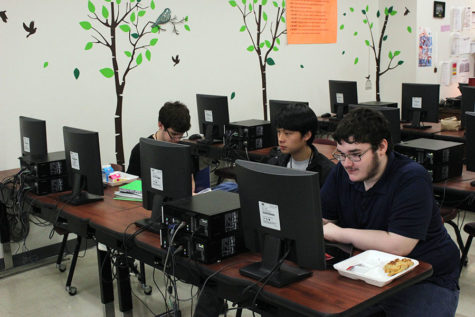 The push of a button causes the computer to stir. They quickly enter a password to gain access to the computer. Ferociously, they grab the idle mouse and open Jcreator. Glancing back and forth at the directions, their fingers move lightning fast, hitting each key with perfect accuracy. Three minutes pass and a code has been written.
In their most recent competition on Saturday, Oct. 19 at Frisco Heritage High School, the computer science team competed against 50 other schools. The team achieved sixth place, the best results they've obtained at a competition. Improving every day through practice, members prepare for their future careers in computer science.
"We had a six-way tie for first place, it came down to whoever programmed the fastest, so we did not get first place," computer science UIL sponsor Christine Tucker said. "They have [improved from] when we first started. We were always at the bottom [and] we were always dead last so now we are moving up."
"
I really want to master my coding skills in computer science."
— senior Thinh Nguyen
In the competition, members of the team solve various coding sets in smaller teams of three. These problems are in the Java language, the code the team uses for solving the problems. The competition is usually held online, but the team members are also given paper problem packets.
"What we're doing is writing code and for the competition; we are [facing] one another and all these teams," senior Michael Busch said.
The team is constantly improving its skills and placements in competitions. Through teamwork and practices that run Tuesday B-block and Wednesday after school, they are able to work better with each other and improve their programming knowledge.
"I really want to master my coding skills in computer science [and] teamwork, teamwork makes the dream work," senior Thinh Nguyen said. "[My teammates can also improve] teamwork and do more research."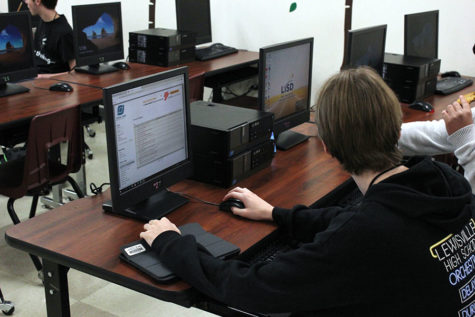 Members receive various benefits from participating in the competitions including scholarship opportunities and programming experience. With schools and companies such as UNT, AT&T and IBM attending these competitions, members of the team have the opportunity to be scouted.
"They can get scholarships as well as opportunities for scholarship programs and in some competitions they actually get money," Tucker said. "Saturday, Dec. 7 is [our next competition]. Our district is hosting Digital Divas this year for girls who are interested in programming."