Jamming out
Senior Vinlyin Hill finds hobby at skating rink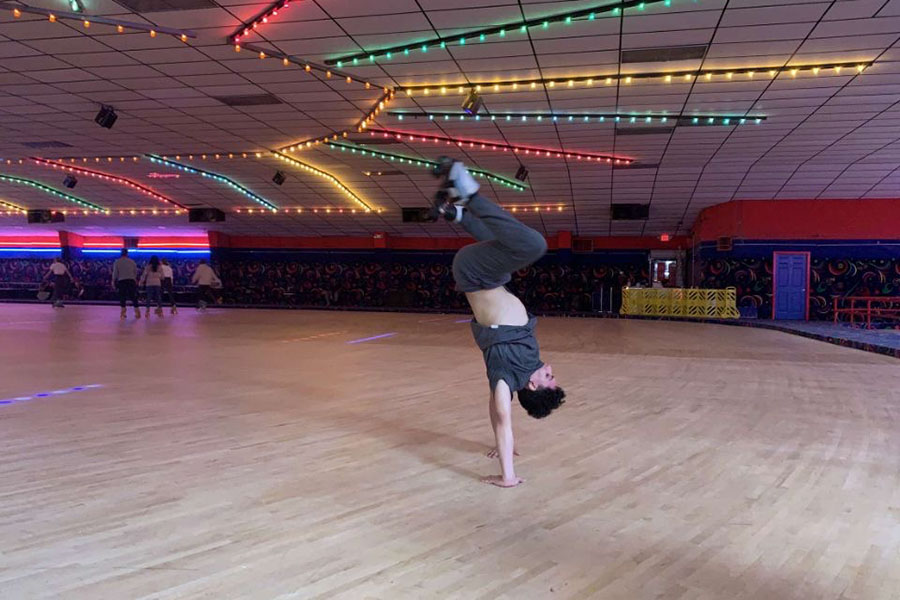 The lights dim as he puts on his skates. The music comes alive. After a few stretches, he is out on the rink. The surroundings begin to blur as he picks up speed going around the rink three times before coming to a stop in the center. In a swift motion, he drops to the floor and breaks into a windmill, drawing in the eyes of those around him. His momentum comes to a sudden stop as he transitions into one of his signature moves, completing his run. 
Senior Vinlyin Hill enjoys dancing and joined the world of jam skating. It's an alternate form of breakdancing but the performer wears skates. Hill began jam skating after he saw a friend participating in it.
"I've been jam skating for a year now," Hill said. "It's something I've done ever since I started working at the skating rink. I've seen people [do] it and I've always wanted to get into dancing, and jam skating was just a different form of it."
Jam skating isn't only dancing to impress others, but competitions in the form of dance battles take place as well. Hill is dedicated to improving his skills, even going as far as making changes to how he normally skates.
"My favorite part is competing in dance battles," Hill said. "I used to skate in roller blades, but I switched to normal quads because that's what people jam skate with. I never knew how to skate on those, [but] I've improved my skill in skating with quads."
While Hill is at work, he constantly skates. His relaxed nature and funny personality rub off on his those around him. His co-workers can't help but cheer up and laugh when they are around him.
"He's a character," co-worker Jasmine Williams said. "He's crazy, and the funniest person I know. Every time I see him he makes me happy."
Hill surrounds himself with people similar to him. Senior Helen Garcia, a longtime friend of Hill, has noticed how he has changed from before he started jam skating.
"Now that he started jam skating and competing, he is happier and gaining more confidence [in himself]," Garcia said.
His love and dedication for jam skating drives him to improve. Hill now engages in more physical activity to help keep in shape.
"I'm in my skates [for] three to 12 hours a day," Hill said. "While working I try to practice as much as I can. It has pushed me to start working out and getting more in shape so I can achieve a lot more of the moves."