Spreading love throughout community
Small business "What Love Is" donates to Medical City Lewisville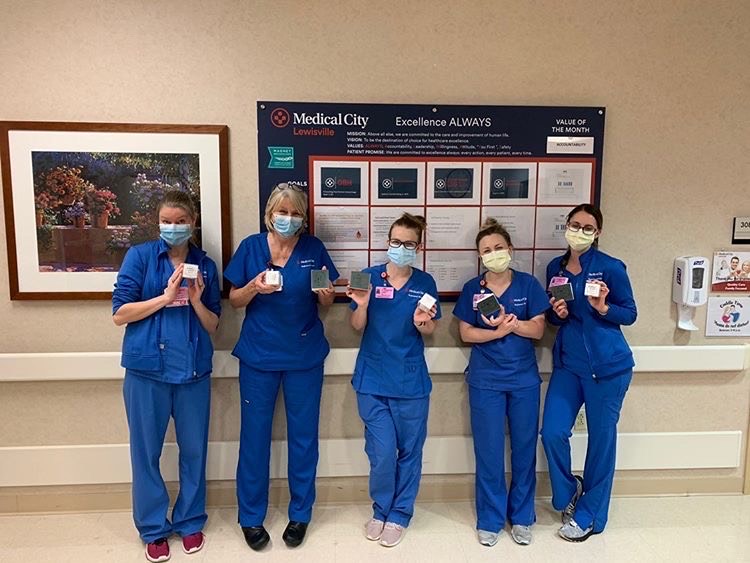 In a time of chaos and uncertainty, 16-year-olds Kaylee Jernigan and Taylor Lafe are utilizing their self-care company, What Love Is, to donate products to healthcare workers at Medical City Lewisville.
Since both Jernigan and Lafe struggled with their body image and learning how to love themselves, they decided to center their business around the bible verse Corinthians 13: 4-8, which speaks about what love is. It explains how love is patient and kind, not self-seeking. Using their own personal experiences and inspiration from this verse, the girls hope to help other people through their self-love journey.
Shortly after the launch of their first products, the pair decided to stop taking orders and temporarily close down the shop for a couple of weeks to make sure they were following the correct safety protocols. Keeping the roots of their business in mind, they took this time to think of ways to give back to the frontline health workers who risk their lives to ensure the safety of others.
"
What Taylor and Kaylee are doing has an impact. Their business really is about love and self-care and that's very important for all individuals."
— registered nurse Terri Cline
"When we were opening back up, I thought of one of my best friends," Jernigan said. "His dad is a healthcare worker, and seeing the stuff they have to go through every single day is crazy. I'm so thankful my family gets to stay home. I cannot imagine what they're having to go through every day. [Taylor and I] were thinking and I was like 'I want to do something. Our business is centered around love, we have to do something. We have to spread love.'"
At first, the pair wasn't sure how they wanted to spread this message of love and self-care to the community. They knew the focus was going to be on healthcare workers, but they didn't know what to do in support. After giving it ample thought, they decided to contact registered nurse Terri Cline to organize a fundraiser for the nurses and staff at Medical City Lewisville.
"Working during the pandemic has been stressful for everyone in the medical community," Cline said. "Whether one has directly cared for COVID-19 patients or been sidelined in their department due to cancelations of procedures and such, everyone has [encountered] difficulties. This fundraiser will not only provide comfort and self-care for anyone using the product, but it will also serve a reminder that we do have so much support outside and in our community."
With the help of Cline, the girls were able to figure out which products they wanted to use and how the fundraiser was going to work. The pair wanted to create specially designed products, like soaps and different variations of their signature bubble scoops for the nurses and staff. In order to accomplish this, Jernigan and Lafe decided to use 50% of all bubble scoop sales to fund this project, later adding their body butters to the donation.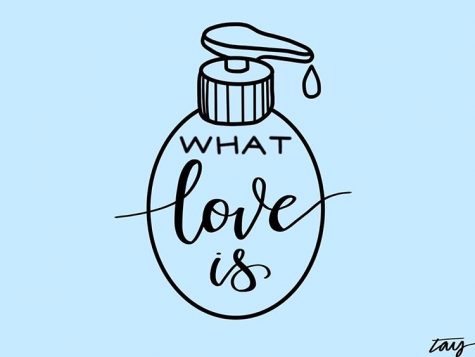 "It wasn't a direct donation, but through buying the products they're donating to [the fundraiser]," Jernigan said. "The fundraiser went very well. We were super happy we were able to reach our goal of getting enough money to make 85 products."
The company's mission statement is to erase the negativity that comes with buying self-care products by reminding their customers they deserve to take care of themselves. This was not going to exclude healthcare workers. The pair realized that now more than ever, these people need a moment to feel relaxed and loved in the middle of this pandemic.
"The main message we are trying to send is self-care is not selfish," Lafe said. "There is such a stigma around self-love and confidence, and we want to change and improve that with this fundraiser. We hope to lift healthcare workers' spirits and bring a bit of joy into their lives."
A week after the fundraiser ended, the 85 products, including soaps and special fragrance bubble scoops, were given to Cline so she could distribute them to the nurses and staff at Medical City Lewisville. Her goal was to start with her unit and then give some out to other units if there were any remaining products.
"I know that it will be greatly appreciated by a lot of people," Cline said. "What Taylor and Kaylee are doing has an impact. Their business really is about love and self-care and that's very important for all individuals. They are promoting a Godly based company which for me, is very important. But regardless of your personal religious beliefs, it is extremely important to take time and devote that to yourself."