Paramore returns to North Texas on 'Self-Titled Tour'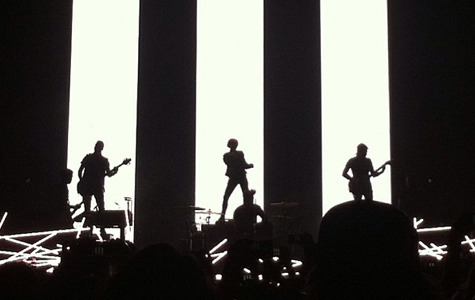 The alternative rock band Paramore is coming back to North Texas this October for their "The Self-Titled Tour."
They will be performing at the Verizon Grand Theatre in Grand Prairie on Oct. 26 and opening for them are the Canadian new wave band Metric and the indie pop band Hellogoodbye. This latest tour is promoting the band's fourth and latest album "Paramore" which released this past spring.
Unlike their old work, Paramore's new album has a more happier feel to it and strays away from the usual "hardcore" Paramore that fans are used to seeing.
The band commented on their recent release on gomoxie.org.
"I'm really proud of the fact that this is not an angry Paramore album," lead singer Hayley Williams said.
Bassist Jeremy Davis added, "It's a lot happier and brighter album than people might expect given what's happened. We've wanted to write songs like this for so long, but weren't there emotionally. Now we are."
The setlist for this tour includes songs such as their hit single "Now," but also some fan favorites, such as "Decode" from the Twilight Soundtrack and "Misery Business" from their second album "Riot!" as well.
The trio, formed back when they were teenagers in Tennessee, is back in the Dallas Metropolitan area since their last visit this past summer when they performed at EdgeFest.
Doors for the event open at 6:30 p.m. and showtime is 7:30. Tickets can be purchased at axs.com and, for more details, visit the official Paramore website at paramore.net.
Upcoming events for the Dallas/Fort Worth area include:
Oct. 25- Korn @ Verizon Grand Theatre
Oct. 26- Paramore @ Verizon Grand Theatre
Nov. 3 – Selena Gomez @ American Airlines Center
Nov. 8- August Burns Red @ House Of Blues
Nov. 10 – Drake: Would You Like A Tour? @ American Airlines Center
Nov. 10- Spiritfest feat. Third Day and Switchfoot @ Rangers Ballpark in Arlington
Nov. 11- Rihanna @ American Airlines Center
Nov. 12- Relient K @ House of Blues
November 13- 30H!3 @ House of Blues
November 16- Pink @ American Airlines Center
November 19- Mayday Parade @ House of Blues
November 30- Macklemore and Ryan Lewis @ Verizon Grand Theatre