Review: 2015 Jingle Ball hosts top stars
DNCE, Shawn Mendes and One Direction were just a few acts at Jingle Ball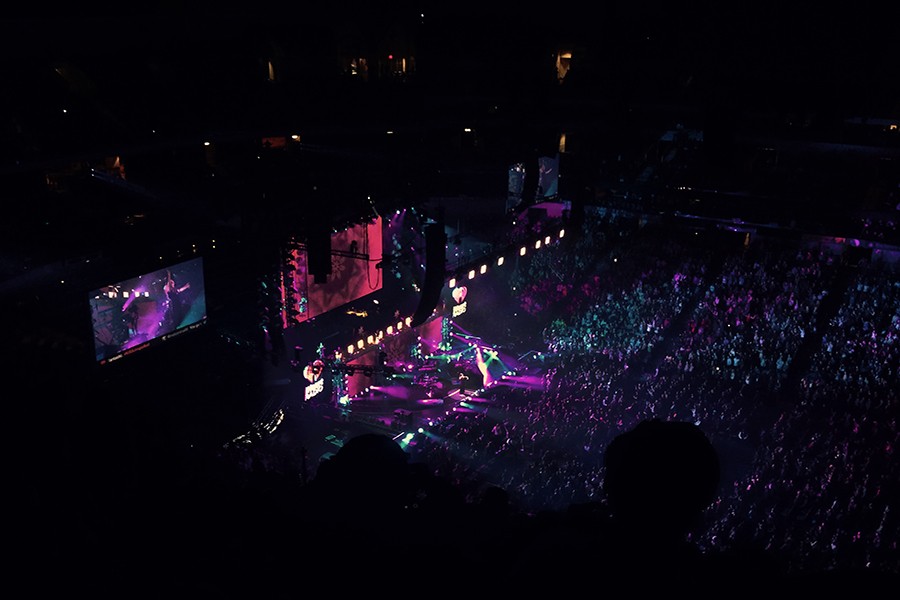 Dallas welcomed Jingle Ball again this year at the American Airlines Center on Dec. 1 with a variety of artists.
Opening the night were the lovely boys from Australia, 5 Seconds of Summer. Comments at the concert and from the band's Twitter account describe it as a successful performance.
DNCE with lead singer Joe Jonas gave a summer feel with their popular song "Cake By The Ocean," and closed with a victory drink goodbye. Zedd appeared on stage next (he was very cute and looked like a mini Chris Pratt) and had an amazing light show, good music, and hands were in the air in every section — Zedd kept the energy running high.
Charlie Puth made his debut in the stadium and showed no nerves owning the stage. Singing songs solo like "Marvin Gaye" and "See You Again," it was worth two thumbs up. Following was Ellie Goulding and Tove Lo, singing their singles where they brought an Indie-pop vibe to the night.
Shawn Mendes then took the stage with "Stitches" and his classic guitar. The audience sang along. Mendes had special guest Camila Cabello come on stage, and they sang their new song "I Know What You Did Last Summer."
A small break allowed 106.1 KISS FM to play a small video for their beloved former host, David "Kidd" Kraddick. There was a well-deserved ovation for his work with Kidd's Kids and other organizations.
Then it was announced as the "moment we have all been waiting for."
One Direction.
After announcing they had 40 minutes on stage, One Direction kicked off the party with "Drag Me Down," singing songs from their new album "Made in the A.M." and as Liam put it, "golden oldies," from their first album "Up All Night." The group made changes to their original songs because of Zayn leaving, and the swift note changes and audience sing-alongs made time fly. Other than a technical problem with an earpiece that caused Louis to fall offbeat with the band, the performance led to a grand exit with sparkling pyrotechnics and confetti. Tears were shed, ears were left ringing, wheelchairs were now roaming the halls, and some were leaving their seats because what they had been waiting for was now over.
Still to come was Calvin Harris and the Texas girl herself, Demi Lovato. Calvin Harris blew the arena up with flashing, blinding lights and bombing sounds that instantly made the crowd jump to their feet.
Demi was the closing act of the night, and she wore her tight red leather two-piece ensemble. While singing "Confident" and "For You" for the first time live, Demi hit her outstanding high notes with riffs between each one. Ending with "Cool For The Summer," the lights came on, she was gone and the show was over.
With amazing notes, light shows and confetti, Jingle Ball was a success.