Tribute: David Bowie, Alan Rickman
Legendary artists lose battles against cancer at the age of 69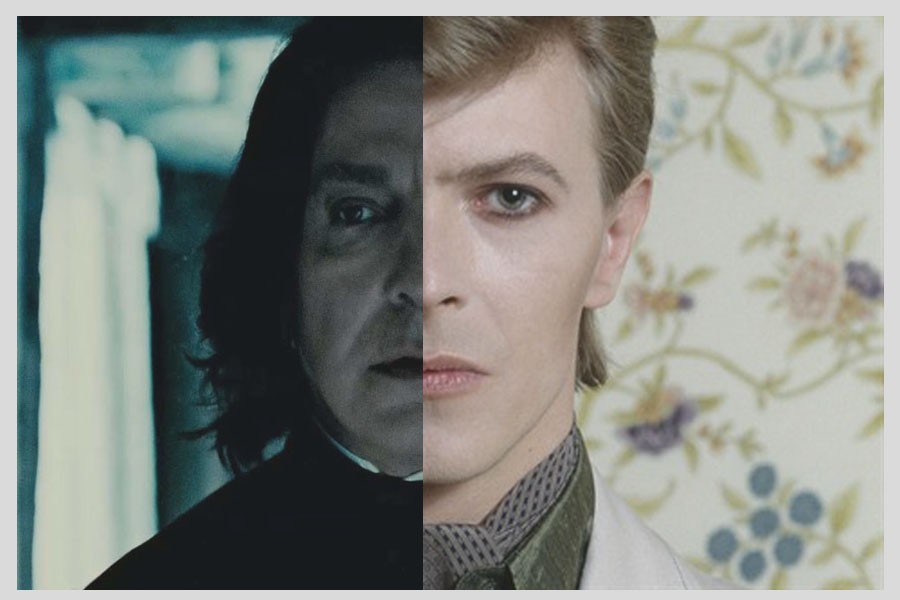 Diamond Dogs, Heroes, The Man Who Sold the World, Young Americans and many more. All songs written by a man who has touched and perplexed so many. A man who had a music career that lasted four decades, and will be remembered for many more. A man who left a legacy of change and adaptability. A man named David Bowie.
As a young child Bowie was inspired by the power music held. Music had captured his mind; he learned to play multiple instruments and continued to learn ways of expressing himself through art. By the time he was 15, Bowie had formed his first band The Konrads. The band was only together for a year before Bowie left to chase his dreams of becoming a pop star.
Venturing out, Bowie joined five bands in search of becoming their "Mick Jagger," but no success came. His self-titled debut album "David Bowie" was released in hopes of getting some traction. In the end, it met the same fate. Taking two years off, Bowie learned the importance of personification on stage. He worked on his image and began to perfect his music identity.
In 1969, Bowie released "Space Oddity" five days before the Apollo 11 launch. It climbed the UK charts to eventually reach the top five. After that Bowie's career slowly launched, and he released the second self-titled album "David Bowie."
During the months before his release of his third album "The Man Who Sold the World," Bowie and his management at the time established that he would be a solo artist. After the release, Bowie was ridiculed for his feminine appearance in America, so he changed his image again. He became the ultimate pop idol, aka Ziggy Stardust/Iggy Pop.
Bowie went on to start an amazing career and change the way music was looked at. He introduced the importance of an ever changing image. He stayed relevant and in the know depending on the generation he was targeting.
On the flip side, Bowie acquired roles in movies. He added to his portfolio, and expressed himself in ways untouched by other artists.
While maintaining his wild career, Bowie was married to Mary Angela Barnett from 1970-1980. They had their son Duncan in 1971. Twelve years after the divorce, Bowie married Somali-American model Iman and had one daughter "Lexi" Zahra Jones.
In his later years Bowie was diagnosed with lung cancer. Eighteen months before his death he was working on an off-Broadway production but had to stop working due to the progression of the disease.
Eventually, the cancer took over his body and Bowie died on Jan. 10, 2016. He has left a massive legacy; a fluid change throughout the years. He took his own path away from the crowds and wrote new rules for music. He transformed minds and definitions of certain genres, and combined different music sounds to create the particular sound he was looking for. Not only will Bowie be never forgotten, but he will remain one of the legends who shaped music into what it is today. A vessel of ever changing expression.
---
As a loved actor and performer, Alan Rickman was in more than 50 films and was also on Broadway. Known for his work in the Harry Potter films as Professor Snape or as Hans Gruber in "Die Hard," he was watched all throughout the world.
Lapping over acting, he also directed. With two films "A Little Chaos" and "The Winter Guest," he also ventured in music. He took the part of "Judge Turpin" in the movie adaption of the musical "Sweeney Todd: The Demon Barber of Fleet Street" in 2007.
Always having an eye for art, acting was the last of many roads he took during college. After studying graphic design and starting a company, Graphiti, he went to RADA, the Royal Academy of Dramatic Arts. He pushed himself through by working as a set dresser and taking freelance design jobs.
Named as an actor who played "villainous" roles, like Hans Gruber in "Die Hard," and Sheriff of Nottingham in "Robin Hood: Prince of Thieves," he didn't want to label his roles like that. He felt as if a character couldn't just be one word, but rather there were layers to a character.
Rima Horton (wife) and Rickman met when they were teenagers while in a drama club. They secretly got married in New York in 2012, and they had been together for 50 years until his death. The couple had no kids.
In the 1990s Rickman had many projects. He was in "Sense and Sensibility" (1995), and also "Rasputin: Dark Servant of Destiny" (1996), in which he received a Golden Globe and Emmy Award for the title role. He directed "The Winter Guest," and went to the comedy side in "Dogma and Galaxy Quest" (both 1999).
Casting as the role as Professor Severus Snape was his next high profile role. After being looked for by the author,  J.K. Rowling, and having discussions on the character, he took the role. Because he played Snape in all eight movies, he always knew what was to come.
Keeping with the movement, after the Harry Potter films he went on to other projects. Some of the films included "Love Actually" (2003), "Nobel Son" (2007), two films with Tim Burton, and the role of Ronald Reagan in "Lee Daniels' The Butler" (2013).
Managing a life off screen was something he balanced. He was the honorary president of the International Performers' Aid Trust, which focuses on helping performers and artists who are held back by poverty.
As he was surrounded by friends and family, he lost the battle to cancer. On the morning of Jan. 14, 2016, 69-year-old Alan Rickman died in London.
Never will the magic from Alan Rickman be forgotten. With tributes all throughout the world, the theater legend that was Alan Rickman will be remembered.