Review: George Coffee + Provisions offers trendy environment, lacks quality drinks
Coppell coffee shop offers unique experience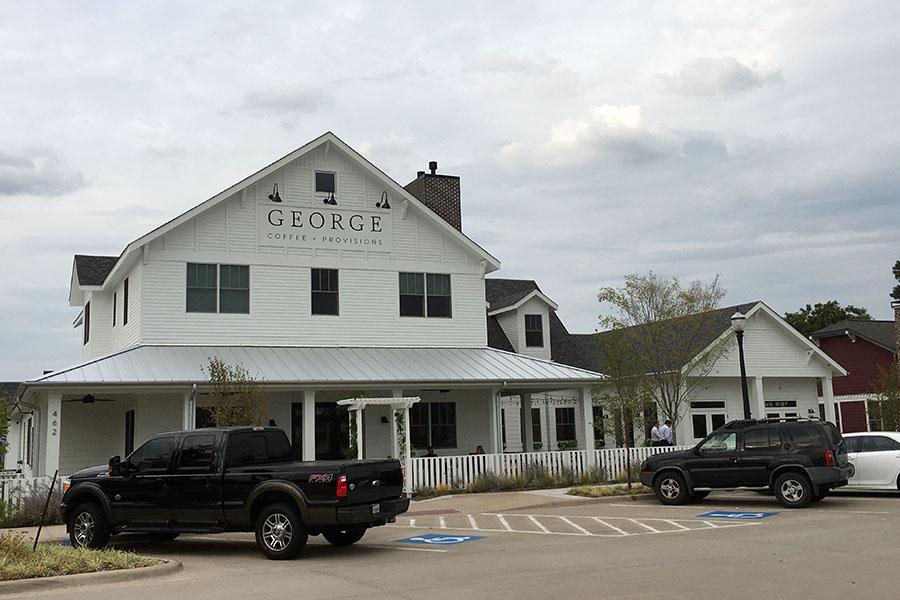 A popular local hot spot amid the community opened up in Coppell in late July. Despite having high prices and limited selections, George Coffee + Provisions seems to maintain a steady flow of customers.
The trendy coffee house was designed so the owners can live upstairs while having a fully functional business downstairs. The outside of the house is classic and includes patio seating along with rectangular tables around its exterior. Inside, a minimalist design gives the place a large part of its charm.
Parking across the street from George is probably the best option as it's limited surrounding the building and fills up quickly. George is located next to a Twisted Root Burger Co., uniquely designed town homes and a community park/fountain. The location will give families a full day's worth of fun and sightseeing. This is another way in which the unique design and great placement of the coffee shop give it an edge over many other coffee houses in the area.
George provides a room specifically for those who wish to study in a quiet and calm environment. However, because the room is located near the register, the noise from customers ordering and having side conversations interferes with the quiet space. Because coffee shops are popular places to study, this is a huge flaw to George.
Drinks are only offered in one size at $5 a cup, and while the quality of drinks is average, the price point is above average. While both the chai tea latte and shakerato are decent drink selections, George doesn't compare to other nearby coffee shops.
Even though George is more aesthetically pleasing than Starbucks, its drink and food selection is not as diverse. Starbucks also wins in price due to its numerous size options and great selections. George's chai tea latte is not even comparable to Coffee Holic on Round Grove Road, which also has a good environment to study in and great food selection and prices. Both Coffee Holic and Starbucks are better options than George due to their diverse drink selections and lower prices.