Review: 'Trench' journeys through various emotions
Twenty One Pilots releases highly anticipated album on Friday, Oct. 5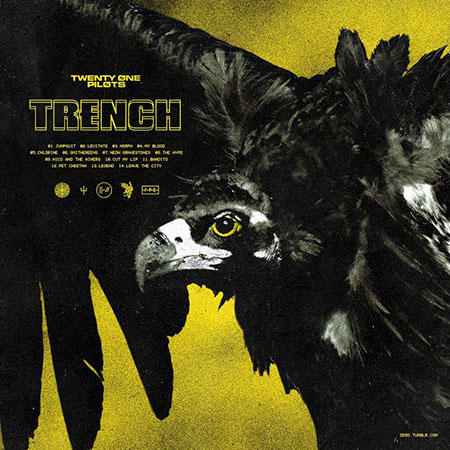 Hang on for a minute...we're trying to find some more stories you might like.
Iconic alternative rock duo Twenty One Pilots (Tyler Joseph and Joshua Dun) released their fifth album, "Trench," on Friday, Oct. 5. The album was highly anticipated by fans due to it being a continuation of the storyline featured in the group's previous album, "Blurryface," which brought the duo to fame.
"Trench" features 14 tracks, all of which have their own unique styles. For this album, Twenty One Pilots released four music videos for the songs "Jumpsuit," "Nico And The Niners," "Levitate" and "My Blood." The videos provide visuals that portray the emotions one may feel when experiencing a traumatic event, such as someone's death, or the journeys individuals go through when being affected by issues such as mental illness. "The narrative is really to try to describe some of those emotions that some people could come to feel as they travel through their own journey," Joseph said in an interview with Music Feeds.
"My Blood" was one of the videos that had an overwhelming impact on its audience. The video impacted the audience greatly as the story was based on the concept of losing someone. In the case of "My Blood," a child experiences the loss of his mother at a young age. To cope with this, he creates an image of an older brother that helps him deal with his grief. At the end of the video, the 'older brother' disappears, symbolizing the child no longer needs guidance and has found himself.
The reason behind why the album is named "Trench" is due to the fact that Trench is actually a fictional world. At the bottom of this world, there is a city called Dema. Dema is perceived as a place where, in the narrative, Joseph is from and feels the need to escape. Joseph wanted to emphasize that feeling in this record.
This album has a beautifully seamless transition from the first track, "Jumpsuit," to the second, "Levitate." Each track features emotions Joseph has experienced or is currently experiencing. One of the tracks, "Legend," is dedicated to the death of his grandpa. The songs still showcase the duos upbeat style while implementing deep emotions throughout the lyrics.
"Trench" stays true to the group's loved sound, but that sound becomes repetitive. When first listened to, the album doesn't stand out from Twenty One Pilots' previous albums. After listening several times, "Trench" grows on fans.
Due to its repetitiveness, "Trench" receives 4 out of 5 stars. Even though their sound is incredibly catchy and iconic, it would be great to see Joseph and Dun adventure out into new styles. Overall, this album will definitely be on repeat for fans and make them feel a variety of emotions.