Review: 'Creed' sequel furthers storyline
Rocky fans pleased with fight scenes, high-quality acting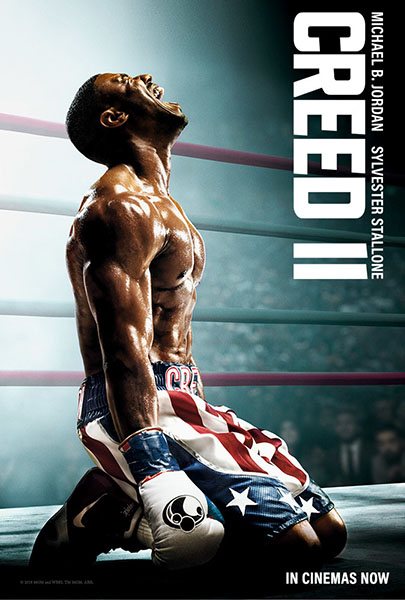 Hang on for a minute...we're trying to find some more stories you might like.
The sequel to the 2015 spinoff of the "Rocky" series, "Creed II," was released this Thanksgiving. Director of the original "Creed," Ryan Coogler was not a part of the directing team for the highly anticipated sequel and his absence was definitely noticeable. Although the film had a different director, it featured the original cast from the original movie.
The opening scene focused mainly on the Russian boxer Viktor Drago (Florian Munteanu), the new antagonist of the Creed movie. Adonis Creed's (Michael B. Jordan) father was killed in the boxing ring by Ivan Drago (Dolph Lundgren), Viktor's father. What made the beginning of this film different than the first was the introduction of Adonis. In this version, Adonis is already an elite boxer. The movie did a good job reintroducing Adonis to first-time watchers and portraying the accomplishments he made between the films. The movie first showed Adonis in the fight against Danny "Stuntman" Wheeler, played by Andre Ward, the former American boxer. Adonis' victory in this fight gave him the world champion title.
The new rivalry between Viktor and Adonis was the main plot of the film. Viktor challenges Adonis and he accepts the fight in hope of using this fight to defend his world championship title. The obvious ties between the "Creed" and "Rocky" series were enjoyable to watch. There were fewer fight scenes in "Creed," but those included were intense and long-lasting. For example, the first fight left Adonis with broken ribs and a damaged kidney. While in the hospital after the fight, the film turned into the same underdog story as the first "Creed" movie.
After the fight with Viktor, Adonis seems to lose hope and motivation because he no longer has Rocky (Sylvester Stallone) as a part of his team. Michael's performance during the time of recovery for Adonis was well done; the emotion was shown and felt realistic. The film also includes several scenes from the point of view from Viktor. Viktor's perspective is drastically different than Adonis'. Viktor's father, Ivan, is strict on his son and pushes him to win. Ivan wants Viktor to become the Russian hero he failed to be.
Unlike the last "Creed" film, "Creed II" ends in a victory. Adonis is able to realize the fighter he is and that he is different than his father. The high-quality acting formed the story well. The fight scenes were put together well and the actors did their own stunts during fight scenes, rather than having stunt doubles. If a sequel is to happen, there will be high expectations for the film. Overall, "Creed II" deserves an 8 out of 10 due to its ability to display real emotion and how it continues the rise of Adonis Creed.