18 of 2018: Movie edition
Here is a list of the top movies of the year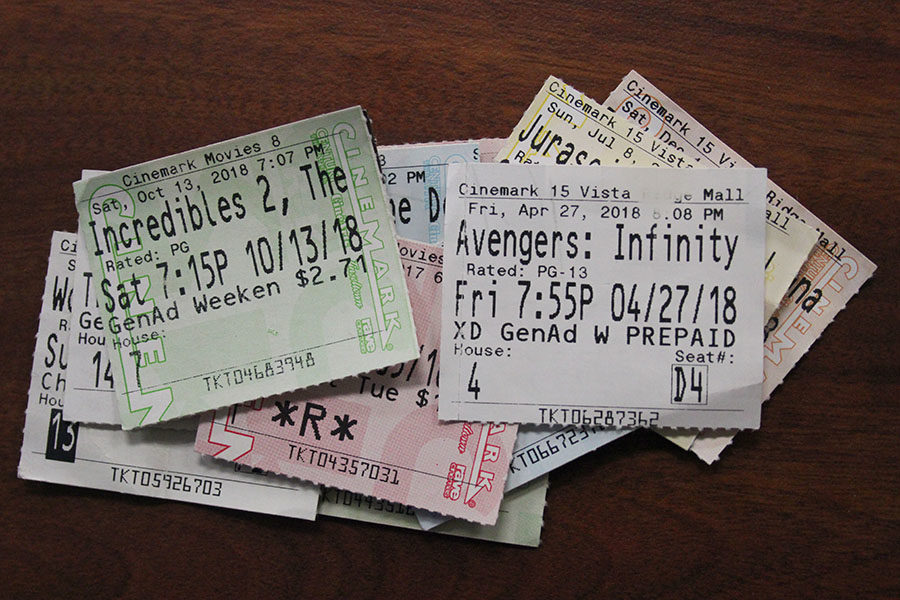 With 2018 coming to an end, we have chosen 18 highlight movies that streamed on the screen this year, starting from the top.
"Avengers: Infinity War" – The Marvel Cinematic Universe produced a thrilling crossover team by pairing up the Guardians of the Galaxy with the Avengers. Fans hyped this movie to be the best film of the year and Marvel only amazed viewers. "Avengers: Infinity War" achieved the No. 1 movie in this list because it contained a balance of action, excitement and a thrilling conclusion.
"Black Panther" – Wakanda is under the ruling of a new hero, the Black Panther, but new enemies arrive to overthrow T'Challa. Chadwick Boseman interprets an amazing Black Panther by showing viewers the character's conflict between what's right for his people and what is right in his morals.
"A Quiet Place" – When aliens are out to kill the human species, a family lives alone in the forest; they make no sound because the aliens can't see them but they have amazing hearing. Surviving is all that matters in this world; laughing, crying and voices are all forbidden. Living is all that matters. The lack of sound at the beginning of the film makes every little sound effect in the rest of the movie more terrifying.
"Incredibles 2" – Children who grew up watching the "Incredibles" waited 14 years for them to return to the big screen. The film didn't meet expectations fans had, but it still provided great nostalgia from the original movie and also answered the mystery of the Underminer. In the movie, Mr. Incredible has to step back from being the main hero and allow his wife, Elastigirl, to take the spotlight. He struggles with not being the center of attention. The movie teaches children stay-at-home parents are the same, if not equally powerful, as a hero.
"Crazy Rich Asians" – Rachel Chu has it all: a good job, a loving mother, amazing friends and a good-looking boyfriend, but the moment when Nick Young wants to introduce Rachel to his mother, Rachel's life goes downhill quick. This film has a good dramatic climax with the Rachel having to prove herself worthy to Nick's mom that she is the right woman for her son. The "Crazy Rich Asians" is from the bestseller trilogy of novels by Kevin Kwan. Fans of the film wait in anticipation for the release of the next two movies from the series.
"Love, Simon" – Romance is in the air for Simon when he sends email to an unknown person going by the alias "Blue." Simon has loving parents and good friends who supported him when Blue tells the whole school about his preference in men. This movie shows the struggles of a teenage boy trying hard to hide his sexuality from friends, family and everybody around him.
"Widows" –  This movie is about a group of females who were married to criminals who exploded in the last robbery they committed. These wives were mostly housewives with children, so when Viola Davis gives the wives a solution to their money problems they accept her idea. The acting by Viola Davis and Michelle Rodriguez is something that will shock the minds of viewers who see them in different roles. With both of them being award-winning actresses, there is no doubt both of their characters are expressed well.
"Halloween" –  Michael Myers has escaped the prison he has been locked up in for 40 years so he can kill his sister, Laurie Strode. Laurie has been living the past 40 years with the knowledge that Michael will escape his prison to come out and kill her. Jamie Lee Curtis comes back into the Halloween series for her third role as Laurie. Jamie Lee Curtis has experience in portraying Laurie Strode, which makes her acting more realistic.
"Ant-Man and the Wasp" – Marvel Cinematic Universe introduces the sequel to "Ant-Man" with "Ant-Man and the Wasp." Scott Lang (Paul Rudd) finally copes with his consequences in life and once again has to put on his suit, but this time alongside the wasp. While the original is still better, this movie does have a lot of action and a pretty straightforward storyline that is easy to follow.
"Creed II" – Rocky Balboa is back and he isn't pulling punches when in it comes to teaching Adonis Johnson on what really matters in life. This story is about parenthood and making a legacy out of their talents but at the same time figuring out who they are. Viktor Drago fights to regain the honor his father lost after losing against Rocky Balboa.
"Ready Player One" – This film is set in the year 2045 with the entire world slowly dying. Many people find comfort in the OASIS, a virtual reality world where you can do whatever the mind pleases. When James Halliday, the creator of the OASIS, dies, he leaves his entire fortune in the form of easter eggs in the game, and a treasure hunt commences. When Wade Owen Watts joins the hunt, he gets put in a dangerous, mind-bending adventure. This movie was made for gamers with easter eggs throughout the film. With Steven Spielberg as the director, "Ready Player One" is one of the better films of the year.
"Boy Erased" – Shocking, horrible and awe-inspiring, these are some emotions this film makes viewers feel. This movie explains the various emotions humans feel when they are facing situations they don't understand. This theme does more than reveal what people feel about same-sex preference, but at the same time, it reveals plenty of facts about the emotions young gay teens feel about being rejected by society and the disapproving comments they receive from their families.
"Searching" – Technology is what makes this film so intriguing to watch. Though the acting isn't the best, what makes the film unique is putting the viewers inside of a computer screen. Aneesh Chaganty" directed "Searching" to make viewers feel like they are the ones logging on. Movies such as "Unfriended" and "Unfriended: Dark Web" tried to accomplish the same levels of interaction with viewers, but they failed in accomplishing what "Searching" did so well.
"The hate u give" – This film is inspired by a novel written by Angie Thomas; it revolves around Starr Carter, a girl who believes there is racism in her town. This movie is great for young teens to watch because it shows that no matter what age someone is, they have the power to start a revolution. This film shows both sides of one story, with the cops saying there isn't a prejudice while the citizens see the police as rotten. The dual perspective is unique and forms a powerful storyline.
"Deadpool 2" – The loud-mouthed Deadpool fights crime once again. During this sequel, he tries to save everyone from Russell, a mutant who is trying to get back at the orphanage that treated him badly. When Cable, an enhanced soldier, comes back from the future with Russell as his target, Deadpool must do everything he can to save Russell. This movie is great for viewers who want an easy storyline to follow and want to have a lot of laughs as well as action throughout the film.
"The Equalizer 2" – Denzel Washington has provided spectators with a thrilling, hilarious and bad hero. Denzel Washington portrays Robert McCall, who supposedly died in the first "Equalizer" film but has returned from the dead to become a superhero. This production contains betrayal, action, murder and a great satisfying ending to the movie.
"Hotel Transylvania 3" – In need of a vacation, Mavis gathers Drac and all the monsters on a cruise ship. When Marvis realizes Drac is falling in love with the captain, Ericka, she realizes Ericka is hiding a secret that could end monsters as we know it. Even though it's not a top movie, "Hotel Transylvania 3" is still a cute and enjoyable movie to watch with family.
"Ocean's 8" – "Ocean's 8" twist ending was on the front cover of the movie trailers. This was one of the most disappointing things for viewers everywhere. Even though the ending was revealed before the movie was released, it was still a good film and had a lot of thrilling parts.