Review: Seventeen tricks fans in 'YOU MADE MY DAWN'
13-member South Korean boy group shows warmer side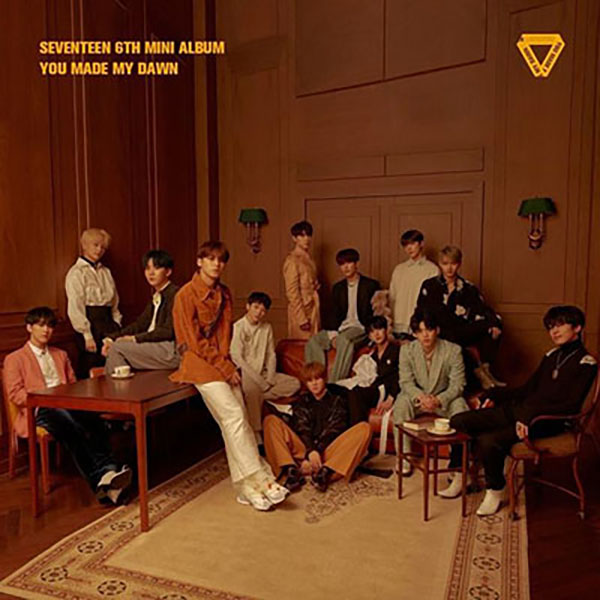 Hang on for a minute...we're trying to find some more stories you might like.
After debuting in 2015, Seventeen released their sixth mini album "YOU MADE MY DAWN" on Monday, Jan. 21. Consisting of 13 members, Seventeen is divided into three sub-units including the vocal unit (in charge of vocals), performance unit (in charge of choreography) and hip-hop unit (in charge of rapping).
Seventeen is known as a self-produced boy group in South Korea. With vocal unit leader Woozi (Lee Ji Hoon) producing their songs and writing their lyrics, the hip-hop unit writes their own raps and the performance unit makes the choreography for all of their songs.
"YOU MADE MY DAWN (YMMD)" is a prequel of "YOU MAKE OUR DAY (YMOD)," which was released on Monday, July 16, 2018. While the concept for "YMOD" shows a bright Seventeen, "YMMD" shows a warmer version.
The album starts off with a soft instrumental, "Good to Me." It's hard to get used to at first, but later becomes addictive and not skippable. Fans of Seventeen, also known as carats, believe "Good to Me" could've been the main song in the album. In the chorus, the members sing, "Cuz you you're my everything we are a match, cuz you're my everything you also know it, I need you, (and) you need me." The meaning of the song is straightforward. The person speaking knows their partner is right for them.
Although the group usually has a bright concept like "OH MY!" and "ADORE U," that was not the case for this album. Their title song is called "Home." The song is mixed with different genres including contemporary, EDM and pop. Usually this kind of mix doesn't go well together but Seventeen managed to do it perfectly. During the pre-chorus, the beat rises but once it gets to the chorus, the beat doesn't do a dramatic drop; instead, the music changes to a light contemporary. Because the beat doesn't drop, it gives a bit of anxiety to listeners due to the anti-drop; they expect it to have a sudden heavy EDM drop but instead the band provides a comforting tone. The hip-hop unit is known to rap in their title songs but in this song they sang. Despite only focusing on rapping in the past, the hip-hop unit nailed it in singing. "Home" is a place where you don't have to care about what other people think or say. The song is unique and worth listening to multiple times.
"Hug" is a vocal unit ballad song. The vocals in "Hug" blend in beautifully. In the chorus, members sing, "Don't say sorry, don't worry, do not be scared, do not cry now, to me you are very precious, can you tell yourself who had a hard time that I'm here, that you've worked hard, that I love you, that I will hug you." This song is meant for those who are having a hard time and are in need for words of comfort. Carats feel comfort in the lyrics knowing they aren't alone. Members of the vocal unit have yet to disappoint their fans in their ballad songs, with "Hug" not being an exception.
"Chilli" is their fourth track in the album. During the production of the album, the hip-hop unit went out to eat and while eating they looked at chili sauce that was in front of them and were inspired by it. The song is meant to stand for three different meanings, whether it's about weather being chilly, chili sauce or just chilling. Carats enjoyed this song because of how random it is, due to the name "Chilli" and the weird lyrics. Though fans may not understand the lyrics behind the song, it's catchy and worth listening to. At one point in the song, Seventeen member Wonwoo sings in English, "Sweet like chocolate wanna be like Willy," which seems random but is referring to Willy Wonka and the Chocolate Factory. Carats can listen to this song while doing homework or simply hanging out with friends.
Not only does the performance unit show their dancing skills but they also show their talents in singing and rapping. "Shhh" is a performance unit song. During the song, Jun (Moon Junhui) can be heard singing in falsetto. Though carats haven't seen the choreography, fans know it's going to be great.
Before announcing a comeback, on Friday, Dec. 14, 2018, Seventeen attended "MAMA" (Mnet Asian Music Award) where they revealed a track from the sixth album, "Getting Closer." The genre of the song is hip-hop mixed with R&B. The song is fast-paced with an intense drum and synth base. Because of this song, carats believed Seventeen will be doing a dark concept for their next album.
Seventeen is known for having amazing choreography, which shows in their newest release. The choreography for "Getting Closer" is intense. Carats enjoy the break dance as members such as Jun and Dino (Lee Chan) received a chance to shine. On Thursday, Dec. 20, 2018, Seventeen dropped the music video for "Getting Closer." Though carats have already heard the song because of the awards, they were still shocked at how the music video was shot. "Getting Closer" has lots of good parts and is a strong song to end the year and start off to 2019.
Overall, the album is excellent. The album deserves 10 out of 10 stars. Members of Seventeen received a fair line distribution which is difficult for a group who has 13 members. In the future, fans hope to see Seventeen experiment with different concepts. But regardless what concept Seventeen does, their songs will remain high quality.