Review: 'WHEN WE ALL FALL ASLEEP WHERE DO WE GO?' mixes multiple genres
Billie Eilish entrances listeners with haunting lyrics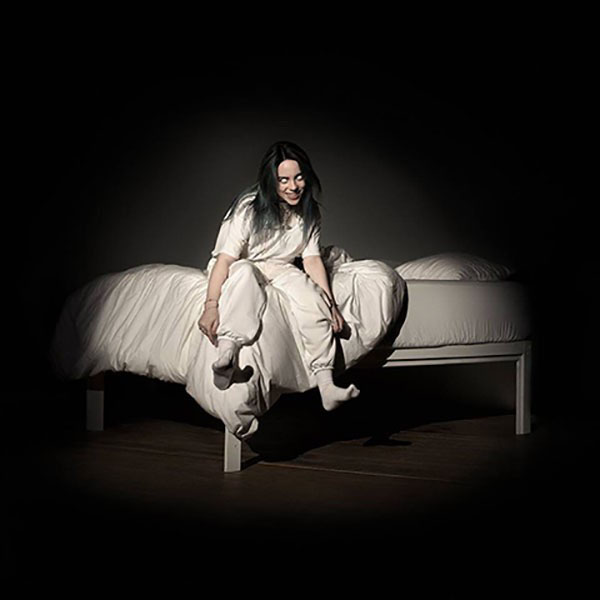 Hang on for a minute...we're trying to find some more stories you might like.
Seventeen-year-old singer-songwriter Billie Eilish released her debut album "WHEN WE ALL FALL ASLEEP WHERE DO WE GO?" on Friday, March 29, 2019. The album was co-written and produced by her older brother Finneas O'Connell. Since the release of the album, Eilish has hit No. 1 on Spotify Charts and has become one of the most listened to artists in the music industry.
The record includes 14 tracks, with the first one being "!!!!!!!." It is merely 13 seconds long and consists of Eilish jokingly removing her Invisalign and introducing the album. After this, the rest of the album has a creepy and haunting vibe to it which stands out compared with Eilish's younger feminine voice.
The majority of the songs on the record are bass heavy and have a sort of snappiness to the lyrics. A good example is the first track "bad guy" which starts off with steady beats that progress into a mixture of goth, trap and pop that work well together. There's a huge turning point in this track where it almost seems like it's not even the same song. The beat drops and a heavier bass kicks in, similar to a trap song.
The second track, "xanny," is a reference to drug called Xanax used to treat anxiety. Contrary to the name, the track is about Eilish dissing the purpose of recreational drug usage. With lyrics like "Still just drinking canned coke, don't need a xanny to feel better," Eilish spreads the message to be safe and make careful decisions. She has seen her own friends abuse drugs and alcohol but decides to stay away from it. It's refreshing to hear an artist spread a message like this in an industry surrounded by the misuse of drugs and alcohol.
While "bury a friend" and "all good girls go to hell" have different tones, both songs have deeper philosophical meanings of life. "When we all fall asleep where do we go?" is both the title of the album and a lyric from "bury of friend," which talks about questioning afterlife. In "all the good girls go to hell," Eilish uses religious symbolism to express how God needs the devil. She sings about how the world is balanced with good and evil by saying "Pearly gates look more like a picket fence." Both of these tracks have an underlying meaning fans may not catch on to the first time listening to the song.
"wish you were gay" starts off with a slower tempo than the first tracks of the album and gives off a sultry tone. Although the music is beautiful, Eilish was heavily criticised for the lyrics and title of the song. Some fans felt like the song was mocking the LGBT+ community with lyrics like "Don't say I'm not your type, just say that I'm not your preferred sexual orientation." The song is clearly about being rejected by a boy but Eilish has clarified she didn't mean to offend anyone.
Eilish shows vulnerability in the last couple tracks of the album. "i love you" reminds fans of the song "when the party's over," which was released when Eilish was 16 years old. Both tracks are about a relationship and feeling hurt by being alone. "i love you" is a beautiful ballad which exposes the pain that comes with a toxic relationship but the it also shows the love people can share to the point where they can't get away from each other.
Closing off the record is "goodbye," which is significantly shorter than other tracks. It's a play on lyrics since Eilish restates a lyric from each of the songs in reverse order, starting with her singing "it's not true" from the track "i love you," but in a distorted voice. Only 12 out of the 14 songs are referenced in "goodbye" because it excludes itself and "!!!!!!!."
Overall this album earns a 4 out of 5 stars. It is clear Eilish has matured artistically and this album stands out from other works she or other artists have released. It combines horror and pop to make a spine-chilling album, yet also includes tracks that tug at fans' heart strings and make them want to cry.