Review: Apple's new battery case lives up to expectations
iPhone's latest accessory might be its best one yet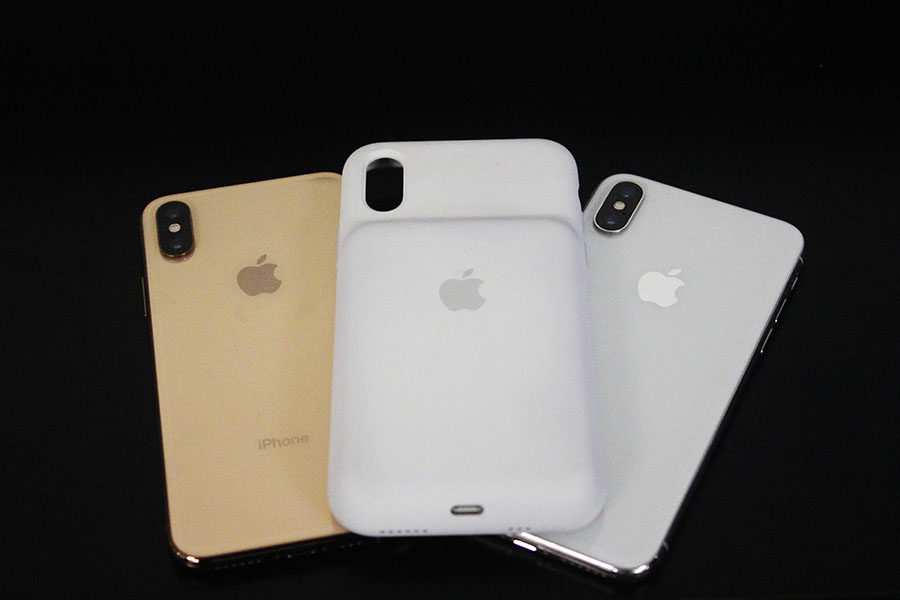 The iPhone XS battery case from Apple is a great investment for people looking to extend the battery life of their phones with a stylish, Apple-certified product. At $129, the case is slightly overpriced, but the investment is worth it for those who are always on their phones, have damaged batteries or need an extra kick of battery to get them through the day.
The case features Qi compatible charging, increasing call times of up to 37 hours and internet usage up to 20 hours, nearly double what they used to be. The case comes in three colors: black, white and pink sand. While the texture of the case feels like soft rubber and is good for gripping the phone, the white case easily attracts stains from jeans or other items onto the clean finish.
The one major issue with this case is its size. The case has a big hump on the back of it, which adds a noticeable amount of weight. This could create a grip issue for people with smaller hands because it almost doubles the thickness of the phone. Although the size can be annoying, it shouldn't be too serious to deter consumers from purchasing the case.
The cost of the case tends to be another issue with the product compared to other battery cases on the market. Cases such as the Newdery and Trswyop can be found for as low as $30 on Amazon. When it comes down to it, all of these battery cases have the same main function, which is to give phones extra battery life, so it may seem ridiculous to pay $129 for the Apple case. The case is slightly overpriced, but it's an Apple-certified product that has integrated Qi charging in the battery case. This is something neither of the other brands include, and the case has the customary "Apple tax" that almost always guarantees a good quality product that lasts for a long time.
The case also interacts with the phone by showing its battery life on the list of devices left of the home screen. This will allow people to check the battery life of their phones, battery cases, airpods and Apple watches all in one location. The Qi compatible case not only allows the induction-based charging to pass through the case into the phone, it is integrated into the case itself so the case can also be charged using a Qi wireless charging pad.
Overall, the Apple battery case is slightly overpriced, but it's an investment for anyone looking to increase the battery life of their phones. The phone case receives a 4 out of 5 star rating, falling short of perfect due to its heavy weight and hefty price.