Review: 'Oh, What a World' tour shines through delays
Texas native Kacey Musgraves returns home during tour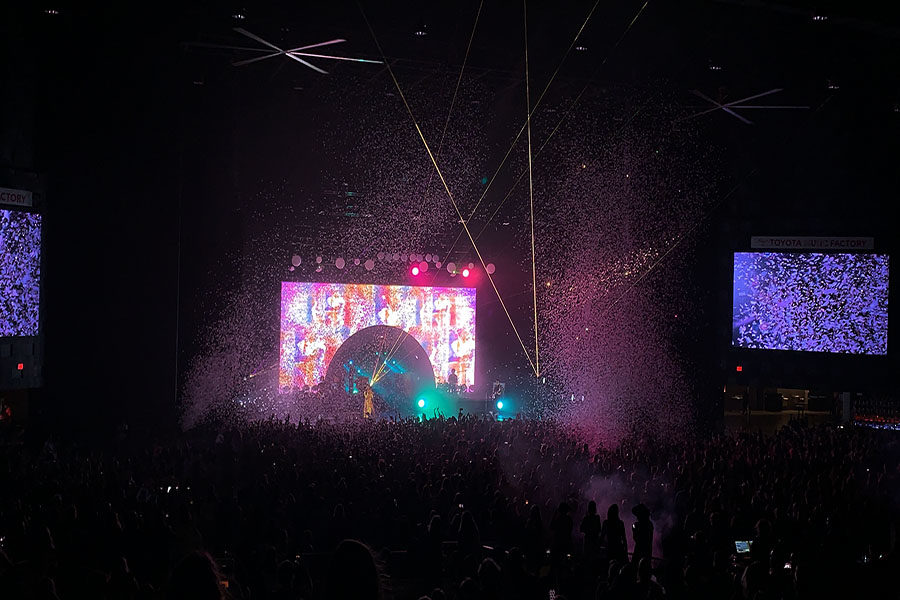 Grammy award-winning artist Kacey Musgraves returned to her home state during her "Oh, What a World" tour at the Toyota Music Factory alongside Lucius on Thursday, Oct. 10. The Thursday show was the first of her two-night performance. 
From the beginning, the concert was rough. Entering the concert was difficult, as the venue did not support SeatGeek. The process of recovering the tickets took about one hour, delaying the evening tremendously. Despite this inconvenience, SeatGeek offered exceptional customer service which differentiated from the box office employees at the venue. 
After gaining entry, merchandise tables were in plain sight and offered a vast amount of options. Sweaters, shirts, stickers and accessories lined the tables with varying price ranges; fans who were on budgets were able to buy items to remember the experience. 
Indie pop band Lucius opened for the country artist and performed wonderfully. Lucius offered relaxed energy that settled the crowd in before Musgraves. Lucius had a simple backdrop and attracted the audience with glittery outfits. The performance was well done, excluding the lack of communication with the crowd. The band's performance could have been significantly more memorable if the artist-fan interaction increased.
Due to an unpleasant rain delay, Musgraves took the stage two hours after the scheduled time. Despite the cold weather, the venues' staff handled the situation as best as they could and kept fans updated. "
Slow Burn
" and "
Wonder Woman
" were the chosen songs Musgraves opened with, setting a happy, mellow tone for the rest of the night. 
The set list primarily consisted of songs from Musgraves' most recent album "Golden Hour," but also included several songs from past albums that the crowd recognized and loved like "Merry Go 'Round." Taking control of the stage and capturing the audience's attention with bright lights and visuals, Musgraves put on an incredible performance.  
Musgraves took a moment during her performance to introduce each of her band members. This small gesture allowed the audience to appreciate the band members and Musgraves' love for her fellow musicians. 
Closing the show with the song "High Horse," the energy in the venue was at its peak. The weather delayed the show, but it did not stop fans from enjoying Musgraves' incredible performance. She was able to turn the gloomy, rainy night into a magical experience for the crowd. With the exception of the weather, the show deserves a 9 out of 10 rating.