Top 19 albums of 2019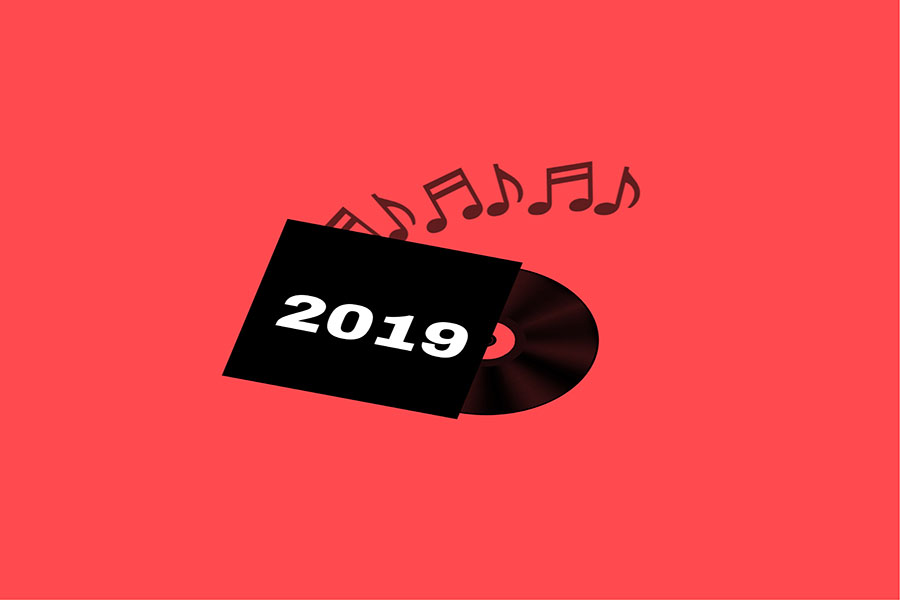 This year was an exciting year for music. Several artists released special projects and many decided to try something new. Here is a list of the top 19 albums of 2019 ranked from worst to best starting at No. 19 and counting down to the best.
"Outer Peace" by Toro y Moi
As a standing experimental artist, Toro y Moi produced two albums this year as big milestones for the underground hip hop/alternative style. On this album, tracks "Monte Carlo" and "New House" bring out the best of Toro's music but the flow of the album can be confusing and hard to listen to at times. It sounds like multiple singles were thrown together. Other than the awkward flow of this album, there are great tracks on it and it can be nice to study to. This album deserves a 5.5/10.
"The South Got Something To Say" by Pouya
Released this summer, the album features songs that give off a feeling of summer blues. With what seems like a new sound, Pouya has been doing an interesting job of rapping over uncomfortable beats. As consistent as he is, this album feels awkward yet it still sells the great feeling of recovery from the Pouya we know and love. This album deserves a 6/10.
"Bandana" by Freddie Gibbs
With a freestyle feel, Bandana is a turning point for rappers like Freddie Gibbs who are above average age for a rapper. As a 37 year old, Gibbs does a fantastic job of displaying his talent as a freestyle rapper. Songs like "Crime Pays" and "Fake Names" demonstrate his artistic capacity. This album was excellent, the perfect soundtrack for zoning out and thinking. This album deserves a 6.4/10.
"Social Cues" by Cage the Elephant
The American rock band stays in its comfort zone in this album while proving the ability to create solid, top-quality sounds. "Social Cues" is the group's fifth studio album and explores new sounds that remind listeners of the old, nostalgic sound the band once created. This album is one of the band's best. The track "Social Cues" is a fan favorite due to its tone. This album deserves a  6.7/10.
"All My Heroes Are Cornballs" by JPEGMAFIA
A big milestone for experimental pop "All My Heroes Are Cornballs" broke the ground for JPEGMAFIA with rambunctious tracks including verses about past relationships. He does a fantastic job of toying with new sounds and making his music as out there as possible. This album deserves a 7/10.
"Anger Management" by Rico Nasty/Kenny Beats
In this album, American songwriter, rapper and producer teams up with music producer, Kenny Beats, to create an 18-minute top-quality record. "Anger Management" brings the intensity Nasty is known for. In tracks such as "Hatin" and "Cheat Code," listeners can hear that intensity. This album deserves a 7.4/10.
"Cheap Queen" by King Princess
After several singles and an EP, new artist King Princess released her long-awaited first album. Telling the story of a hard breakup, the songs range from tear-jerking ballads to fast, danceable songs like the single "Hit The Back." Performing on shows like Saturday Night Live, she is making a name for herself. This album deserves a 7.5/10.
"Baby on Baby" by DaBaby
This year, American rapper and songwriter released two albums "Baby on Baby," which is his debut album followed by "KIRK" soon after. "Baby on Baby" deserves this spot due to its ability to showcase the artist's talent. Tracks from this album such as "Suge" and "Walker Texas Ranger" is what launched DaBaby into commercial success. He is a must-watch artist who proves his artistic abilities within every song and feature. This album deserves a 7.6/10.
"WHEN WE ALL FALL ASLEEP, WHERE DO WE GO?" by Billie Eilish
Eilish released her debut studio album early this year, proving she is a powerhouse on the charts and upcoming music. She accomplished that by the amount of popularity she has received throughout the past year at the young age of 18. Songs like "when the party's over" and "bad guy" give a glimpse at the kind of music Eilish creates, although to have a better understanding, one must listen to the entire album. Eilish is a young powerful artist that will continue to make popular music and this album is just the beginning. This album deserves a 7.7/10.
"So Much Fun" by Young Thug
With so many bangers, "So Much Fun" by Young Thug really was and always will be so much fun to listen to. With 19 tracks of non-stop ear candy, Young Thug did an amazing job of producing this album and making it flow to his artistic standards. With tracks like "Hot" and "Bad Bad Bad," this album is great to work out to or just hang around with some friends. It's an all around solid production, just needs a bit more contrast. If you're in the mood for an upbeat feeling, this album is definitely for you. This album deserves a 7.9/10.
"IGOR" by Tyler, The Creator
Like many other albums released this year, "IGOR" follows a two-year gap. This album is the fifth studio album for the American artist and does follow a similar deep tone like his previous album "Flower Boy." Tyler, The Creator sticks to a similar sound but also keeps loyal to his fun upbeat tone, that is equally as serious. The most famous track on this album is definitely "EARFQUAKE", likely due to its ability to quickly summarize the artist's style and create an exciting sound. This album deserves an 8/10.
This debut studio album for the American singer-songwriter brought growth lyrically and in sound. "Immunity" is a must listen and builds a better understanding for the new generation of Indie pop. Clairo sticks to her mellow tone and intriguing lyrics in this album but she does it extremely well. Songs like "Closer To You" and "Sofia" prove the artist's ability to add depth to the sound she is known for. This album deserves an 8.5/10.
"Apollo XXI" by Steve Lacy
As Lacy's first album, Apollo XXI gives off Frank Ocean's style of music similar to the flow on Channel Orange. Lacy implements upbeat style drum beats and fast bass guitar riffs as seen in the past on his EP "Steve Lacy's Demo." This album was another great late spring album with a release on Friday, May 24. This was a more relaxing album made to drive to late night in the summer. This is probably the best first album out of any other artist this year due to a very good flow and an easy to listen to vibe. This album deserves an 8.2/10.
"Fine Line" by Harry Styles
This December, Styles dropped an anticipated but unexpected album and fans were more than pleased. A two-year break allowed Styles to create a completely new aesthetic for this album. "Fine Line" is a mature record that defines Styles as a pop rock star. Tracks like "Watermelon Sugar" and "Cherry" may remind listeners of Styles' previous album, however these songs are top quality. "Fine Line" deserves an 8.6/10. 
"Is He Real" by IDK
With "Is He Real" being IDK's sixth studio album, he comes across on this track as consistent as ever with rhymes about religion and his trouble to maintain a steady relationship with a higher power. IDK uses his beliefs to make tracks like "Lilly" and "24" really pop out as leading bangers on this album. Overall, it's extremely consistent and nice to listen to. This is an album our generation will tell our children about. "Is He Real" deserves an 8.8/10.    
"GINGER" by BROCKHAMPTON
As the fifth studio album by BROCKHAMPTON, this is a mood album portraying triumphant and sad emotions by the boys in the band going through a lot since the departure of former member Ameer Vann. Tracks like "Dearly Departed" give eye-opening verses from JOBA and Dom McLennon. This album does an outstanding job showing providing both happy and sad emotions from the boy band and has an overall amazing production. "Ginger" deserves an 8.5/10. 
"Willow" is a close to perfect psychedelic sound album. The 19 year old proved her artistic ability with this album and showed a mature side with a playful mellow tone. In tracks such as "PrettyGirlz," Willow showcases that maturity with a catchy sound. This album is a must listen and deserves a 9/10. 
"ARIZONA BABY" by Kevin Abstract
Coming in with a more upbeat feel, Abstract's second album "Arizona Baby" won fans' hearts with songs about Abstract's past and memories that are significant to him. Songs like "Corpus Christi" and "Peach" make the late spring album pop, bringing out the more tender emotions in fans and immediately hit the charts as a top-selling album. This album was produced to perfection and flowed well together. This album is definitely deserves a 9.7/10, it really made the spring a better time. 
"ZUU" by Denzel Curry
As the fourth album produced by Curry, "ZUU" was dropped on Friday, May 31 and provided 12 bangers for the days leading into summer. This album did a great job of expressing pride in being where you're from. With songs like "RICKY," Curry expressed the many life lessons he learned from his Mom and Dad and that everyone should employ on their life.This is easily a 10/10 and all around and amazing album with elite production quality. This album is simply legendary.