Review: 'Manic' leaves fans greatly satisfied with unique melody
Ashley dedicates album to Halsey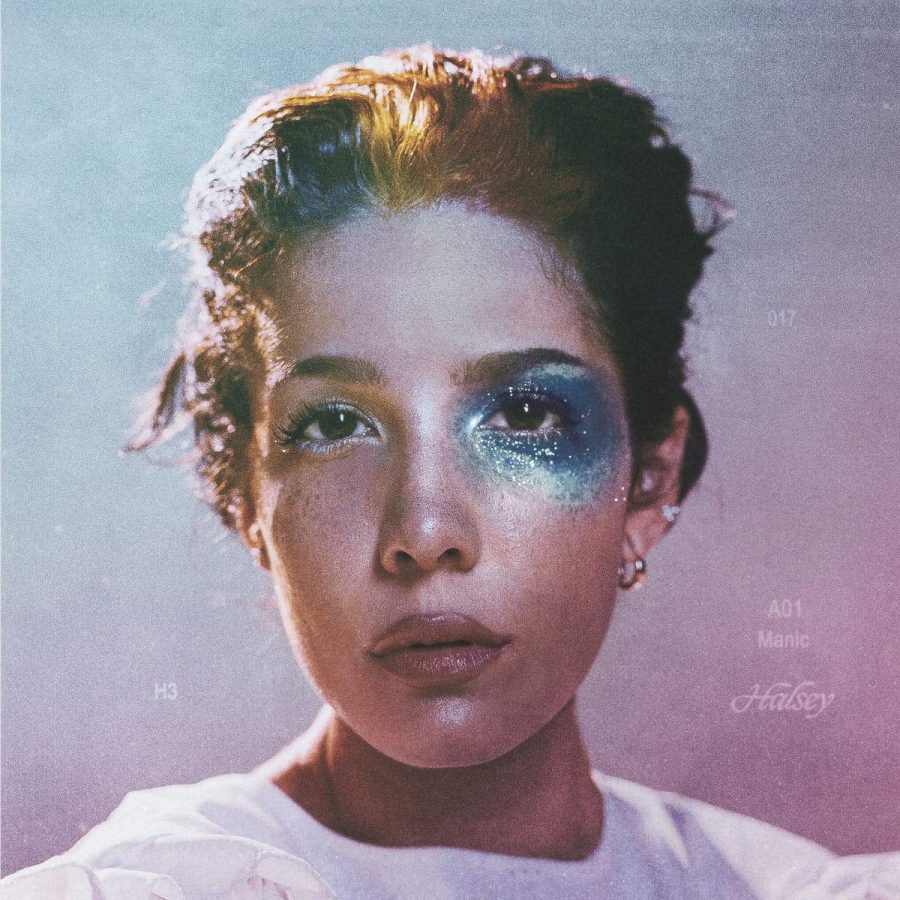 Singer-songwriter Ashley Nicolette Frangipane, also known as Halsey, released her third studio album, "Manic," on Friday, Jan.17. Halsey stated she had been nervous to release the album due to the persona, heart-warming subjects it covers. Though certain songs are about her ex-boyfriends, that doesn't stop her from telling the truth with her beautifully written lyrics and emotion-filled songs to see her story.
In track one, "Ashley," she shows how she wanted to end her life due to the choices she has made, with lyrics such as "Standing now in the mirror that I built myself and I can't remember why the decision wasn't mine." The lyrics express it hadn't been her decision as Ashley but her decision as Halsey, her persona, whom she critiques in this song for her bad decisions. The song contains a small piece of dialogue from the film "Eternal Sunshine of the Spotless Mind" to fit in with the message and how she feels.
The single "Graveyard" released Friday, Sep. 13, 2019 shares how she would do anything to be with the person she loves. With an upbeat melody and lyrics like "Oh, when you go, down all your darkest roads I would of followed all the way to the graveyard," she explains if it weren't for people telling her not to, she would've followed the people she loved to the grave. People filled with grief and heartache relate to this song heavily. 
The fourth track, "You should be sad," is unique due to it being her first country-like song. Though the sound is different, it doesn't stop fans from recognizing how well Halsey sounds. Fans speculate the song is about an ex-boyfriend from the lyrics "But you're not half the man you think that you are and you can't fill the hole inside of you with money, girls and cars" and "'Cause you can't love nothing unless there's something in it for you." It describes how full of himself he was and didn't have time to care about anything else but himself. The music video takes inspiration from Christina Aguilera, Lady Gaga, Carrie Underwood, Shania Twain and a section of the music video reminds fans of Harry Styles' "Lights up" music video.
The single "Without Me" released Thursday, Oct. 4, 2018 describes how she felt when another ex-boyfriend, supposedly G-eazy, cheated on her. In 2019, a Saturday Night Live performance showcases the words he said to her, behind her on a screen, as well as the places he cheated at. The song has a vastly unique beat but fits so well with how she portrays her emotions. The lyrics "And then I got you off your knees, put you right back on your feet just so you could take advantage of me" shows how he got his career back from Halsey being there for him, but because he was back on top he didn't care for her anymore. Halsey mentioned while recording this song, she cried in the recording box.
The 10th track, "Finally // Beautiful Stranger," starts off with the line "Your eyes, so crisp, so green" makes fans wonder if the song could be about ex-boyfriend YUNGBLUD. An old country-style sound starts the song, similar to Harry Styles' "Two Ghost." The lyrics "You stopped me in my tracks and put me right in my place, used to think that loving meant a painful chase but you're right here now and I think you'll stay," displays how she didn't know what the meaning of love was until he appeared, and now she's thankful for what he did. It becomes a noteworthy track among her break up songs for being Halsey's first love song in her career with no hateful undertone.
Becoming the most personal track of the album, "More" has Halsey open up to fans about her miscarriages and how she has dealt with them. With this song being a ballad, it includes the sound of a baby mobile while she sings about her distress and heartbreak toward the situations and how she wishes she doesn't have to go through them. The somber lyrics "They told me it's useless, there's no hope in store but somehow I just want you more" showcase her desire for a child despite her disease, while multiple people tell her to give up.
The last track, "929," is creatively named due to Halsey being born on Sept. 29. The song gives insight to the singer's new outlook to start living her life rather than giving up. The subtle beat and talkative lyrics give an understanding of her feelings toward life over the years, her perspective changing and how she had low points in her career. The lyrics "And I've stared at the sky in Milwaukee and hoped that my father would finally call me," perfectly describes her old thoughts of missing her father, to later focus on herself.
"Manic" becomes one of Halsey's most personal albums as it shows a part of her fans can connect with on another level. The album deserves 5 out of 5 stars as it shows Halsey's growth as an artist, dedicating it to her stage name and being true to herself. It shows a new point in her career that excites fans for what comes next.