Special Olympics to hold track, field day
Lakeview Middle School to host event for special education students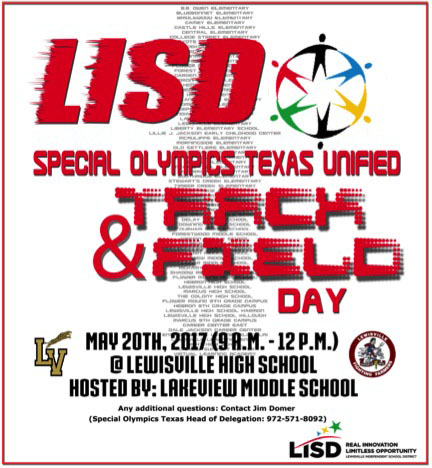 Hang on for a minute...we're trying to find some more stories you might like.
Lakeview Middle School will be hosting the LISD Special Olympics Unified Track and Field Day on Saturday, May 20 from 9 a.m. to noon at Max Goldsmith Stadium. This event is intended for all special education students with severe cognitive or developmental disabilities.
"We want our students to have a day to show off their talents, to feel the joy of winning, and to make lifetime memories while increasing disability awareness to all people," event co-organizer Misty Graham said.
Volunteers are needed for this event to make it the most impactful for all those participating.
"We have a variety of volunteer positions to fill," event co-organizer Mackenzie Huff said. "Most positions are typical of a track and field day for any school. We need crews to set up/break down tables and equipment, race starters, race finishers [to award] participants with medals, flag holders, field event workers, water station crews, first aid workers, public address announcers, photographers, journalists and audience members. We hope that in every picture the stadium background will be full of enthusiastic [and] encouraging fans for these amazing athletes."
This event has come a long way from the planning stages. It all started when Graham saw one of her current students participating in a Special Olympics race in another area. Graham wanted to bring this event to those in the community.
"As we began the process, unfortunately, my initial inquiry in using a local school facility was unsuccessful as it was unavailable due to scheduling conflicts," Graham said. "We then realized we would need extra support in finding the most suitable facility for this event. Mr. Turner, our [Lakeview Middle School] principal, supported our efforts by reaching out to the LHS principal, Mr. Kajs. Fortunately he agreed and offered the LHS track & field facility to [Lakeview Middle School] in hosting this district-wide event."
The Lewisville Tigers boys' and girls' rugby team will be volunteering at the event. The team looks forward to giving back to the community and hopes the day will leave positive memories on those participating.
"The Special Olympics holds a very dear spot in my heart," Lewisville Tigers rugby club coach Jason Tucker said. "My uncle/godfather is special needs and has competed in the Special Olympics for years. I have [volunteered] with this great organization before and it is so rewarding to see the expression on every athletes face when they cross the finish line. They do not care what place they get. They are just happy to be there competing."