Sharing prom culture
24th annual Grand Ball took place Saturday, March 30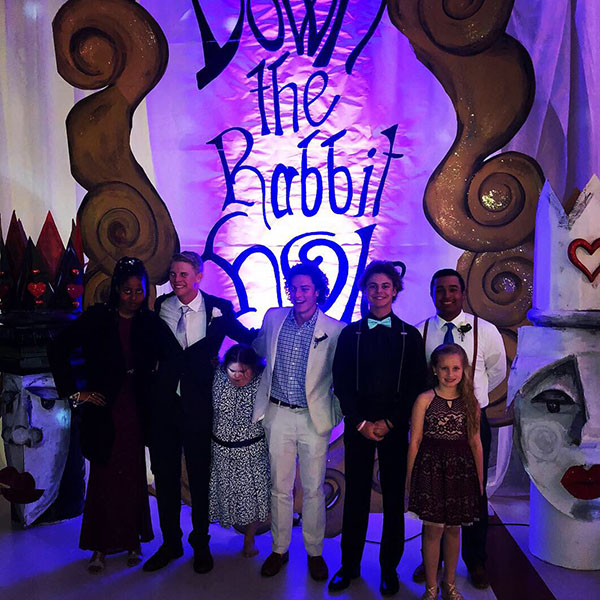 In hopes to achieve a prom dedicated and designed specifically for unified students, the 24th annual Grand Ball took place on Saturday, March 30. The event allows special needs students to be themselves.
"The Grand Ball is a unified prom that is accepting of students of all abilities," Circle of Friends teacher Bailey Fry said. "[This was] the 24th annual LHS Grand Ball. It began in 1996 as a small banquet and morphed into the large event it is now."
The event is important to family and friends of students in COF as a variety of unified students feel uncomfortable in a traditional high school prom due to the loud music and big crowds of people. The event is designed to closely resemble a prom by featuring similar traditions.
"This prom is designed with their needs in mind," Fry said. "You see everything you would see at a traditional prom, from the students arriving in limos, picking up corsages and boutonnieres, getting their photos taken, eating, dancing and the presentation of a royal court."
Every year, Grand Ball adapts a new theme. This year's theme was "Wonderland Grand," an Alice in Wonderland theme. To prepare for the event, individuals of different committees and clubs gather to arrange the event.
"Students and teachers love to be a part of this," COF vice president junior Emma Arthurs said. "We all helped to decorate and make it a great night."
They work all year to prepare for the event, including seeking donations, securing vendors, and making decorations.
"Grand Ball takes an entire committee to make it possible," Fry said. "In fact, the night before Grand Ball each year we typically have around 100 volunteers who come to set up the event."
After all the hard work going into the planning and work put into actually creating the event, Fry has one goal in mind.
"My hope is for our students to enjoy the evening," Fry said. "I know our community will come together once again to make the event a success."
COF president senior Halie Ojukwo attended Grand Ball to share the moment with her friends. This is her third time attending ever since she joined the club three years ago.
"We danced all night and had lots of fun," Ojukwo said. "[It] was definitely a night to remember. The turnout was fantastic."
Ojukwo believes the students had a great time at prom. She was glad students who hadn't been in previous years received the chance to experience the night.
"I believe this event is unmatched every year, there's nothing like it," Ojukwo said. "Of course there's prom, but Grand Ball gives you the opportunity to really set yourself free. I love everything about it. And this year was another one for the books."