2 INCubatoredu companies win thousands in investment money
The Point News, Oackie plan to advance their companies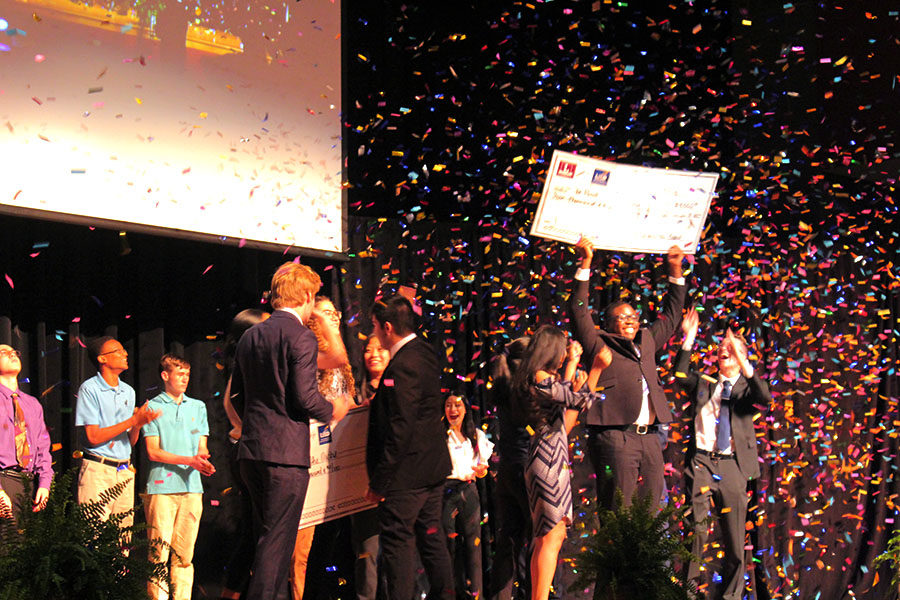 Five groups line the stage nervously as the announcer takes his time to build up the tension. Changing his speed, he quickly announces the two winners. Once they are handed the checks, a loud pop sounds off. Confetti fills the air as the groups cheer in excitement.
INCubatoredu led the top five groups to Pitch Night on Sunday, May 5. Pitch Night allows the top groups from the entrepreneur-building class, taught by Valerie Cooper, to compete for up to $5,000 in investment money. The winners consist of the Oackie (seniors Adam Hudson, Christian Bingham, Isaac Bustos and Flower Mound High School juniors Lauren Erickson and Abigail Cordova) and The Point Short News (seniors Giselle Porras, Jacqueline Hernandez, Samuel Akisanmi and Wesley Brewer).
"It's been a really cool opportunity to watch these kids navigate their own learning," Cooper said. "These kids have come up with these incredible ideas."
The Point Short News focuses on sharing unbiased bulletpoint styled news personalized toward their aimed audience of teens and young adults. While presenting, the group had every answer to all the questions asked by the judges. With the help of the group's knowledge over their presentation, they won $4,000 out of the $5,000 total to put forward any expenses they have.
"We definitely practiced hard," Brewer said. "I added in some new stuff, we kept it interactive throughout the whole thing so we made sure the viewer wasn't just sitting in their seat and listening; they were engaged in what we were talking about."
Coming in second place, Oackie plans to use the $1,000 they received to put them toward the legal fees of starting a company. Their product is a waterproof poncho which provides heat, fixing issues faced at cold sports games or prolonged outdoor outings.
As both groups receive funding, they plan on expanding the popularity of the companies. When presenting, the team members showed the judges their financial models which explained how the groups would use the money if they had won it.
"We're going to use the money to market to bigger a audience, make sure people know The Point is out there, there's a solution out there for their problem," Akisanmi said. "We definitely want to make more content on the website."
By being in INCubator, students were able to learn how to design and develop a business of their choosing. During the class they had to navigate themselves through problems while figuring out which steps they needed to take to be successful. The skills they learned from the class allowed The Point Short News and The Oakie to advance as far as they did.
"I am so proud of these kids," Cooper said. "They have progressed incredibly well. I was just thinking today back to when I had the majority of them their junior year and making them get up and present to where they are today, where they can give a 10 to 15 minute sales pitch, straight from their heart without having to have notecards or guided text or any of that. They can just speak to a room full of people."