One adoption at a time
Teaching owners to take care of their animals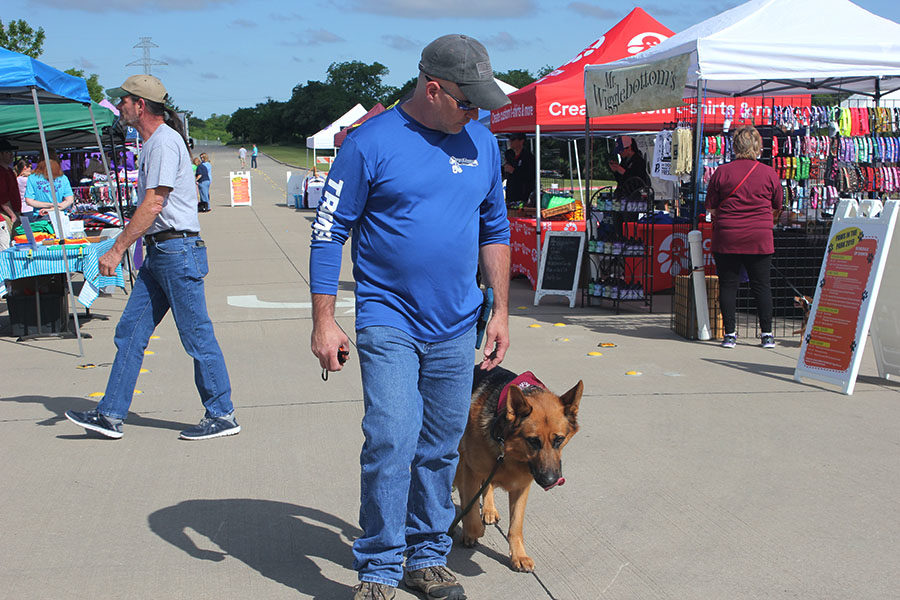 Lewisville's yearly event, Paws in the Park, allows the community to adopt various kinds of animals ages 1 and up. This year's event was Saturday, May 4 and half-price adoptions were also available at the shelter from Friday, May 3 to Sunday, May 5. The event offered entertainment for the entire family. Vendors were able to sell and promote their products to the public.
"People should absolutely come to events [similar to this because] there's a lot of different vendors here," Off Leash vendor Justin Ray said. "There's different things people can learn from how to properly trim a dog's nails [and] how to groom a dog properly. There's annual vaccinations so people can keep their dogs healthy and safe. There's a lot of different things to learn [during] events like this."
Animal owners learn important information to safely meet the needs of their pets. Paws in the Park provides owners information on how they can educate pets in ways for them not be hostile to other humans. Pet owners had the opportunity to buy necessities including dog shampoo, dog collars and leashes.
"I learned there [are] a lot of dogs that get misjudged, most of them were pitbulls and rottweilers," senior Edwin Garcia said. "A lot of people view those dogs [as] dangerous [and] they're caged up because no one really wants them. I do think high schoolers should go so they can know more about what their pets need."
Paws in the Park provides low-cost annual vaccinations for pet owners. Dog viruses are common, such as parvo, which if not treated could be deadly. Pets' health care is a main part of the event and teaches owners what diets their pets should have, depending on their ages.
"[My dog, Arie, and I] came for vaccinations [at Paws in the Park]," dog owner Juliet Hernandez said. "I actually had a dog before [who] got a virus and ended up dying. This event actually helped me get more of an idea of what I can do to get [Arie] to be healthy."
Texas Pawprints, an organization focused on helping cats find homes, was also at the community event and allowed their kittens meet new people in the hopes of an adoption.
"We get some cats from people who don't want them, but most of them we get from people who find them in their backyards or pick them up from a storm," Texas Pawprints vendor Monique Adams said. "[A person] found a baby kitten with no mama and [the organization] found some cats that were severely injured."
Paws in the Park is helpful for pet owners because it teaches owners what their animals need. Vendors not only sell helpful items for animals' needs but also share their own knowledge on how pet owners should train their animals. At end of the day, giving an animal a healthy and loving home is what Paws in the Park was created for.
"I think [Paws in the Park] should continue because it gives opportunities for people to get a chance to adopt a pet," Garcia said. "[This] event gives [them] an opportunity to [view] a demonstration in what they will have to do if [they] want to own a pet."