Winter cools down the field
Band places 12th at first contest of season
After 10 weeks of preparing the show, the band started its marching competition season on Saturday, Sept. 28 at the HEB stadium in Bedford, Texas. The band placed 12th out of 24 at the competition where the first three parts of the show were performed.
"Overall, it was pretty good," band director Christopher Agwu said. "It wasn't their best performance due to a combination of the heat, the game the night before and the parade we did that morning. It took a toll on them physically, so they weren't able to perform as well. They did pretty well given the circumstances."
This year's show, "A Cooler Shade of Winter," is a unique spin on the typical winter theme because it focuses on neon colors instead of traditional colors in a show such as white or gray. With new marching designer Josh Wendt taking over the design process, the band hopes to see a successful season due to having the show catered to the band.
"It's designed in a way to take Lewisville to the next step," Agwu said. "It's a concept that's been done before, but it's different because we have neon colors. He designed it just for us because we're trying to go a different path."
Compared to last year's show, "I Am Water," "A Cooler Shade of Winter" challenges the band members through advanced body movements scattered throughout the drills.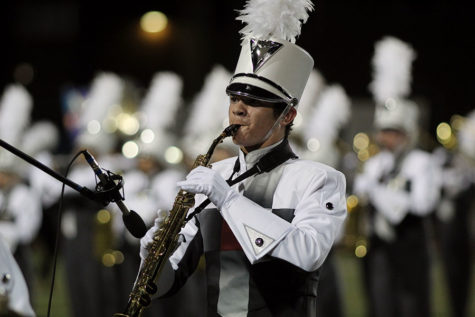 "It's completely different from anything we've ever done before," senior head drum major Sylvia Nalbandian said. "It's a big leap from last year. It's a lot more challenging."
As marching season moves forward, individual band members will need to focus on their own performance to make the overall show improve.
"We need to improve on individual things like the body [movements], endurance and pushing through the end," junior color guard leader Briana Ransom said.
The next marching contest is on Saturday, Oct. 5 in Burleson, Texas. The directors hope to improve the show on an individual basis in order to score higher at the upcoming competition. Along with other improvements, the band will also add the fourth part of the show at this week's competition.
"I think the show is going to be what it needs to be once all the individuals start executing at the level that they need to," Agwu said. "It's like a car or machine; if a specific cog is not working, it's not going to work the way it needs to. Once everyone figures out their individual role, it will be performed a lot smoother and more effective."