Playing for the public
Orchestra quintet performed at The Perc Coffeehouse on Friday, Oct. 25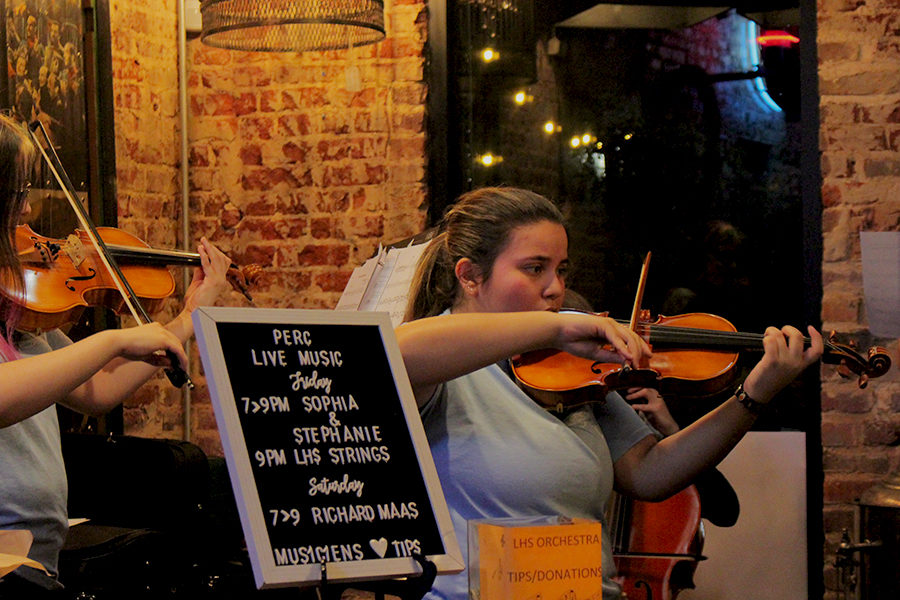 The quiet cafe picked up in the amount of guests passing through. At 9:30 p.m. on Friday, Oct. 25, five members of the orchestra played an hour and a half set at The Perc Coffeehouse, including songs such as "Yesterday" by the Beatles and "Eine Kleine Nachtmusik" by Mozart.
The quintet was formed by seniors Garrett Hicks, Chris Alspaugh, Tommy Gilmore, Amy Rodriguez and Lillian Chambliss. Without being fed the idea from directors, this group organized their own practices and hand-picked the pieces.
"We wanted to do something as an outreach from our school because everybody lists the fine arts as band [and] theater, but they never mention orchestra," senior orchestra president Amy Rodriguez said. "We wanted to get a foot in the door and represent ourselves more. We decided to do the quartets or quintets or however many people are in a group and we decided to create this."
The performance at The Perc was relaxed and gave the audience an inside look at the orchestra's passion and love for music. The concert felt intimate and personal to both the players and the audience.
"In concerts, it's a lot more planned out and structured," senior Garrett Hicks said. "It's a more formal environment whereas here, we announced we were done and then we had two or three other things that we played. We can interact with our audience [here]."
While students in the orchestra are used to concerts and having to play in front of others, playing in a coffeehouse with only about 30 people can be intimidating. Although amount of onlookers fall, the musicians' anxiety was still high.
"You learn how to deal with your nerves," orchestra director Bill Zauner said. "That helps you with jobs later, it helps with public speaking. They learned how to organize it themselves, they set their own schedule, literally everything. They formed their own quintet, literally all I did was copy the music and offer them advice a couple times, but they did all the work themselves."
The members of the quintet enjoyed the experience of performing at The Perc and intend to continue to do community performances in the future. Currently, the group plans to perform again at The Perc on Friday, Nov. 22 and Friday, Nov. 29. The added dates will give the quintet increased opportunities to show the public what the orchestra is capable of.
"I really like being able to share the love of music that I have," Rodriguez said. "I love sharing that with people and letting them get lost in the music. I try to make it as expressive as I can."