Senior Goodbye: Thanking friends and family
'I found my passion early when I started band in the sixth grade.'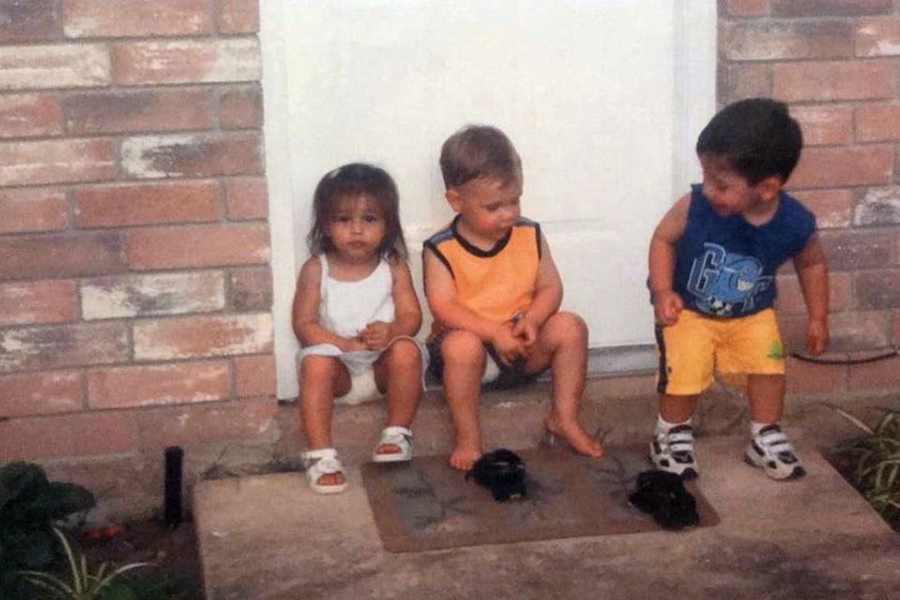 My time at Lewisville has been a short four years, but during this time, I have discovered so much about myself. I have grown up and learned unreal amounts about what it means to be an adult. My time in high school was never simple, but because of certain people, today I consider myself to be the happiest I've ever been. I didn't exactly expect high school to end early, so before I graduate, I would like to thank my mentors and peers who have done everything for me over the course of high school.
Like every other kid in band, I started high school early. It was a hot August day, probably one of the hottest days ever. Agwu was teaching us how to march. It was then I started a journey I'd never stop.
Mr. Agwu: I'll always remember you for your drive and your desire for us to be better as a band, and for my colleagues and I to be better musicians and marchers. I'm thankful to have learned so much from you.
Mr. Kraft: You have taught me the importance in being a patient musician, and that when I practice I should "always use a metronome."
DC: I appreciate all you have done for the band program. Thank you for the suggestion to switch to tuba. It has been one of the most frustrating yet rewarding processes in my life so far. The way you're always able to figure out what the band needs is admirable. Thanks for always caring about the band and everyone involved in it.
Mr. Cooley: I discovered how to be a musician through your teaching. I will forever appreciate your patience with a student like me in middle school. Thank you for always making sure I am where I need to be in my playing and practicing. 
To my drum majors and fellow leaders: You all have done an incredible job of leading and doing all you can to make the band as good as you can. I am so proud of all we accomplished in my three years of leadership alongside the majority of you.
To my tubas and euphs: You guys are the best. You guys always make me laugh, you're an incredibly driven section. I was so proud to play alongside all of you. I hope you all remember the times we had because they will always have a place in my heart.
To Pinkham and the editors: Thank you all for being patient with my sense of humor and always doing your best to make the staff as strong as it can be. You guys are truly awesome. I can't wait to see the changes you all make to the world.
To Zauner and Greenwood: You guys are extremely fun to talk to. You're also as patient as can be with your students. You always get the best out of young musicians. Thanks for all you've done for me.
Josh: Thank you for always correcting me when I'm wrong. I don't know how many mistakes I would've made in my life if I didn't have you telling me "how dumb that is." You are so much like your mom and I love that I've gotten to grow up next to such an awesome individual. You have helped me so much in the long run, I love you buddy!
Jarrod: You are the funniest person I know. You can get a smile out of anyone you are around. Thank you for always helping myself and so many others calm down. You and your brother have been the best friends anyone could ask for over the past eight  years. I love you bro, thanks for always being you!
Nick: Thank you for always being level headed about everything. Goofing off with you and the twins and discovering new music will always be some of the best memories I'll have in life. I will never forget going thrifting with you, man. I hope to stay friends with you for life.
Shawn: I'll always remember laughing with you buddy. Your bravery is intense. You always make me laugh with something and continue to further the joke to make it more funny. I love you man, thanks for staying in band the whole time and always making DC laugh.
To Brandon and Jacob: Man, you guys are like brothers to me. Jacob, I'm so proud of you for finding passion in swimming. You are going to go so far in that world. Brandon, you have the heaviest drive to accomplish your goals. It's awesome to see you do your thing in drumline and academics. You're going to end up at MIT dude; I know it. You guys have grown such a large amount since I met you, and while you are getting older and moving on to bigger things, you'll both always be my favorite freshmen.
To Andrea: Thanks for having the same sense of humor as me, for always believing in me. You're an endless source of motivation for me; every story you write inspires a different person. You'll continue to impress everyone you come across throughout your career. I know you'll accomplish all that's in your dreams. I have no doubt you'll go to any college you want. I'm so very proud of you.
To my parents: I am who I am today because of your constant motivation and wisdom. You both have made my life so much easier. Thanks for always helping me with my homework and for shaping me into a more responsible adult today. I love you guys.

---
It started off simple, in a freshman year band class. I was learning something new about myself and my instrument every day. It was hard taking the big step up to high school with new directors. I got to know the directors and over the years, they became more and more like role models to me. Thankfully, I found my passion early when I started band in the sixth grade. The directors would always come down to Hedrick and help us out. I remember thinking how cool they were and wanting to be that some day.
Now, I'm starting my journey to be a music educator at West Texas A&M and I could not be more excited. I love you all. Thank you very much.