Farmers to open against Plano tonight
Miller: Inexperienced defense will be forced to 'grow up fast'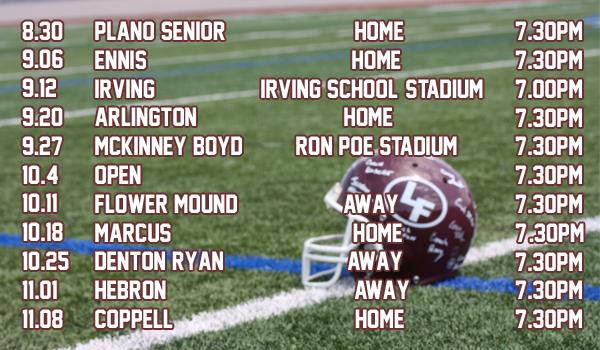 The varsity football team will be revealing the result of all its hard work and practice in tonight's home opener against Plano Senior High.
"They're good, they're very good," head coach Gregg Miller said of Plano. "They've got a really good quarterback. They've got some really tall receivers and we've got some really short corners."
Miller says that his team has some things to work on, but is ready for the game.
"We're about as ready as we're going to get," Miller said. "We're ready to play somebody, I can tell you that. As far as executing and doing things exactly right, we're not at that point. But you're never at that point with a bunch of guys who haven't played on Friday night, until they get a few plays under their belt. These guys have never played in front of a band, or a crowd. Just the energy of running through the tunnel and the banner, it just takes a while."
Miller said the less experienced players will have to adjust to how the game is played on the varsity level.
"The speed of the game is different," Miller said. "A JV game is just not as fast as a Friday night football game. Everybody's a little bit better and a little bit crisper."
Miller says the team has been quick in learning the ways of varsity.
"They're working hard," he said. "They had to come a long way as far as being able to put more plays in and more formations. It seems to be easier for our kids. They're doing a good job of picking it up."
The offense has been growing fast, Miller said, while defensive players are still growing accustomed to the next level of play.
"Defense, we're still growing every day," Miller said. "We're taking baby steps. We had to replace 10 people. They're gonna be very young and inexperienced, and it's going to take us several games of Friday nights to get the experience that we need to feel like we're solid.
"We're pretty shaky right now, but when you have that many young kids playing, you're going to get exposed sometimes. With the scrimmage last week, they hurt us on things they shouldn't have, but it's just the lack of experience. We'll fix it, it'll take a while."
As far as the kicking game is concerned, Miller focused on two names.
"Tluang Hmung is going to be our kicker and our punter and we're planning on him being accurate and solid," Miller said. "Our quarterback Matt McDougal might be doing a little punting for us."
Miller said that only the way to improve is to practice and play.
"We have to limit our mistakes," he said. "We have to be able to slow them down on defense and our offense has to keep our defense off the field. Our offense can do that. Our defensive kids have to grow up fast, and they will, and then we'll have a defense that matches our offense. Hopefully by the time we get to district, we'll have everything sorted out. It's hard to tell how good you're gonna be until you play somebody."
The makeup of district has not changed, which will make this season a competitive one.
"Everybody's going to be better, including us," Miller said. "It's going to be a very, very good, tough district. You're going get everybody's best game every week. Nobody can afford a week off. You have to get that spot and you have to get in."
There was a rumor going around this summer about a girl joining the football team, which Miller said was true, but at the last minute, she called it quits.
"She did a really good job," Miller said. "She's a great kid. It broke my heart when she quit, it really did. It hurt me bad, because I thought it was a neat deal to have a girl wanting to be part of it. We had her all suited up, but no, there's no girl."
Miller also talked about the challenge for the other players in having a girl on the team.
"It would be hard for me to tackle a girl," Miller said. "Not because they can't take it. I was just not brought up that way. You don't treat girls like you treat boys. I have three daughters. I would not want anyone to take it easy on them so they can play, but I also don't want them to hurt her."
Miller says that if another girl ever shows interest in football, she is more than welcome to join.
"If there's a girl that can come out and do it, awesome," he said. "There might be one, and I'm not gonna be the one to tell her she can't. If she can do it, then come on sister, I'm ready."
Miller is on his second year of coaching the Farmers and said he is enjoying it.
"I'm having a ball," he said. "I love it. I love the teachers and kids. You look at all the kids on campus and it's a very positive place. It's fun to come to work at LHS. Everybody here is happy. It's just weird. I've coached at other schools, and kids are happy and teachers are happy, and you have the exceptions.
"But you go to the cafeteria and the kids are glad to be here. Kids love being at school. Kids love LHS, and you can't say that about a lot of schools."
Miller said he hopes the football team continues in the success enjoyed in other sports last season and this year.
"All our sports teams are getting better," Miller said. "Our volleyball team has dominated. Our softball team dominated last year. Our girl's basketball team went to playoffs. We're all coming up. We've picked our heads up and we're starting to see the sun."