Real commitments
22 seniors choose where to continue their athletic careers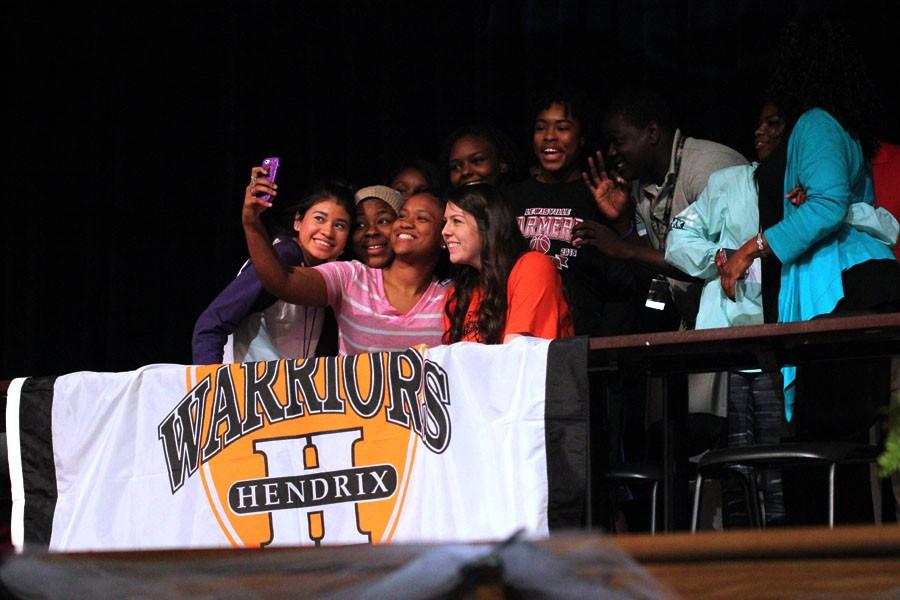 More than 20 senior athletes selected the colleges where they will continue to compete in their sports of choice on May 19 during a fourth period ceremony, signing letters of intent to officially attend and compete for those schools.
For football, inside linebacker Nick Patton signed to Bethany College, cornerback Kori Williams to Abilene Christian University, and outside linebacker Caleb Walker to Austin College.
Boys basketball has three players moving on with shooting forward/power forward/center Anthony Davis taking his skills to Tarleton State University, strong guard/shooting forward Sean Guillory signing with Central Christian College and shooting forward/power forward/center Caleb Loggins making his way to LeTourneau University. Girl's basketball has their shooting forward/power forward, Alex Shumway, taking her skills Hendrix College.
"It's exciting and nerve-racking at the same time," Shumway said.
Girls track has high jumper Kariyah Lanehart signed to Stephen F. Austin University; and Boy's track has two of their seniors move on with relay runners Jeriah Johnson and Justin Bubak both heading to University of Central Arkansas at Conway.
Baseball and Softball have six of their seniors leaving as pitcher Andrew Harlan attending LeTourneau University, second baseman Dash Johnson signing with Northwestern Oklahoma State University, outfielder Nick McGuire heading to Louisiana Tech University, pitcher Cody Rimko taking his skills to Texas Lutheran University, catcher Gaby Vasquez signing with Arkansas Tech University and center fielder Summer Quiroga committing to Northern Oklahoma College.
"I'm excited," Harlan said. "I'm grateful for the opportunity."
Girls wrestling has one senior signing with 185 pounder Brittany Marshall making her way to Wayland Baptist University.
Cheerleading has three of their senior members going to the next level with Sydney Williams signing with Sam Houston State University, Eboni Goshton moving on to the University of Houston and Elisa Bailey taking her skills to Kansas Wesleyan University.
Boys soccer had two players sign with defenseman Derek Baugh moving on to San Jacinto Junior College and defenseman Michael Luster attending Paris Junior College.
"I'm nervous for the workouts," Baugh said.