Let the season roll on
Both basketball teams to face Flower Mound tonight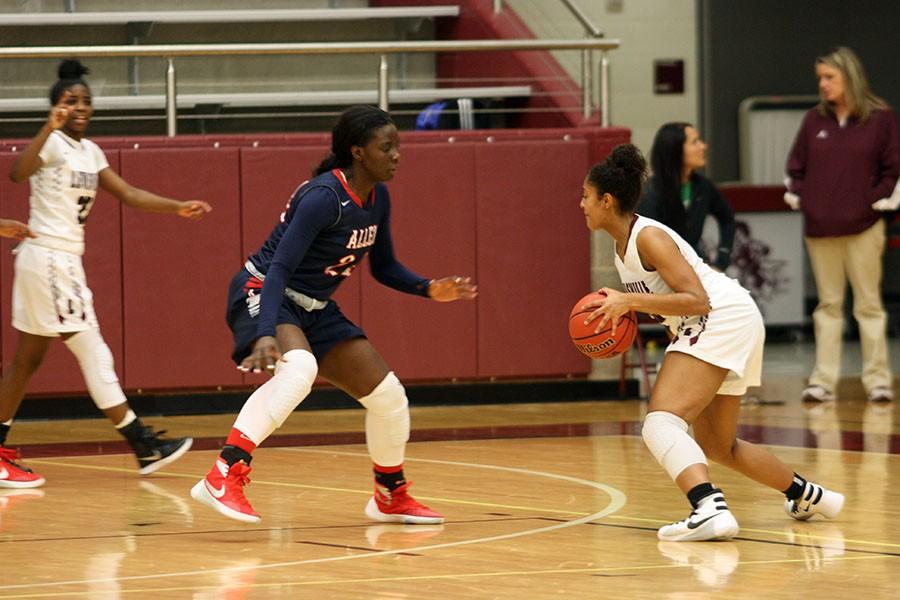 Both the boys and girls basketball teams try to pick up district losing streaks as they face Flower Mound High School tonight.
The boys basketball team moves on from a 71-70 loss against Allen. The 0-3 district record is less than satisfactory for head coach Gary Collier.
"We can't seem to finish," Collier said. "Started well against Hebron but then we had the worst quarter I've seen us play all year which cost us the game. Executing and minimizing small mistakes is essential since free throws and lay ups are what's killing us."
The boys struggle to continue through the season after they also lost a non-district game against Irving MacArthur High School with a score of 58-56 in overtime. Despite the upsetting losses and extremely close games, Collier still believes it's anybody's district.
"It's gonna continue to be a dogfight," Collier said. "Any team can beat anybody in our district. Last year you had two teams that stood out that would win night in and night out, but I think this year it's gonna be tough. Getting close to playoffs we might have four or five teams tied for a playoff spot."
Senior player Aubreion Bobb has picked up his game after coming in from being varsity quarterback. Despite being a different kind of game, he has managed to adapt and grow as the season has progressed.
"It started off rough…I wasn't making a lot of shots, but I've come along as the season has gone on," Bobb said. "Basketball feels a lot better for me. I got knocked down a lot in football, but it's a lot better since I can get them back when I get on defense in basketball."
---
The girls team struggles to fully get off the ground with only one district win against Hebron High School making Lewisville 4-9 overall and 1-2 in district. Senior team captain Naomi Hawkins finds adversity in bringing her team together to play as one.
"It really is the chemistry of the team," Hawkins said. "It's not really there yet. We need to be able to trust each other. I've tried to teach the girls how to trust each other. They need to see that it's not them against a team, but us as a team against the other team."
Come out tonight to watch the boys play at home against Flower Mound, or watch the girls play at Flower Mound. Both games begin at 7:30.