NFL teams select draft picks
Players prepare to make an impact for upcoming season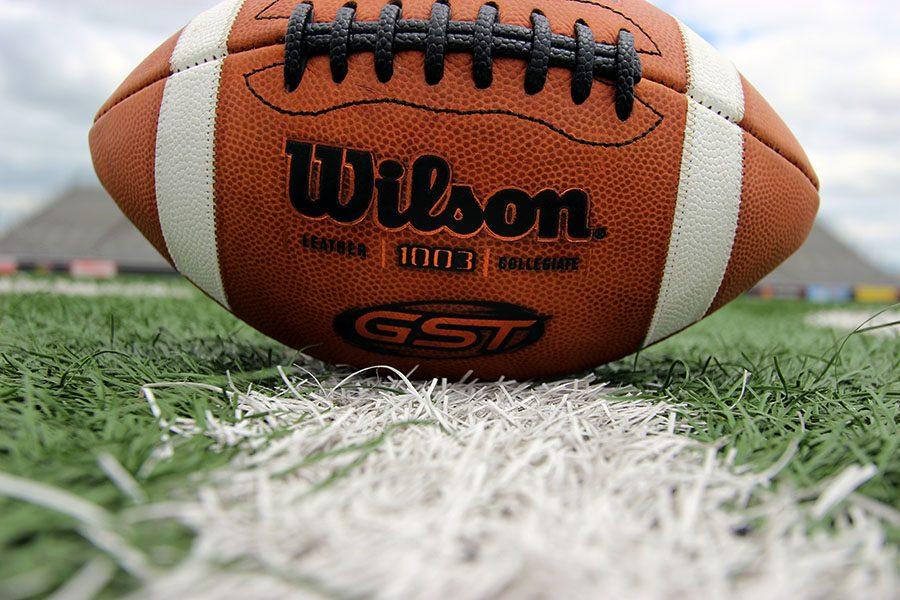 Every year NFL teams spend ten months evaluating the best prospects from around the country to decide who they will try to target in the annual NFL draft. Teams are issued one pick in every round, unless the pick is taken away by the NFL or traded by the team, and each team selects the prospect they think will fit best with its team.
---
Round 1 pick 1: Los Angeles Rams – quarterback Jared Goff from the University of California Berkeley
Goff provides a spark for the Rams who just moved back to Los Angeles. Goff is a quarterback who possesses arm strength, pocket awareness and crazy accuracy going down the field. Goff will look to be an immediate day one starter for a franchise in need of a quarterback. Although Goff possesses a lot of strengths, he struggles under center which makes some wonder if he can read an NFL defense properly. Goff will also need to add more muscle unless he wants to turn out like Tony Eason.
Round 1 pick 2: Philadelphia Eagles – quarterback Carson Wentz from the University of North Dakota State
Wentz is a division two prospect who just helped North Dakota State when their fifth division two championship in a row. Wentz possesses size and athleticism but many scouts question whether or not he is ready for the NFL. Division two college football kept Wentz from playing against the elite talent in the country. He will probably need to sit a year to learn NFL offense and learn how to read coverage.
Round 1 pick 3: San Diego Chargers – defensive end Joey Bosa from Ohio State University
Bosa entered the draft as one of the top prospects after a mediocre junior season. Bosa has strength, speed and an elite ability to rush the passer. Bosa will fit into San Diego's 3-4 defensive scheme and will likely be a day one starter.
Round 1 pick 4: Dallas Cowboys – running back Ezekiel Elliott from Ohio State University
"Zeke," as the Ohio State fans call him, has been one of the most dominant backs in college football for the last two seasons. Zeke has few flaws and is a great pass blocker, which will help Tony Romo in the latter half of his career. Zeke will likely run up possession time for Dallas and keep their defense off the field.
Round 1 pick 5: Jacksonville Jaguars – defensive back Jalen Ramsey from Florida State University
Ramsey is a solid corner and will fit in nicely with Jacksonville's young secondary. Jacksonville has been struggling on defense, so Ramsey will likely fit nicely.
Round 1 pick 6: Baltimore Ravens – offensive tackle Ronnie Stanley from Notre Dame
Stanley is a dependable left tackle who will help Baltimore's struggling offensive line after the loss of Kellen Osemele.
Round 1 pick 7: San Francisco 49ers – defensive end DeForest Buckner from Oregon
Buckner is a dependable pass rusher and will fit in with the 49ers 3-4 defense. Buckner has been one of the best pass rushers throughout the last two seasons and will look to continue his success in the NFL.
Round 1 pick 8: Tennessee Titans – offensive tackle Jack Conklin from Michigan State
Conklin can be a solid tackle on either side of an NFL line. With Conklin and Taylor Lewan, the Titans will have a solid pair of young tackles.
Round 1 pick 9: Chicago Bears – pass rusher Leonard Floyd from the University of Georgia
Floyd has the upside of Demarcus Ware but will need to add more strength because his only pass rush is the speed rush. With time in the weight room, Floyd could become a star.
Round 1 pick 10: New York Giants – cornerback Eli Apple from Ohio State University
It's a little early in the draft for Apple. Apple will need to improve his man to man coverage if he plans on having a successful NFL career.
Round 1 pick 11: Tampa Bay Buccaneers – cornerback Vernon Hargreaves from University of Florida
Hargreaves has the speed to be an instant starter at slot corner but lacks the size to cover some of the bigger wide receivers in his division.
Round 1 pick 12: New Orleans Saints – defensive tackle Sheldon Rankins from Louisville
Rankins is good against the run and is an effective pass rusher. Rankins can help improve the Saints' poor defense from a season ago.
Round 1 pick 13: Miami Dolphins – offensive tackle Laremy Tunsil from Ole Miss
After falling from the top ten because of a video that appeared on Tunsil's Twitter account ten minutes before the draft that depicts him using drugs, he will look to prove doubters wrong by cleaning up off the field and having a successful NFL career many scouts predicted from him.
Round 1 pick 14: Oakland Raiders – safety Karl Joseph from West Virginia
Joseph is a solid safety who will look to fill the role of Charles Woodson who retired at the conclusion of last season. Joseph has great ball tracking skills and was a team leader at West Virginia.
Round 1 pick 15: Cleveland Browns – wide receiver Cory Coleman from Baylor
Coleman led the Football Bowl Subdivision with 20 touchdowns last season and won the Biletnikoff award for the most outstanding receiver in the country. Coleman is an explosive playmaker who needs the ball to be effective. He will need to improve his route running if he expects to have success in this league.
Round 1 pick 16: Detroit Lions – offensive tackle Taylor Decker from Ohio State
Decker was a three year starter at both tackle positions for Ohio State;he can help Detroit fix their shaky offensive line play.
Round 1 pick 17: Atlanta Falcons – safety Keanu Neal from Florida
Neal is a great run defender and has the potential to be an immediate starter. Neal might not have top end speed, but he covers more ground than other safety with the same measurables.
Round 1 pick 18: Indianapolis Colts – center Ryan Kelly from Alabama
Kelly is a great downfield blocker and can protect against interior defenders, he will be a day one starter for the Colts who need to protect Andrew Luck, who was battered all year.
Round 1 pick 19: Buffalo Bills – defensive end Shaq Lawson from Clemson
Lawson had a breakout season and played very well against Alabama in this year's national championship game. Lawson will improve the Bills defensive line after the loss of Mario Williams; will fit in well with Rex Ryan's aggressive defense.
Round 1 pick 20: New York Jets – linebacker Darron Lee from Ohio State
Lee is an excellent run defender and is a perfect fit for the Jets after their main lane clogger,Damon Harrison, left in free agency. Lee will make up for the lost run defense-as a result from Harrison's departure.
Round 1 pick 21: Houston Texans – wide receiver Will Fuller from Notre Dame
Fuller is a deep threat with blazing speed,he ran a 4.32 at the combine, that can help Brock Osweiler be productive in his first season with the Texans.
Round 1 pick 22: Washington Redskins – wide receiver Josh Doctson from TCU
Doctson has great ball tracking skills and is the size NFL teams look for in a wide receiver. He will need to add more muscle to his frame to fight against press coverage.
Round 1 pick 23: Minnesota Vikings – wide receiver Laquon Treadwell from Ole Miss
Treadwell would likely have been a top ten pick if it wasn't for his speed. Treadwell plays like Dez Bryant but will need to get faster if he expects to make it in this league.
Round 1 pick 24: Cincinnati Bengals – cornerback William Jackson III from Houston
Jackson plays the position with toughness and can be an excellent corner in this league if he improves his frame in the weight room.
Round 1 pick 25: Pittsburgh Steelers – cornerback Artie Burns from Miami
The Steelers are in desperate need of a corner, and Burns will fill that need. Burns has an amazing story along with top end speed and excellent leadership. Burns, whose mother passed away last fall and has a father in prison, took responsibility for his younger brothers and also takes care of his young daughter and wife. Burns has something to play for, and his motivation will help him make it in this league.
Round 1 pick 26: Denver Broncos – quarterback Paxton Lynch from Memphis
The Broncos need a quarterback after the losses of Peyton Manning,retirement, and Brock Osweiler,free agency. Lynch is big and athletic but he need to improve his deep throw accuracy and might need to sit a year to learn an NFL offense.
Round 1 pick 27: Green Bay Packers – defensive tackle Kenny Clark from UCLA
Clark will fill the run stuffing role that B.j Raji filled, before his retirement. Clark is a good fit for the packers defense as a nose tackle
Round 1 pick 28: San Francisco 49ers – offensive guard Joshua Garnett from Stanford
After addressing the defensive line earlier in the first round, the 49ers add a key player to their offensive line. Mike Iupati left in free agency last year and Garnett can fill the hole he left on the offensive line.
Round 1 pick 29: Arizona Cardinals – defensive tackle Robert Nkemdiche from Ole Miss
Nkemdiche has a rare mix of size strength and speed; often inconsistent in the run game, and has off the field issues along with his former teammate Laremy Tunsil.
Round 1 pick 30: Carolina Panthers – defensive tackle Vernon Butler from Louisiana Tech
With Star Lotulelei and Kawann Short becoming free agents at the end of this season,the panthers will look to develop him into a starting defensive tackle.
Round 1 pick 31: Seattle Seahawks – offensive tackle Germain Ifedi from Texas A&M
Another offensive tackle from the Aggies. Ifedi will be a day one starter at left tackle after the trade of Russell Okung to the Denver Broncos.
---
These picks in round one set up the rest of the draft for an interesting turn out. Several unexpected picks were made by top teams leading the professional football league to expect an interesting season for the 2016-2017 year. It's still too soon to pick any underdogs or top dogs for the season, especially because these young athletes still have so much training to go through.