Looking to rebound after loss
Team to face Lake Highlands tonight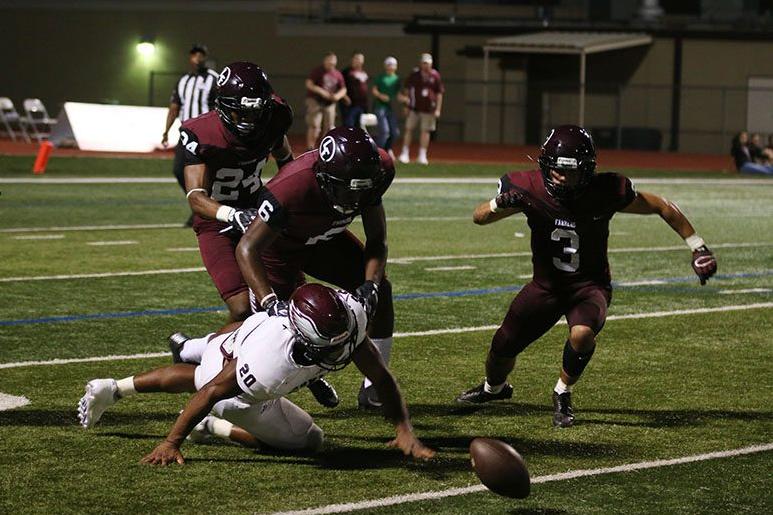 After a defeat to the Rowlett Eagles [1-0] last Friday, the Fighting Farmers [0-1] hope for a better result against the Lake Highlands Wildcats [0-1] at Wildcat-Ram Stadium tonight at 7:30.
The Farmers started off with the lead, but ended up falling short in the last two minutes. An interception and blocked punt were key plays for the Eagles in the fourth quarter. The Farmers had a few stand out players, including senior quarterback Jarvis Brooks and senior wide receiver Tyrell Shavers. Brooks went 12 for 27 with 144 yards. He threw one touchdown and one interception while also rushing for 95 yards. Shavers caught eight passes for 105 yards and a touchdown. Junior running back Demondrick Hunter also got into the scoring column with a 40-yard touchdown reception from Shavers.
"There are a ton of positives to take away," head coach Gregg Miller said. "[Lake Highlands is in the] top 40 in the state and they beat us bad last year. I felt like we played hard and we were in it the whole time. The critical errors [such as] turnovers were what got us in trouble."
Miller has been working on improving his team for tonight's game against Lake Highlands.
"Based on what we've seen in the scout report, [Lake Highlands] seems like a fast and aggressive team," Miller said. "They run the ball well, and through the air they can be a threat. Lake Highlands has a strong defense as well. It's going to be a good game, and I know my team will prepare to come out stronger and will look forward to getting a win."
The Farmers have been focusing on finishing games strong in practice all week, both individually and as a team.
"We are working on conditioning so that I can stay on the field longer and help my team longer," senior defensive end Khristian Lee said.
Lee is just one of the many seniors who is hoping for a successful season and wishing to bring playoff football back.
"We need to learn how to finish, and we'll become a complete team," senior center Jaquise Howard said. "Coach Miller's always coming up with new game plans for the next game; you don't know what he's thinking until he tells the team."