Volleyball to turn season around
Farmers prepare for a tough battle against Southlake Carroll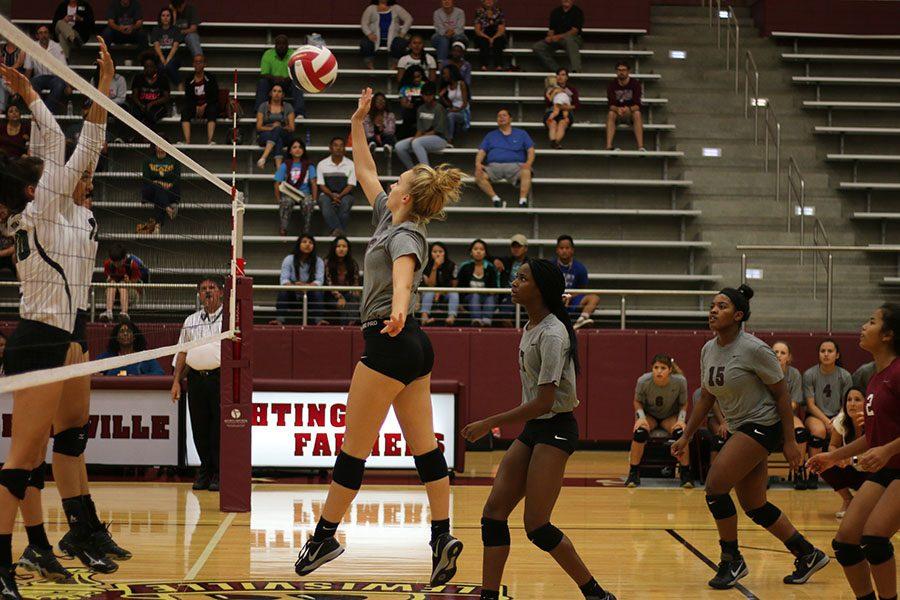 Coming off last week's loss against former state champion Hebron High School, volleyball faces Southlake Carroll at 6:30 tonight at Carroll Senior High School.
The team took the first set on Friday, but Hebron came back to win the game after taking the next three. This is the second week of district play, and the Farmers currently stand at 3-11 overall and 0-1 in district.
"I feel like we have been playing really good," junior Meredith Wagley said. "If we play alongside each other we will have success. I can always do better every game, but I feel like I'm doing good for the most part."
The team captains who look to lead the team through the year are sophomore Christina Cowsert and junior Ryleigh Taylor. Taylor is one of two players who stay on the court the entire game, while Cowsert provides energy and leadership anytime she's on the court. Although volleyball teams often sub their players in between kills, Taylor and senior Jayda Gibson are the two exceptions on the team.
"I'm almost satisfied [with my individual play]," Cowsert said. "I've been working hard and it will eventually get better. I do my best to run my position."
The team looks to turn its season around in tonight's game. Southlake Carroll is 26-5 and is ranked seventh in state and 12th in the nation. They are led by head coach Arthur Stanfield and likely have their eyes on a state championship. This year the Farmers are led by head coach Libby Rodriguez and assistant coach Morgan Wilson.
"I feel like we've improved a lot from the beginning of the year, and [from] two-a-days to now there's been improvement," Wilson said.