Soaring above the crowd
Senior Carder Gregory spends his summers working toward his dreams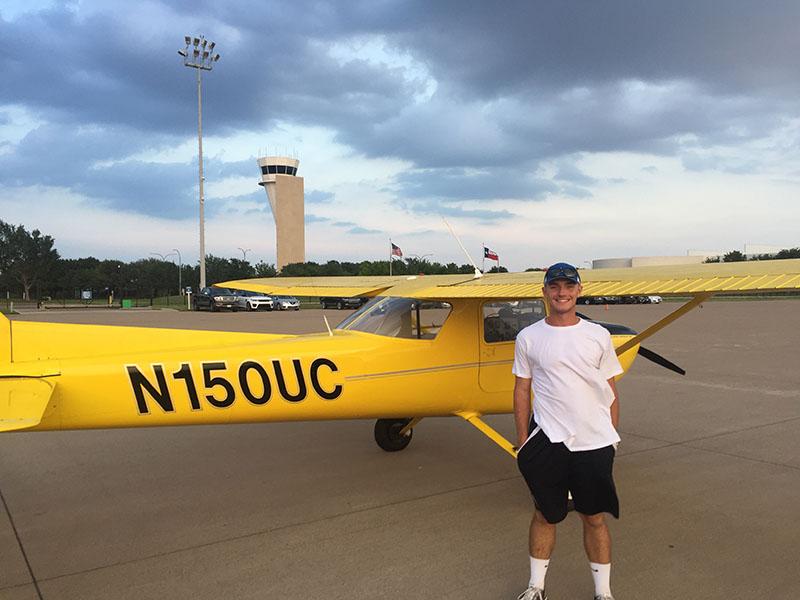 A 7-year-old boy sits in the passenger seat of a biplane and with the twist of a key the engine roars to life. The propellers begin to gain speed and suddenly his view of concrete and an open field is swapped for blue skies and a variant of green squares below him.
That little boy knew from then on that he wanted to become a pilot someday. Now, senior Carder Gregory is doing just that.
"One of my mom's friends actually had a plane, and he asked me if I wanted to go," Gregory said. "So I was like sure; I was a little kid [and] I didn't know what I was getting into. I fell in love from that day."
Gregory focuses on gaining new licenses over the summers due to little free time during the school year. Currently he has one private pilot license in gliders and is working toward another in Airplane Single Engine Land.
A license in glider planes means a pilot is trained with an aircraft that doesn't have an engine and is supported by air. But a license in Airplane Single Engine Land is a license that certifies that a pilot is able to fly an airplane with a single engine and land the aircraft on land not on sea.
He has been obtaining these licenses through two flight clubs: Nate Able Flying Club and Texas Soaring Association.
Because piloting is heavily dominated by the older generation, it causes young pilots like Gregory to mature faster than their peers.
"[Piloting] really made into the guy I am today; being a pilot at such a young age you're around a lot of older people," Gregory said. "It's matured me really, really fast. I could really tell growing up through high school, kind of comparing myself to other fellow high schoolers, I feel like I'm a little more mature than your average teenager."
Though Gregory carries himself in a different manner he has still maintained relationships with his friends, forming bonds that have lasted throughout his school career.
Gregory shared his passion with his friend, senior Benjamin Lewis, when he took Lewis along on a flight with him.
"We were flying for like an hour," Lewis said. "It was kind of weird at first because he just kept talking about doing stupid stuff while we were up there and letting me fly. It was fun and really nice, you could see all the way to Dallas."
But not every flight goes accordingly, sometimes danger arises. Luckily, Gregory's vigorous training prepared him to retain a calm manner in any and all situations.On a scheduled flight competition over the summer, he found himself 1000 feet above the ground with no airport in sight.
"I got stuck in an area where I couldn't get any air to go up," Gregory said. "I went to the other turn point hoping I could get some lift and get some altitude but I didn't and I kind of kept coming home."
With his glider rapidly approaching the ground he had to find a safe landing space. Quickly he remembered an open field a couple miles away and then he started heading toward it.
"I pretty much was like I'm going in here and sure enough I did everything I learned in training," Gregory said. "That was probably the most dangerous thing but nothing that has been totally life threatening because that's what I prepare for in a glider. I don't have an engine so I'm prepared to go into a field."
During the school year Gregory has been entertaining his time by playing on the baseball team. This year will be his second year on varsity and throughout his time with head coach Stephen Campbell he has been able to assert himself as a leader on the team.
"Carder is a tremendously hard worker with a great deal of desire to do well," Campbell said. "He has been a joy to coach. If everyone was like him, the job would be really easy."
As of today Gregory has been accepted into four colleges, and is still deciding between them. He is focused on finding the school that will be prepare him for his dream, becoming a pilot.
"The best thing [about piloting], I don't even know if I could pick one thing, I mean everything about it, it's just everything to me," Gregory said. "It has just been awesome."