Farmers fighting for successful season
Football prepares for first game of year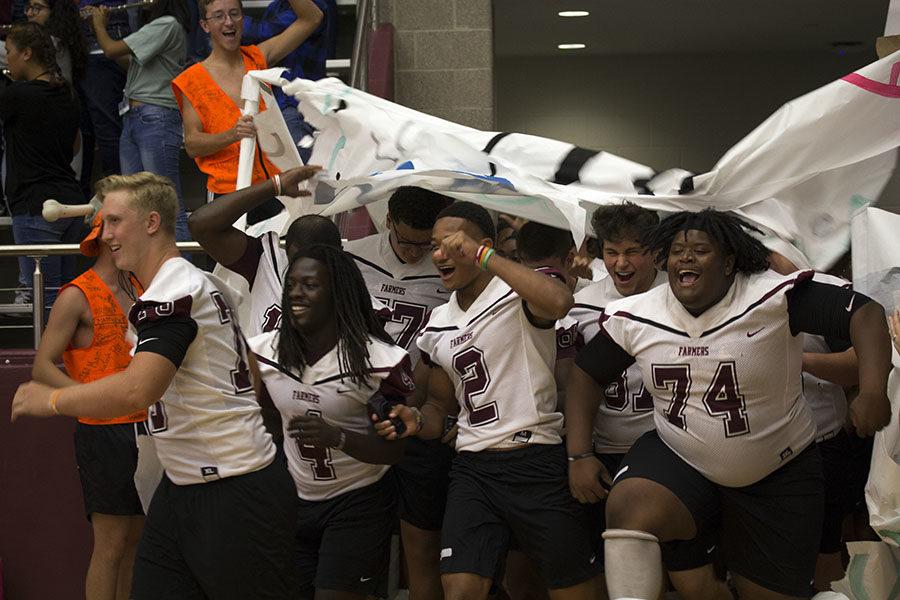 With a scrimmage win over The Colony High School on Thursday, Aug. 16, the Fighting Farmers look to repeat the same success for their first official game of the season on Friday, Aug 31 against Grand Prairie at 7:30 p.m.
"I think [the scrimmage] went pretty well," senior Nick Nielsen said. "There wasn't too much trouble and we had a good game overall. Our offense and defense were playing very well."
After a disappointing 2-8 year for head coach Michael Odle, he now feels as if he has a bond with his athletes and hopes it can translate to teamwork on the field.
"We're just a tighter group after a year of being around each other," Odle said. "We have grown; that's the big change. We're more comfortable with the schemes and what we are doing and how to execute."  
The Farmers believe they can go far this season, but a big question is how well they can perform even with downfalls, such as injuries or bad performances.
"Our biggest challenge, I think, is our own mindset," junior Luke Halter said. "We need to get over that because we are good enough to beat a lot of these teams. We have the skill for sure, we just have to put it all together."
While games like homecoming and Battle of the Axe are important to the team, the first game is just as important.
"The first game means a lot," Halter said. "It sets the tone for the rest of the season."
Odle has given high praise to numerous players; he hopes they can be leaders for the team to give them an edge on other teams this season.
"We have key returning starters on defense, [like] Kevin Anderson and Kadren Johnson," Odle said. "On offense it's always nice when you can block people. We got a couple of good returning offensive linemen: Nick Nielsen, Jeremy Jones and Kwentin Huddleston. Having those guys back gives us a chance to be successful."