Making success an expectation
Girls' basketball team hopes for second successful season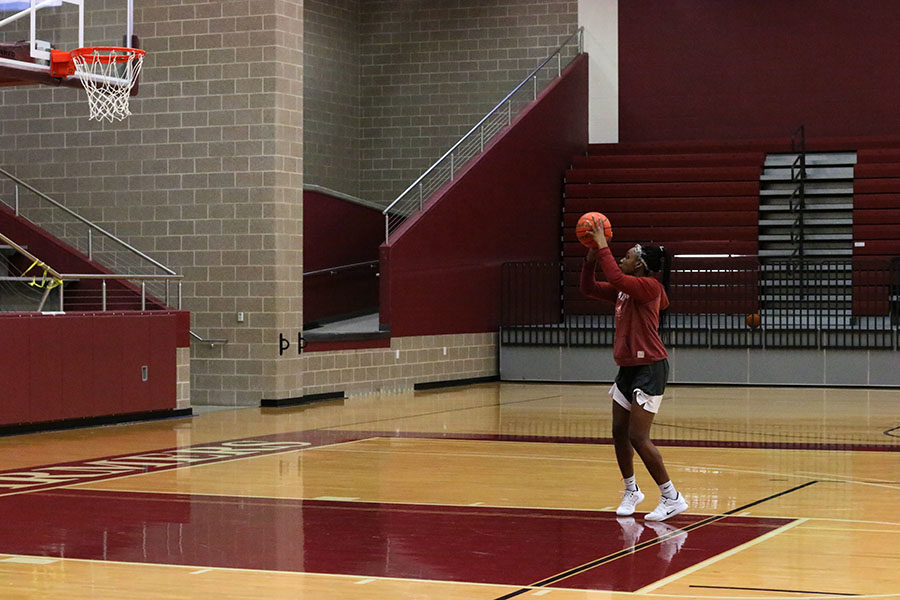 After an eventful start of the season, the girls' basketball team strives to stay on the right track. The loss of the first game of playoffs last year has encouraged the girls to take in mind what the most effective strategies were.   
"Last season, I feel like we underachieved considering the potential of [the] players we had [and] the team we had, but the kids played hard and did the best they could," head coach Sally Allsbrook said. "We had some obstacles come in the way in playoffs that kind of hurt us."
The upset in last year's first playoff game has rooted the want for playoffs in the team. Using offseason to prepare for the extensive season, the girls continue to work on fixing mistakes that set them back.
"We are capitalizing on our weaknesses and capitalizing on the other team's weaknesses, and we are just going at them and working hard," junior power forward Sydney Savage said.
With the athletic district change this year, which happens every two years, the girls must face teams they are not familiar with. Although new teams have entered the district, the team is not intimidated. The girls take into consideration their strengths and further study the teams they prepare to face for the first time.
"We have a whole new district; we have MacArthur [and] all the Irving schools," senior point guard Nala Hemingway said. "We really got to go out there, play to our best ability [and] know our strengths and weaknesses."
The girls believes they are well prepared for the season and are taking this season one game at a time to ensure the best outcome.
"The goal for this season is taking everything one step at a time," Savage said. "Right now we are focused on preseason but we want to be district champs first; then we will focus on playoffs."
Players including senior shooting guard Anessa Boyd had to overcome obstacles throughout last year's season. Setting team difficulties apart, Boyd had to overcome individual challenges such as an injury in order to remain a leader for her fellow teammates.
"I'd say coming back from an injury [and doing] pretty well [is something I'm proud of]," Boyd said. "I improved on defense and my offensive game as well."
The team attempts to make playoffs more of an expectation. The girls hope the new district change works in their favor and are excited to see what this season has in store. Currently at 3-1, the team aims to improve its record at its next game on Friday, Nov. 16 at Shepton High School in Plano.
"These seniors I've had since they were freshmen so it's kind of really neat to see these girls [grow] from when they were freshmen to when they are seniors and putting everything together and seeing how this last year for them is going to end up," Allsbrook said.