Joining the team
Defense coordinator Stu Johnson is welcomed into the football family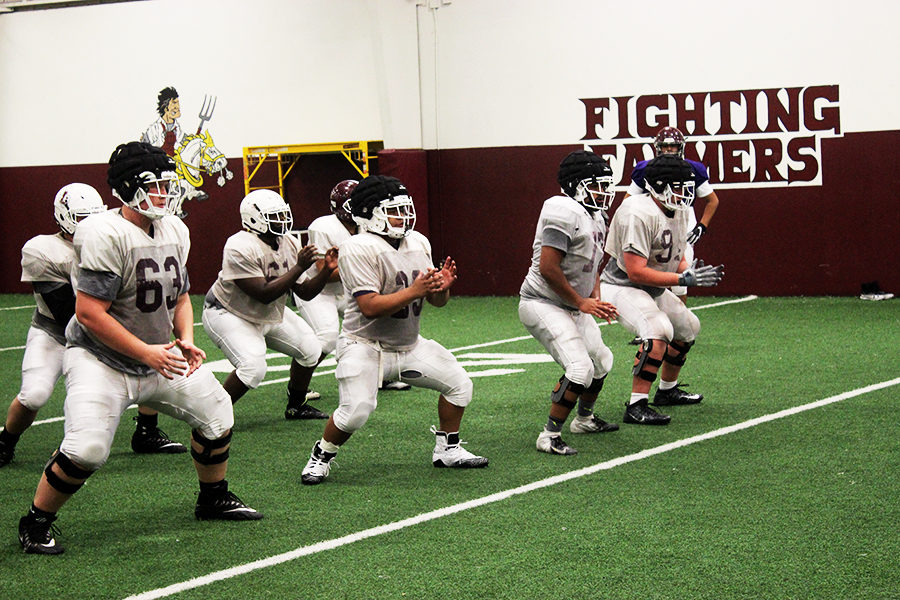 He walks into his empty office with a box full of photos and papers. He looks around the small area and lets out a sigh of relaxation as he sets the box down taking a seat behind his desk. Thinking about his new job, he can't contain the smile which forms on his face. He then stands and makes his way toward the field where the defensive players are ready to begin the first practice with their new coach.
Defensive coordinator Stu Johnson joined the football team on Monday, April 15. With this new addition to the coaching staff, the team is excited to see what this coach will bring to the table.
"My first impression of Coach Johnson was good," junior Lester Elijah said. "He seems like a good guy and he definitely is a talkative coach. He loves to spend time with the linemen to get to know each individual player personally."
Head coach Michael Odle worked with Johnson when they coached together at Coppell High School from 2007 to 2014. Because Olde worked with Johnson in the past, he is confident in his ability to keep up with what is expected of him.
"I'm excited to work with Coach Odle again and we have talked about having the opportunity to work together again," Johnson said. "For me, it was a no-brainer to come and coach here to keep [the Farmer] tradition here going and to work heavily on it so the players can become better people."
When Johnson was welcomed to the football team, Odle knew he would be a great addition. With the two men working together again, Odle is expecting success to be brought to the team.
"What really intrigued me about him was his personality and how he acts around the kids," Odle said. "He has experience as a defensive coordinator and he's very in tune with his players and other coaches; with his position, he needs to do both of those things. I'm excited to have him working with us."
With the players and head coach giving Johnson their support, he is eager to make an impact on the players' lives which can carry over with them to college. Although Johnson was a coach at two different colleges for two years, he knew he was needed elsewhere, so he made the decision to go back to the high school level of football.
"The biggest thing for me was coaching at two different colleges," Johnson said. "One at Wabash, a division three school and then onto Purdue University, a division one college. The kids I saw coming in as freshmen hadn't been taught good character and haven't had any good role models they looked up to. I thought I really didn't want to coach the college level and not be able to have the impact when they're younger, so I decided to coach here."
The connection Johnson hopes to make with the players is one which will carry them all the way through their football careers and into their adult lives. While the NCAA is filled with players who are talented and athletic, some forget what is important: the love for the sport.
"I'm very excited about the young guys coming back and those that are coming up who are going to be a huge impact for our team next year," Johnson said. "The future seems bright here for our football team."