Serving up accomplishments
Tennis team continues new season with strength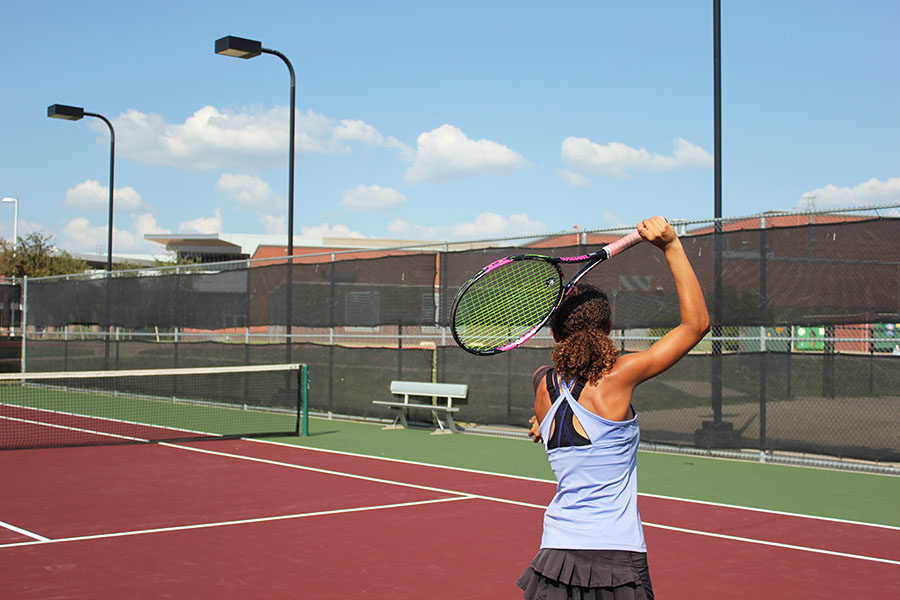 Since improving through their skills and team building recently, the tennis team hopes to continue its streak of success. Using bonding techniques, layers of training and overall sportsmanship, the team hopes to push past expectations from its last season in the spring while also gaining life experience.
"I feel like the bonds we have as a team and how we boost each other can translate into the workforce," senior Leopoldo Cardenas said.
The players believe they have had success with the first three games of the season as they have a record of [1-2], with one of them being a close match. The team continues to practice and keep a growth mindset. They beat MacArthur on Tuesday, Sept. 3., as well as gave their all in a game against Flower Mound on Tuesday, Aug. 27 and against Coppell on Tuesday, Sept. 10.
"We can just stick to what we know and not try to do too much," Jennings said. "Just hit the ball in the court and not overthink it."
Last season, the team won more matches than expected, showing improvement. A better-organized coaching and player system with more chemistry among the team led the group.
"They did great," head coach Deana Johnson said. "We had a wonderful season, we've had probably the best season since I've been here, and I've been here for seven or eight years."
Only three matches into the season, the tennis team has already shown its hard work from 15 hours of practice weekly.
"It was [a] definite improvement over the year before," Cardenas said. "We actually won some matches. Overall, I feel like we played at a higher level than we had; [last spring season] was good."
Although the introduction of new warm-ups and team-building exercises are an important factor contributing to the recent success of the tennis team, players agree their greatest successes stem from simplicity; this comes from maintaining close relationships with one another as well as thinking positive.
"They're really good about being a team and coming together as a family," Johnson said. "The [team's] biggest achievement is [how] they've really all come together, and if they're varsity or JV, [they're] really good about not separating and including everybody."