Setting up her future
Senior Emerson Coburn commits to Texas A&M Commerce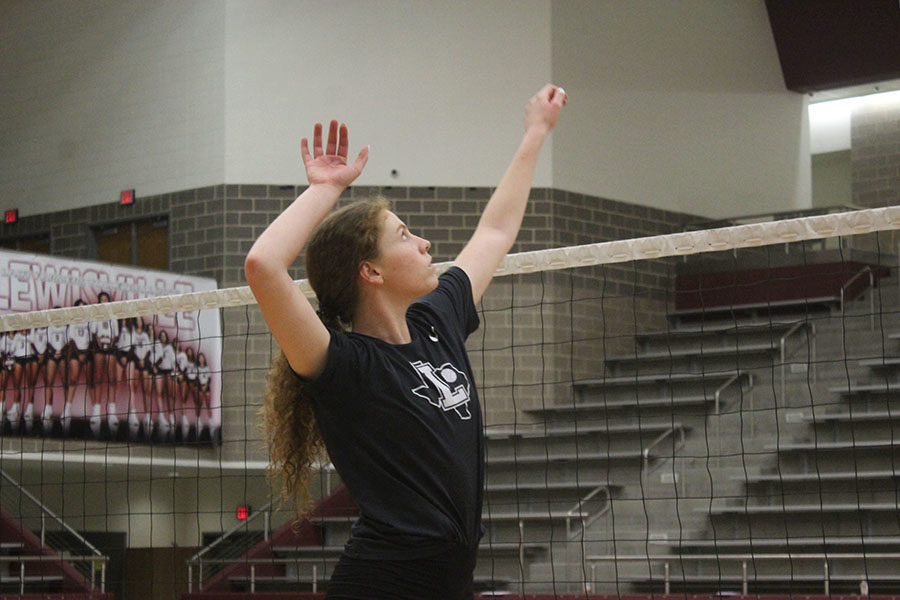 Her breathing is hurried; her heart beats faster and faster. Sweat drips down her entire body. The ball has been set, and with a powerful leap she takes to the air stealing the gaze of the crowd. Time seems to slow to a crawl as her hand collides with the ball. Only a second later she realizes she has scored a point.
Volleyball captain senior Emerson Coburn has committed to Texas A&M Commerce to play volleyball. Her competitive spirit and 'give your all attitude' has helped her evolve and elevate her play to the college level. When visiting Commerce, Emerson felt a connection. By going to this school, she hopes to reach the professional level. 
"When I took my visit there and I met with the coach, I knew this was where I wanted to go," Coburn said. "They have really nice facilities and I really like how their coach runs their program and the types of plays that they run."
Coburn began playing volleyball when she was 10, but it wasn't always her sport of choice. 
"I played softball my whole life," Coburn said. "I was on a softball team before [playing volleyball and] one of the moms on the team played volleyball when she was in high school. She got all the softball girls [together] and was like 'Why don't y'all go try this? Go try volleyball for the YMCA,' so that's how it started."
She always strives to better herself as a player by practicing five days a week for three hours each day, as well as playing for a club team called Drive Nation outside of school. Her effort and dedication did not go unnoticed by her coaches. Coburn's ability to support her team with leadership and character is what earned her the role of captain.
"The way she carries herself and the way she knows how to silently lead by example [is what makes her a captain]," head volleyball coach Cara Sumpter said. "I can always rely on her to do what's right. I know that she is willing to listen and take what she needs and continue to improve and be better."
"
When I took my visit there and I met with the coach, I knew this was where I wanted to go."
— senior Emerson Coburn
She has taken her leadership position off the court and into her daily life as she and her teammates go through the routine of school and sports.
"She's encouraging, very thoughtful and she's incredibly smart," senior Audrey Rodriguez said. "She's a captain both on and off the court, she's a leader."
Coburn knew her love for the game was too strong to not pursue a future in volleyball. She knew it would be difficult, but she was determined to improve and have her efforts pay off. To reach her goal, she disciplined herself.
"[I had to work] really hard, it was so hard, the whole committing process," Coburn said. "Anybody that's been through it knows it's a brutal process. What kept me motivated is that I knew I didn't want to stop playing, that I didn't want this to be my last season, [that] I didn't want to be done, and I knew I had to work to try to keep going and keep playing."