Picking up speed
Swim team approaches fourth meet, reflects on progress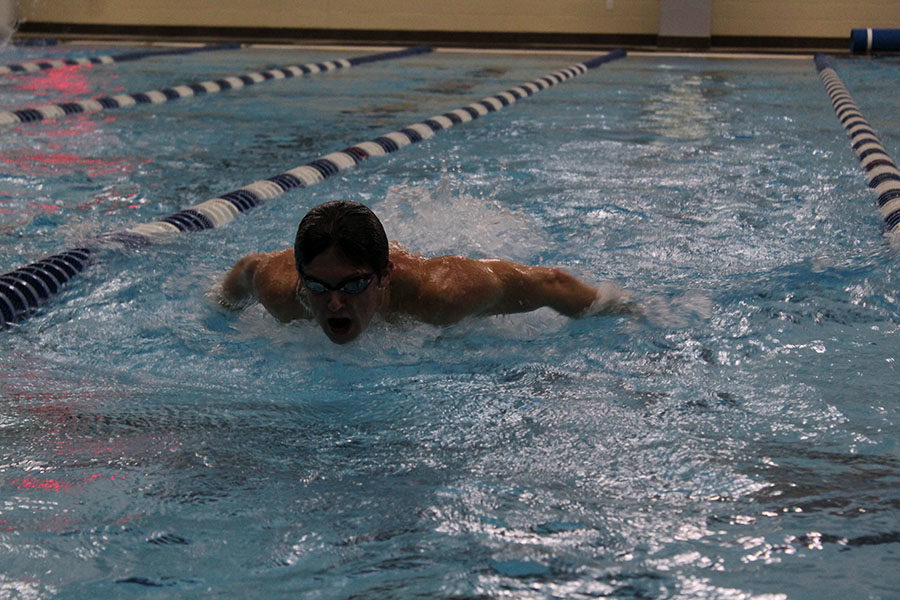 The swim team has competed in three meets this season, with the most recent being on Tuesday, Oct. 22 at the LISD West Aquatics Center. New and returning swimmers alike are gradually becoming acclimated to the waters as the season progresses. The athletes see increases in their speed as they work on technique during daily practices before school.
"We have a lot of new people, so everyone's getting used to it," senior Stuart Levesque said. "We've all been doing our best. We've actually been doing pretty good, better than I thought we'd do."
Although swim is an individual sport, the teammates still rely on each other to communicate during practices and matches. With the majority of this year's swimmers being new, they need to learn to trust each other to improve their bonds and teamwork. To help with this, the team holds team dinners to boost morale and help them work together during meets.
"We need to improve most in communication," Levesque said. "We communicate, but not as well as I want us to. We need people to step up more and get better altogether."
The coaching staff, including first-year head swim coach Jeffrey Jones, has been working with the team on skills to speed up the relay times at meets. As he works through his first year, several swimmers are improving their individual times.
"We have been working a lot on stroke work at the beginning of the season," Jones said. "We are going to put a lot more focus on our turns because that is a spot that we can improve greatly on."
Previously, Jones worked as an assistant coach with the school. Throughout his inaugural season as head coach, he has worked on building trust with the swimmers so they will work more efficiently together in practices and improve their performances during competitions.
"I wanted to make sure that when I came to the program, they understood we would come in every day and work hard, but it would be fun as well," Jones said. "I trust that they will work on what they need to work on and they trust that I am going to put them in a position where they can be successful."
The swimmers admire Jones for his dedication to the program. After coaching club swimming for 12 years, Jones quit his job to take on the responsibility of being head coach. The team sees his determination for improvement and strives to meet the standards set for them.
"Our new coach is really getting onto us and trying to make us faster," senior Noah Nielson said. "He really cares about our team. I think his coaching is really great."
The next swim meet will be on Saturday, Oct. 26 at the Denton Aquatic Park. Jones wants his athletes to incorporate the skills learned in practice to the matches. He believes the work ethic and determination shown in practice will serve to benefit the swimmers both in and out of the water.
"I hope my athletes understand it takes work to accomplish a goal," Jones said. "I believe the group I have now understands this and they take that mindset with them away from the pool."