Volleyball season comes to an end
Team hopes to continue improving for next year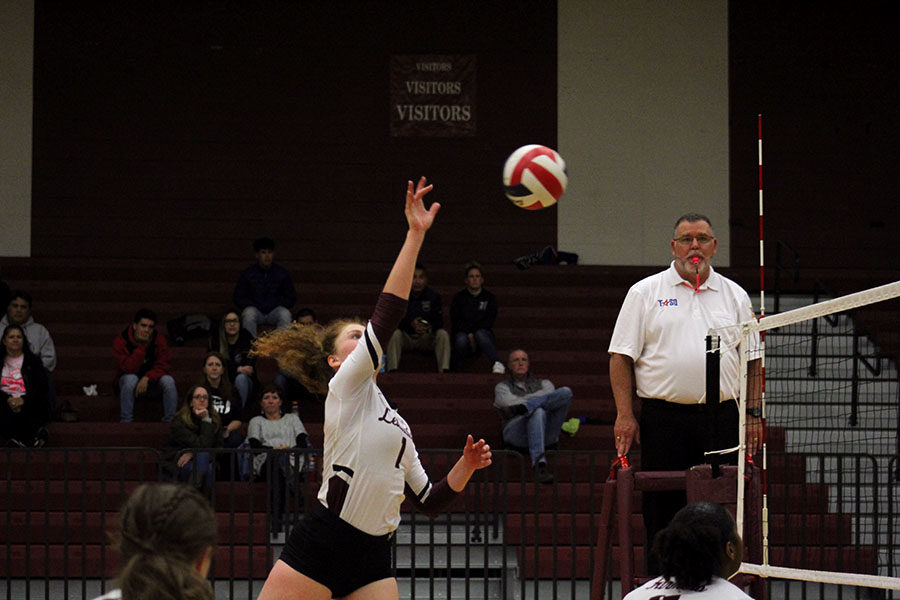 The volleyball season ended on Tuesday, Oct. 29. with a final overall record of [8-20]. With the majority of the team being new players, the girls had to put in extra work in order to begin playing as a cohesive team.
"We only had a few people that were left on varsity this year, so we practically had an entirely new team," head volleyball coach Cara Sumpter said. "They had to get to know each other and get to know what worked and what didn't work."
Having a new team was tough for the girls to adapt to, but after practicing together, the players began to bond. The seniors and underclassmen looked up to each other and were there to work together when needed.
"My biggest inspiration on the team was the freshmen," senior outside hitter and captain Emerson Coburn (1) said. "It's nice to see them working hard toward their goals. I was in their position at one point and watching them grow motivated me a lot."
Despite the losses, they maintained a positive attitude and pushed each other to improve. Learning how to trust new teammates was not a simple task, but by communicating with each other and spending time together, the team was able to overcome this challenge.
"We stayed motivated throughout the season by changing up our practice styles as [the] season progressed and keeping our energy high," junior defensive specialist Delaney Swinson (18) said. "When we had a bad game, as a team we would try and assess what went wrong [and] caused us to play poorly."
The girls' mentalities were an important factor in keeping the team focused. Along with setting personal goals, the team had an overall objective they wanted to achieve. 
"[My mindset was] to win," Coburn said. "I just wanted to lead and win and have a good last season and I think we did that. We all had a common goal of wanting to win. When you have a common goal with a group of people, it helps keep us focused."
Although this season wasn't what the team hoped for, they enjoyed bonding with each other and having the opportunity to be on the court. Now that the teammates are more comfortable playing together and know each other's abilities, they are able to target their weaknesses and continue working in order to improve for next year's season.
"Our overall culture is what we're [going to] be focusing on, our mental toughness and being able to overcome adversity," Sumpter said. "We're always shooting for district playoffs; that's our goal. It hasn't been done here in a long time. I just want to see our culture shift to more of a growth and grit mindset so they can work on that fighting mentality."