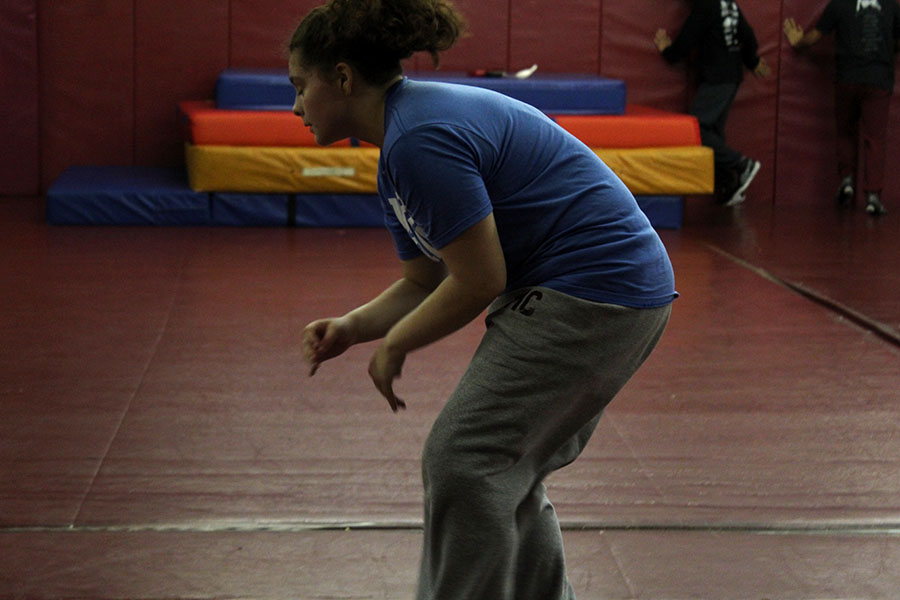 Wrestling teams prepare for District Duels
January 17, 2020
Tackling new challenges
The boys' wrestling team is set to compete at the District Duels match on Saturday, Jan. 18. The team has had a successful season thus far with a full team this year, demonstrating promise for the increasingly competitive matches approaching. 
"We have a full lineup, so we're not missing any weight classes," boys' wrestling coach Noel Peterson said. "They've been very successful at working hard, improving and getting better [about] what to do. We still have a long way to go, though." 
As the team continues to grow and find strength in numbers, expectations rise as well. This is an important concept for upperclassmen like senior Luke Halter, as they must set the example for their younger teammates.
"I'm a senior, so [there's] a lot more expectations put on me and that's a bit difficult to cope with sometimes," Halter said. "I have to [ignore everything], not think about those [expectations], just think about myself and wrestle like I always have."
In addition to the expectations, the team continues to navigate through other essential concepts such as team building and unity. The rigorous demands of wrestling practice assist the boys by solidifying the notion of working as a unit rather than focusing on individual performance.
"I think us being in practice every day is team building in itself," senior captain Quentin Borchardt said. "We rely on each other not to screw up."
Peterson finds the best approach in securing his wrestlers to work efficiently is through demonstration, utilizing the distinctiveness of the sport to further motivate the athletes in preparing for matches.
"I just try to motivate them and correct them on their technique," Peterson said. "As they're working with another partner or wrestling in a practice match, I'll instruct them on what to do. Pain's a powerful motivator and it works. It's a unique sport."
As the team prepares to take on District Duels and advance to more challenging matches thereafter, the players hope to remember the new ideas they've embedded into their training so far this season, as well as their true reason for wrestling.
"[To motivate myself], I have to remember the feeling [I] get when [I] get my hand raised at the end of a match," Halter said. "Wrestling practice can be really hard sometimes. It can be tough to keep your motivation, so you have to call back that feeling and remember how much you want that."
Leave a Comment
Building strength
The girls' wrestling team will compete in what the players believe to be one of their most important matches, the District Duels. The match is scheduled for Friday, Jan. 17 in Haltom City. The girls believe they have been experiencing a prosperous season due to their improvements uniting as a whole. 
"I think we are having a really successful season," head coach Karra Stratton said. "I think there is a lot of growth that has happened between last year and this year. We lost some pretty big hitters and seniors last year and I'm curious to see how we do. If everyone can make weight and everybody can be healthy, we will do just fine."
The girls' team now trains with the boys' team and players believe this contributes to improvements in their connection and way of competing. Working as one has brought new opportunities for both teams to learn from each other.
"Because we have the boys' team with us, it's made us better to be more aggressive and made us better as a team being together," senior captain Tatianna Nieto said.
Stratton believes the athletes' dedication to the sport is what allows them to compete well. Continuing to make progress as the season intensifies and keeping their motivation is an important factor for the team to stay on a successful path.  
"I think they are fighters," Stratton said. "We don't always have the most wrestling knowledge on the mat but our varsity lineup has the fight we need them to have."
Senior captain Charity Castañeda evaluates the importance of unity the team has developed and how it has affected her. Castañeda noticed how the teams improvements taught her valuable lessons. 
"You go through life as an individual but it's a group effort trying to get yourself through and everyone else," Castañeda said. "That's what wrestling has taught me. When you wrestle, it's individual but it affects the team."
The team continuing to make progress and build its toughness is what Stratton believes will improve the outcome in vital matches such as the District Duels. With district rankings rapidly approaching, the team aims to see as much improvement as possible.
"I think we have come a long way in being fighters," Stratton said. "At the beginning of the year, we struggled with getting off our back and not letting our opponents take us down. We have come a long way in just toughening up and realizing we don't let them score, we score off their offense."
Leave a Comment