No turning back
Boys playoff sights close at hand while girls struggle to stay afloat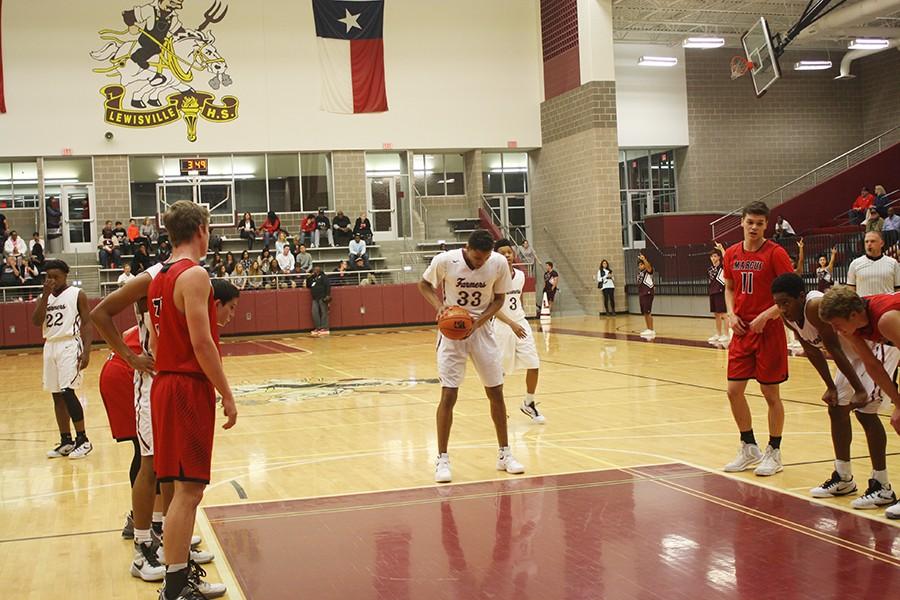 The girls basketball team (5-15 overall, 2-7 district) struggles to keep their head out of water as they lose to Marcus (10-13 overall, 4-5 district). The loss puts the girls in seventh place in district standings.
Sophomore McKenzie Bowie sees the team improving every day despite their record.
"We practice hard every day," Bowie said. "We have come a long way since last year. We have come together a lot more as a team. I usually just get in the zone and do my thing."
With seven district games left in the season, the Lady Farmers need to win the rest of their games in order to stand a chance at making playoffs.
---
The boys basketball team is in the running for a placing in the playoffs. Despite the loss of 49-42 against Plano High, the team came back on Tuesday and beat Marcus 51-47. This win put them fifth in district (13-8 overall, 4-4 district).
The team didn't have much time between its loss to Plano and the game against Marcus, so practices became that much more vital.
"When I go home I have to break down film," head basketball coach Gary Collier said. "It's a little tough. Practices are not that long so I have to ask the guys to focus more. This year is so much more competitive. It's a dog fight every single game."
Leading player and key component in the Marcus game, senior Trenton Sandifer scored 16 points in the entire game putting the Farmers in the lead to win the game. His mentality towards every game is what has gotten him through the season so far.
"I push through all the noise in the crowd and focus on myself," Sandifer said. "I pray and go out and do my best. We are getting better as a team. We don't argue as much and can actually get stuff done."
The Farmers are to face Hebron next Tuesday as they cycle back through their district opponents. Last time the two teams played, Hebron came out with the win of 53-46 giving the boys their first district loss. This time Collier is convinced the boys will go out with a different mentality and continue their pursuit towards playoffs.
"Playing Hebron it was the third quarter that killed us," Collier said. "We haven't had a quarter like that again. We are a little more adamant to play them this time. We are going in with a chip on our shoulder because we need six out of the next eight games to guarantee playoffs."
Come out to support both teams as they face off against Hebron next Tuesday, Jan. 19. The boys play at Hebron, the girls at home, and both games begin at 7:30 p.m.