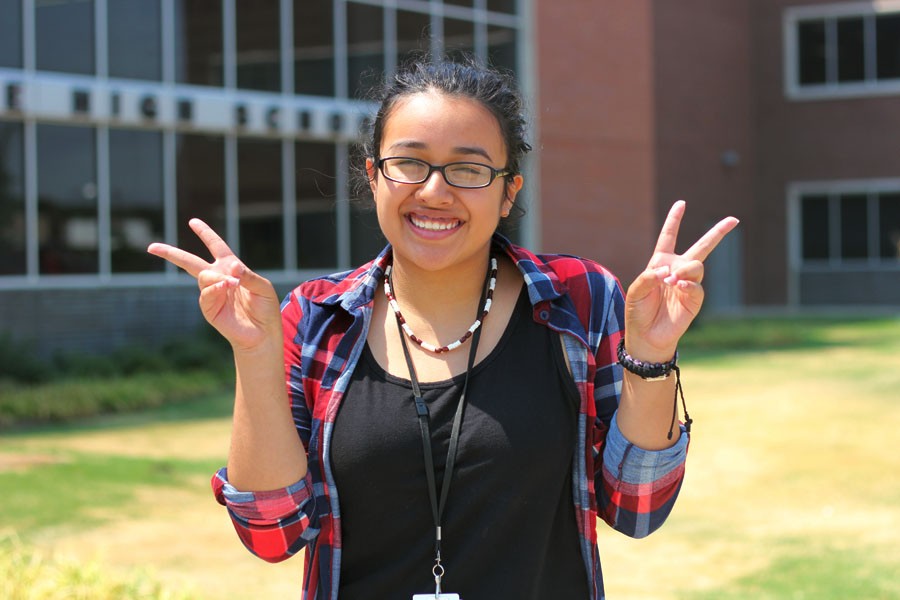 My favorite aspect of Lewisville High School is
that no matter what you enjoy doing there's people here who enjoy doing that same thing.
When I graduate I plan to
go to college and become a music photographer.
Words I live by
"As long as the music is loud enough, we won't hear the world falling apart."
Laura Godinez, Graphics and Design Editor
Jun 01, 2016

Column: It had to be velcro

(Story)

May 25, 2016

Column: Living in reality

(Media)

May 23, 2016

LHS Top Ten – 9. Caleb Halter

(Story/Media)

May 20, 2016

LHS Top Ten – 10. McKenzie Cloud

(Story/Media)

Apr 12, 2016
Mar 30, 2016

The fourth inning

(Story)

Feb 23, 2016

Column: Anywhere but here

(Story)

Jan 19, 2016

Column: Her first steps

(Media)

Dec 28, 2015

Top of 2015: Song edition

(Story)

Dec 18, 2015

Wrestling teams continue to improve

(Story)

Dec 16, 2015

Swim prepares for district

(Story)

Dec 04, 2015

Boys' wrestling pins down opponents

(Story)

Dec 03, 2015

Life, football and the pursuit of happyness

(Story)

Nov 20, 2015

Swim competes in selective meet

(Story)

Oct 20, 2015

Column: More than meets the eye

(Media)

Oct 07, 2015

How to eat healthy

(Media)

Sep 21, 2015

5 staple clothing pieces

(Media)

Sep 17, 2015

Column: Past scars, future nightmares

(Media)

Sep 16, 2015

Review: Ed Sheeran concert leaves crowd Feeling Good

(Story/Media)

Sep 14, 2015

Farmer Focus: Senior Samuel Stevenson

(Media)

Sep 13, 2015
Aug 27, 2015
Jun 04, 2015

LHS Top Ten: 1. Mark Buckup

(Story/Media)

Jun 04, 2015

LHS Top Ten – 2. Chidinma (Angela) Umeh

(Story/Media)

Jun 03, 2015

LHS Top Ten – 3. Giorgio Ioannou

(Story/Media)

Jun 02, 2015

LHS Top Ten – 4. Diego Tacsa

(Story/Media)

Jun 01, 2015

LHS Top Ten – 5. Yohan Son

(Story/Media)

May 31, 2015

LHS Top Ten – 6. Josue Perez-Campos

(Story/Media)

May 30, 2015

LHS Top Ten – 7. Pamela Ekechukwu

(Story/Media)

May 29, 2015

LHS Top Ten – 8. Audrey Moxley

(Story/Media)

May 28, 2015

LHS Top Ten – 9. Katharine Ahn

(Story/Media)

May 27, 2015

LHS Top Ten – 10. Matthew Millermo

(Story/Media)

May 25, 2015

Top 10 Preview: The meaning of life [Video]

(Story/Media)

Apr 17, 2015

Editorial: The water problem

(Media)

Apr 09, 2015

We'll paint the town, we'll shut it down

(Story)

Feb 25, 2015

Rival retribution

(Story)

Feb 12, 2015

Grappling with success

(Media)

Feb 06, 2015
Feb 05, 2015
Jun 05, 2014

Candlelight vigil to honor former student

(Story)

Jun 03, 2014
May 20, 2014

Review: La Dispute's sound matures with third album

(Story)

Apr 24, 2014

The fight for the sweep

(Media)

Apr 16, 2014
Feb 21, 2014

Underclassmen to represent swim team at state

(Story/Media)

Feb 14, 2014

Nine wrestlers to represent at state

(Story)

Feb 14, 2014

Wrestling with love

(Story)

Feb 07, 2014

Swimming, diving teams perform well in district

(Story)

Jan 31, 2014

18 wrestlers moving on to regionals

(Story)

Jan 24, 2014

Regular season comes to end, journey to state begins

(Story)

Jan 17, 2014

Wrestling teams try to bring A-games as season comes to end

(Story/Media)

Jan 09, 2014

Wrestling boys hit bump while girls have strong finish

(Story)

Dec 19, 2013

Wrestling teams continue to break down competition

(Story)

Dec 13, 2013

Girls' wrestling remains undefeated

(Story)

Dec 13, 2013

Veronica Roth's 'Allegiant' immerses readers into whole new world

(Story)

Dec 12, 2013

Boys' wrestling stays strong despite one loss

(Story)