Lady Farmers set new goals
Team strays from playoff goals, aims for new horizons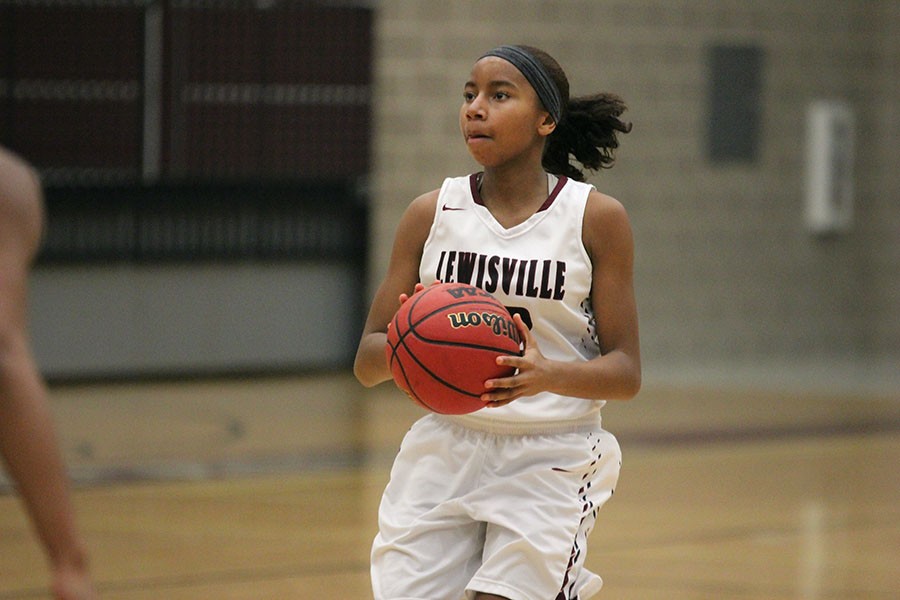 As the girls' basketball team starts the playoff race with a devastating 53-30 loss on Tuesday to the Flower Mound Jaguars, the girls try to move on as they face Plano West Friday night at 7:30.
The team tries to stay positive for the five district games left, and head coach Sally Allsbrook is trying to help the ladies get back on track.
"We work hard every minute we hustle and most importantly we encourage one another to get better," Allsbrook said. "[We are] working on team building and getting to know the kids on a more personal level, just building their relationships."
The girls continue to struggle through the season and district play despite the Flower Mound loss and the 44-38 loss against Allen last Friday.
"I think right now we are out of [playoffs] but our goals would be to upset another team so they can't make it," Allsbrook said. "So [we're] just working towards finishing the season out strong and meeting some of the goals, and knowing what it is like to win."
But even with the playoffs out of the question, Allsbrook says they are having fun out there. While the hope for the playoffs may be out of reach, the appeal and love for basketball is still in each of the girls' hearts which is most important for them to keep.
"Goals are set whether we're achieving them or not, we're working on that," senior captain Naomi Hawkins said. "Our free throw percentages need to be higher. We've set our turnovers less than two per quarter and we've achieved that a couple times. [We need to] hold each opponent at eight per quarter; I think we have only done that once."
Junior Sharmaine Harper is also keeping her love for basketball in her mind and believes that next year can be a brighter year, but they still have to work hard and do their best to finish off the season on a positive note.
"We have our ups and downs throughout the season," Harper said. "We play good but we just don't finish, so it's been going alright. We have definitely came together as a team. We communicate a lot better [and] play defense a lot better together as a team, so chemistry has gotten a lot better from the beginning of the season."