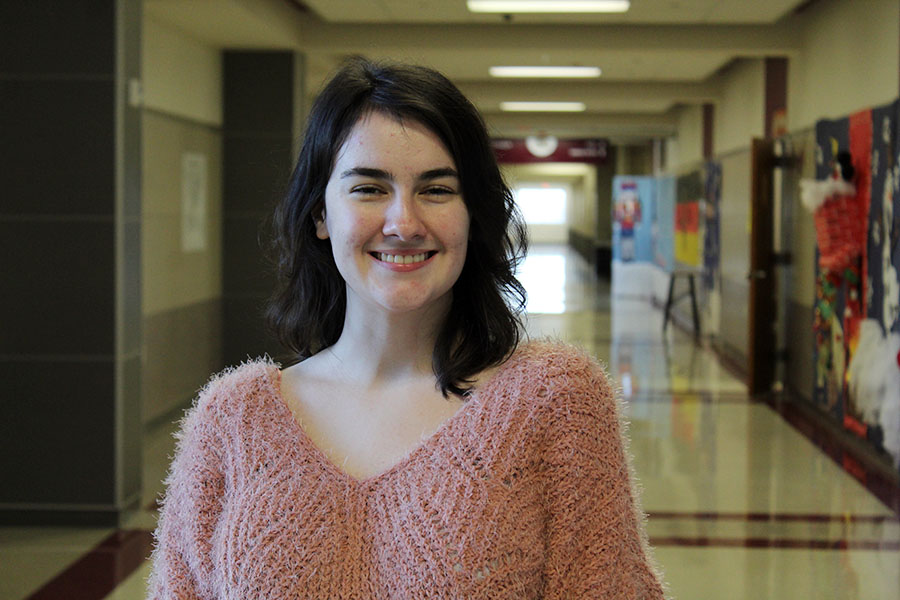 Senior Valerie Benzinger
Q: What does being recognized in the National Merit Scholarship Program mean to you? 
A: "I think it's really cool; honestly, when I took the PSAT prep class when I was a junior, the teachers would tell us about the scholarships and the honors and stuff like that and I was like, 'That would be so cool to get,' but I never thought I would actually get it. I just don't think of myself as that smart in that way."
Q: How did you find out? How did you feel?
A: "It was completely by accident. I was looking for story ideas for newspaper and I was looking around on the LISD website. I just happened to find it and I was like, 'Oh that's pretty cool.' I was really proud of myself. I couldn't wipe the smile off my face because I couldn't believe it."
Q: What did you do to help improve your test scores leading up to it? What does it take to get the award? 
A: "Obviously I took the PSAT team class and I also had a SAT prep book because I took my SAT in March 2019. I studied for probably not as much as I should have, but I studied a decent amount leading up to it. You have to dedicate time and study, you just have to not push yourself but you have to put in work, it doesn't just happen."
Q: What are your college and career plans? 
A: "I want to go to The University of Missouri, Columbia and I want to study journalism."
Q: What activities are you involved in at school? Anything outside of school?
A: "I'm in newspaper and I'm in NHS. I'm also in GSA, French club and presidents club. I have a job, I work at Pizza Hut." 
Q: How will this award affect your life/future?
A: "I don't know. I guess it just gives me more confidence in my academic abilities than I had before." 
Q: What has been your biggest obstacle academically? Any specific class? How did you overcome it?
A: "I would say pre-AP pre-cal, I took that my junior year. That was a hard class but it also is the class I learned the most in and I grew the most as a person. School has come relatively easy to me for most of my life up until I was a junior and then I kind of got fire lit under me. I put in a lot of work for that class and I'm happy with how I did."
Q: Who in your life has helped you reach this point? How did they help you?
A: "My family is supportive of me. They always are like 'You can do it.' My junior year, two teachers helped me so much. Mrs. Chiles, my pre-cal teacher, I just bonded with her a lot and I obviously struggled in that class quite a bit and she helped me believe in myself and realize a lot of the times I was just overthinking things so she really helped me with that. Mr. Borenstein was my U.S. history teacher and he's not here anymore but I loved him so much, he was awesome. I would talk to him sometimes and I knew he was willing to help me if I needed it."
Q: What is your advice to others hoping to be National Merit Scholars?
A: "Study the SAT books. They are ridiculously big and they cost like $40 at Barnes and Noble, but if you actually use it, it does help."
Q: What class/outside of school tutoring prepared you the most?
A: "The PSAT team for sure."
Q: Do you have any good study tips for the standardized tests? 
A: "What works for me is I do it all in one sitting. I split things up into chunks and then I study based on whatever it is like I'll study like algebra and then I'll do grammar and then I'll do science or whatever. Just break it up so it's easier to handle."