Color guarding new territories
Senior Esteban Piña is accepted into Madison Scouts Drum and Bugle Corps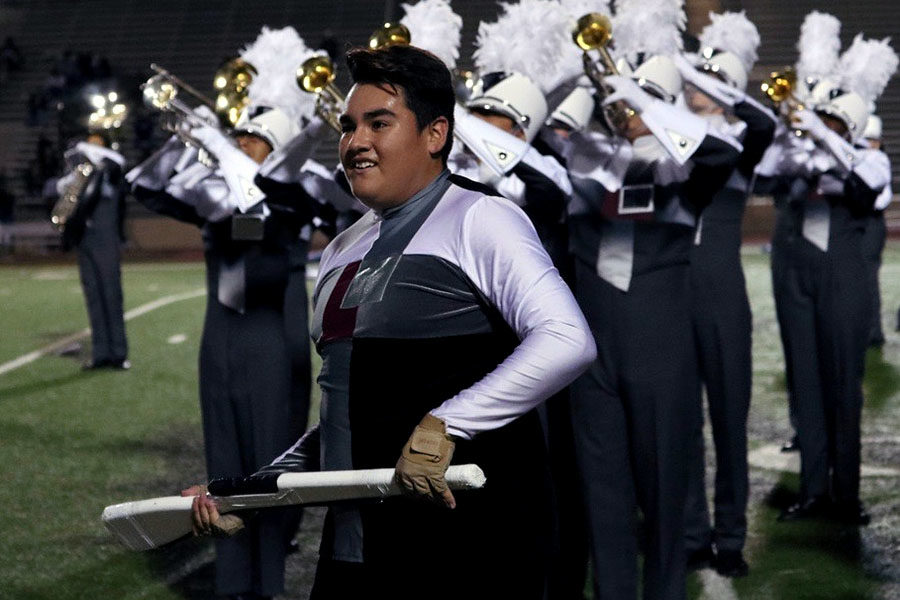 The lights burned bright, almost blinding him as he followed the steps to his routine. Spots of white bounced off their flashy uniforms and reflective instruments to create a sea of glistening players. The smell of wet grass and sweat surrounded them along with the blaring music that came from their instruments. To people like senior Esteban Piña, joining the Madison Scouts Drum and Bugle Corps would be a once in a lifetime opportunity to do what he loves.
The Madison Scouts Drum and Bugle Corps is an all-male drum and bugle corps founded on February 8, 1938. While based in Madison, Wisconsin, the corps travels around the country to compete and perform on their tours. During one of their performances, the corps caught Piña's attention. Interested, Piña set out to pursue his passion and will soon travel and perform along with them.
"I first saw them perform when I attended a DCI (Drum Corps International) contest in Denton and enjoyed their show a lot," Piña said. "After I saw them live, I looked up more shows of them over the past years and loved it. I really want to continue color guard after high school and after they reached out to me to audition, I decided this was a great way to keep doing what I love."

With graduation day approaching, Piña looked for opportunities outside of high school to fuel his burning passion for spinning and to set an example for his fellow guard members. Even after high school, Piña hopes to make his colleagues proud by chasing his ambitions and accomplishing his dreams.
"
I am so passionate about color guard and what I love most is the adrenaline I get during performances and the friends I make."
— senior Esteban Piña
"Not only does my amazing director and technician motivate me because I want to be as great and talented as them, I also am motivated by my color guards," Piña said. "As a senior lieutenant and as a performer outside of the Lewisville color guard, I want them to enjoy it as much as I do and see what great things they can do if they put their minds to it."
Following his acceptance into the program, Piña and his friends were ecstatic and overwhelmed with emotion. To Piña's friends, the sight of his dedication and commitment finally paying off would be a memory to last a lifetime.
"He's really passionate about it," senior Camille Mims said. "Since I've known him for so long and I've seen him develop as a spinner, him living our dream of getting to spin professionally, it was so beautiful. I was home by myself [when he was accepted] and I cried. I was happy for him."
Senior Zaira Beltran Diaz practiced alongside Piña since the beginning. His commitment to the sport was clear and unmistakable. To his teammates, it was no surprise Piña would be accepted into a prestigious program with his talent.
"We did band together all years of high school and middle school," Diaz said. "I've known him for a really long time. Whenever we did color guard together, he was always better than me so I wasn't jealous of him but I was proud he was doing what he really wanted to do."
Piña hopes to leave the group as a performer with new skills and experience to help him down the road, and hopefully a big new group of friends to support him along the way.
"I want to be the best I can be," Piña said. "Not only am I introduced to harder work and sacrificing even more of my time, I am also going to have the opportunity to challenge myself through discipline and self-expectations. I am so passionate about color guard and what I love most is the adrenaline I get during performances and the friends I make."