Review: Ed Sheeran concert leaves crowd Feeling Good
Sheeran's exquisite performance at Toyota Stadium in Frisco proves nothing can compare to the feeling of seeing an artist perform live.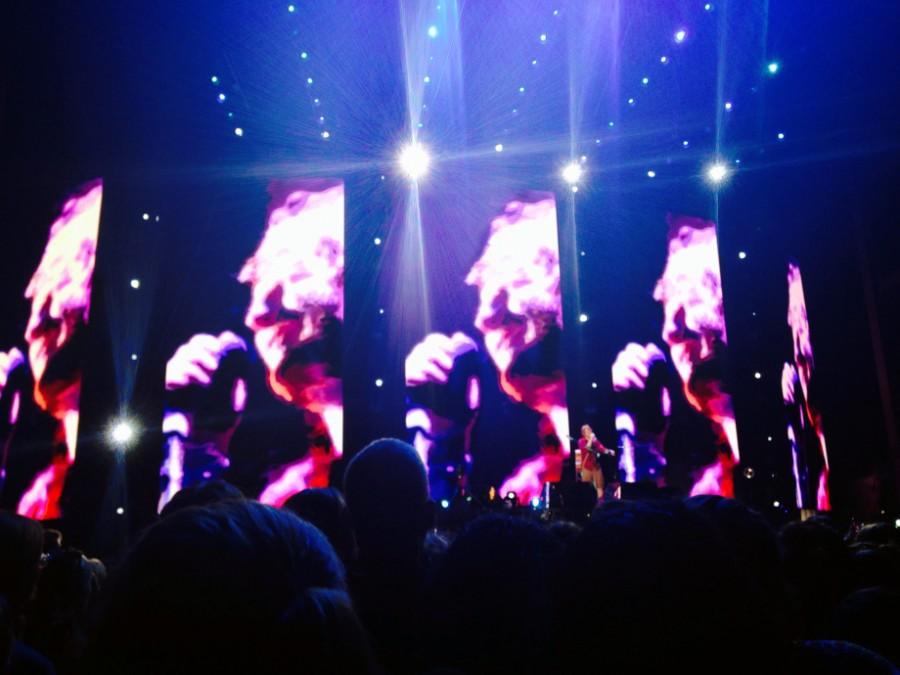 Every little gust of wind felt like a gift from above.
"It's God."
Or as the guy next to us put it….
"It's Ed Sheeran."
Whether it was divine intervention or Sheeran's soul reaching out to us, we'll never know, and frankly those around us weren't around long enough to find out. People, left and right, were dropping like flies. Yes, as the heat passed over the mass of screaming fan girls, dehydration kicked in and they were forced to leave the area to take a breather.
—
The line stretched from around the corner of the Toyota Stadium to the entryway as we stood in the sweltering heat of a typical Texas afternoon, eagerly awaiting to be serenaded by Ginger Jesus (as referred to by his Tumblr fanbase). So for the next seemingly endless thirty minutes we waited our turn to head down to the field, and upon arrival were shoved into a sprint.
Needless to say our breathless efforts paid off and we arrived near the front of the stage.  However, as we waited for the actual concert to start we swapped between standing, sitting and complaining.
Bottom line, it stunk. Literally.
—
Following our oh so exciting stretch of waiting, we were greeted by Sheeran's openings, adorable British singer Jamie Lawson, who was the first singer signed to Sheeran's new label Gingerbread, and an energetic Christina Perri.
Lawson's performance was honest and sweet. He looked genuinely touched by the fair amount of people in the stadium who were there early. After every song he sang, each performed exceptionally well we might add, he would give a little quirky smile and soft "thank you."
But it was Christina Perri who was overly excited to be opening for Sheeran, or "the boss" as she put it. Her voice rang out across the stadium, ricocheting from ear to ear as she energetically danced across the stage.
Overall, Sheeran's performance and setlist was top notch but there were some songs that captured our attention the most and haven't left our brains since. His noteworthy songs include Tenerife Sea, I See Fire, which was commissioned for the movie The Hobbit: The Desolation of Smaug, Dark Times, originally sung as a duet with the Weeknd, and Thinking Out Loud.
The tenderness of Tenerife Sea brought everyone to a soft sway as Sheeran's impressive vocal range made itself present. It was so incredibly sweet it brought tears to our eyes (or it would have if we hadn't sweated all the water out of our bodies).  
All the crowd needed to recognize this iconic song was the soft strummed riff of the intro. As Sheeran performed "I See Fire," his voice echoed throughout the stadium boldly, the only accompaniment being his acoustic guitar. Then, without skipping a beat, he transitioned into "Feeling Good" by Nina Simone, which then lead the crowd of Sheerios (his fan base) to erupt into a frenzy. With amazing amounts of soul packed into every word, Sheeran had the attention of the entire stadium at his fingertips.
"I played this song live for the first time two days ago in Houston and I messed up," Sheeran laughed as he was lightly strumming his guitar. "But yeah this one is called Dark Times."
In the original version of Dark Times, The Weeknd and Sheeran's vocals mix beautifully together. But despite The Weeknd not making a surprise appearance (with the wave of people passing out going around, it's probably a good thing he didn't pop out unexpectedly), Sheeran was able to deliver the song to the point where everyone was mesmerized.
He opened "Thinking Out Loud" as the original on his album, however what was heard that night is incomparable to the everyday tune broadcasted on the radio. The strum of the guitar combined with the crowd singing along only enhanced Sheeran's own talents as he sang each individual lyric. Every aspect flowed beautifully as he took us into the loving arms of his gifted voice and brought many of us to heart-twisting tears.
Now, when choosing between buying general admission tickets or opting for a seat, it all depends on your level of comfort. Do you want to suffer through hours of standing to get a good spot in the pit like we did? Or do you want to have a secure spot somewhere up in the seats? If claustrophobic, stick to the seat. If willing to get close and personal to people while experiencing something you will never forget, take a chance in the pit.
There were times in the beginning while we were waiting for the concert to start when we would look longingly at the empty seat that adorned the stadium (it wasn't until after the concert when we realized that by the end the stadium was at full capacity). And as our throats started to itch, sweat started to run down our skin, our feet fell asleep while we sat and stood, and mild claustrophobia kicked in, the seats started to look even more and more inviting.
But it was the last 10 minutes of the concert that made all those "bad" experiences worthwhile. We don't believe Sheeran took a breath during his encore song "You Need Me, I Don't Need You," and honestly, neither did anyone in the audience. With their hands raised in the air, everyone in the pit was going absolutely insane. Every trace of exhaustion, every thought of dehydration, every single sad feeling that comes with the ending of the concert disappeared as Sheeran brought everyone in the stadium to their feet.
Switching between 50 Cent's "In Da Club," Drake's "Know Yourself,", and his song "You Need Me…," Sheeran filled up the already full stadium with his energy using this incredible mashup.
Vibrant reds, oranges and yellows filled the screen as flashing lights swept over the stadium as Sheeran had everyone in a trance.
"You guys haven't lost your voices yet," Sheeran would say. "I need to hear you scream!"
Aaaaand cue the sound of a packed stadium taking a single collective breath, screaming out the lyrics to his final song "Sing," and making the air vibrate.
Our ears (and hearts) still haven't fully recovered.