Review: 'Lover' combines old country, new pop
Taylor Swift pulls audience in with endearing lyrics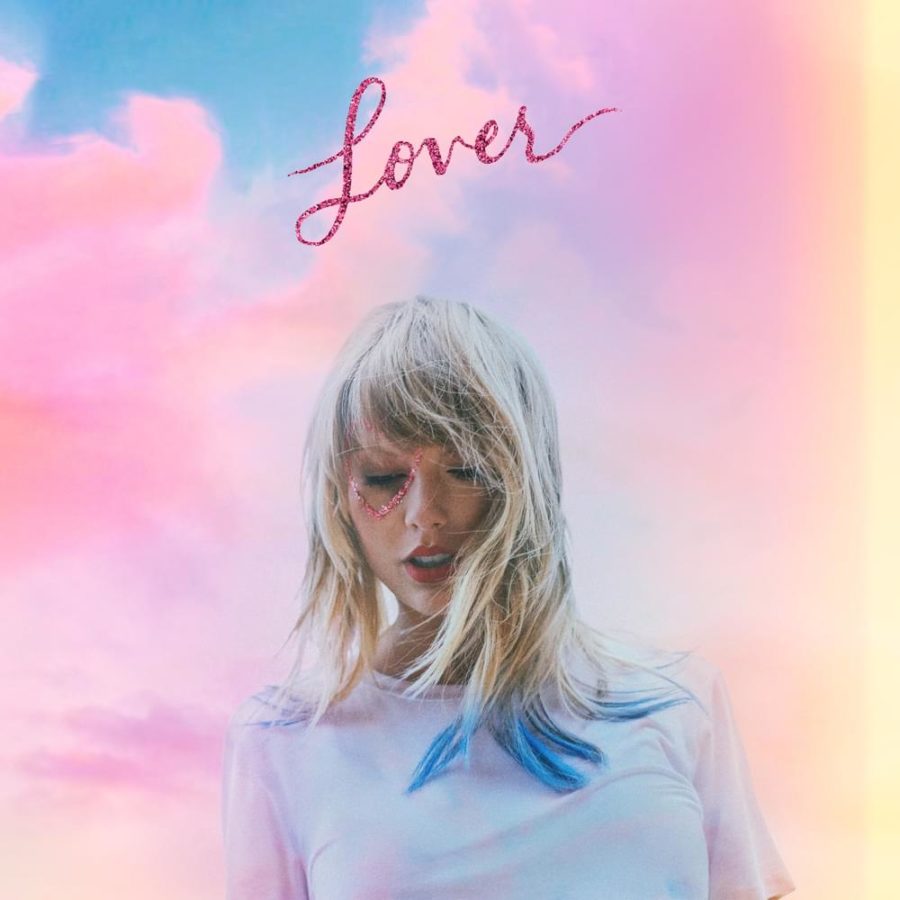 Singer-songwriter Taylor Swift released her seventh album, "Lover," on Friday, Aug. 23, two years after she released the hard-hitting album "reputation" which showcased her darker side. In contrast, her newest album provides a glimpse into her secretive love life, with a revengeful tone swapped for one of compassion. Around the time of the album release, a public scandal against Swift and Scooter Braun, an entrepreneur who bought all previous six of her albums, was under fire. With all the rights to her older music being bought away from her, Swift prides herself on "Lover" being her own. 
Swift's first track, "I Forgot That You Existed," shakes off pain she's felt throughout celebrity feuds over the last decade. While the song has multiple takes on letting go of her grudges, it's a disappointing start to the album. With all the promotion and secret clues to the "Lover" era for months before the release on social media, the first couple tracks, including "Cruel Summer," are unsatisfying. 
The 12th track, "Soon You'll Get Better (feat. Dixie Chicks)," brings the largest amount of emotion out of all 18 songs. As she sings about her mother battling cancer, it shows how she attempted to create a relaxing environment for her mom. Even when Swift was down, she would put up a distorted front to her mom because she had to. Near the end of the song, during the chorus, she cried and provided fans a song which has deep-rooted value and meaning to something personal Swift herself dealt with. 
The 14th track, "You Need To Calm Down," was pointed open toward the LGBT+ community and her support. She sings about how people should forget about the 'normal' and leave people alone to do their own things. She opens up about people comparing singers with each other but to ignore them because, "We all know now, we all got crowns." While also releasing the song as a single during  LGBT+ pride month in July, she mentions the organization GLAAD, which Swift heavily supports.
In "ME! (feat. Brendon Urie of Panic! At The Disco)," the first single, Swift sings about putting herself first in a relationship, rather than leaving her needs on the back burner. The song talks about not following the crowd and never finding someone like her again. Swift switched up her single for the album though; the original song had an extra line, "Hey kids, spelling is fun!" in the bridge but she removed the line. 
The last track, "Daylight," is the one with the most style. It shows how she feels about love and who she wants to be defined as. She sings about finally waking up and seeing daylight, which could be about her boyfriend Joe Alwyn. Although, the audience doesn't know if the song is supposed to be about her own redemption as a person or as a singer, freeing herself of controversy. 
The beginning of the album was not strong, but the end tied it together. This album deserves 4 out of 5 stars because the songs were either masterpieces or duds. Swift moving away from revengeful love songs to peaceful love stories reminiscent of her old music is wonderfully nostalgic for long-time listeners.